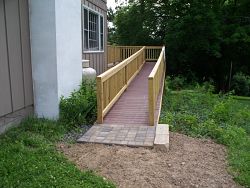 This summer, McClurg Remodeling & Construction Services joined with 12 other local businesses to build a deck for Judy Aguirre, a Baldwinsville mother who suffered a spinal cord injury, which caused paralysis, when she fell in her home.
Once a year, the McClurg team works on a project to help an individual or group in the community as our way of "giving back." We were approached by Judy's sister, Jennifer Harte, a young mom herself, and asked if we could help Judy by building a deck that would allow her to exit her home and watch over her two sons. We met with Judy and her family and we were inspired by her strength and outlook for the future. We knew we had to help.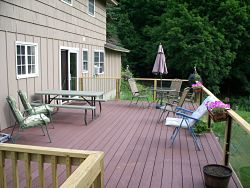 When we arrived on site we found a back door exit that she couldn't use. We decided to create a large deck that spanned the length of the house to provide space for Judy to experience maximum mobility without encountering obstacles. We incorporated features that would allow her to resume an active lifestyle as she undergoes therapy for Spinal Cord Injury (SCI). Composite decking was selected because of its non-skid surface and easy maintenance. Glass side panels were installed on the deck for safety and aesthetics. Judy can view her yard without obstruction from the deck. A ramp with wood rails was built to allow Judy access to the yard. The deck will also enable her to exit the home in case of an emergency.
Over the course of the project we learned a great deal about Spinal Cord Injury. According to the Christopher and Dana Reeve Foundation Paralysis Resource Center, 1 in 50 Americans experiences paralysis. That statistic accounts for approximately 6 million people. Here are some facts about Spinal Cord Injury:
While stroke is the most prevalent cause of paralysis (29 percent of cases), Spinal Cord Injury ranks second (23 percent of cases). Multiple Sclerosis is the third most prevalent cause and accounts for 17 percent of cases.
Approximately 1,275,000 Americans have experienced Spinal Cord Injury. Most injuries occur in the work place (28 percent) or in motor vehicle accidents (24 percent). Injuries due to sports or recreation activities account for 17 percent of cases while falls account for 9 percent. Fifty six percent of those injured are between the ages of 16 and 30. Every year there are 12,000 new injuries.
The average annual cost for medical care required to treat a person with a spinal cord injury ranges from $288,566 to $775,567 during the first year following an accident. Depending on the severity of the injury, the annual cost of continuing care can range from $16,000 to $140,000.
The Christopher and Dana Reeve Foundation is dedicated to finding a cure for spinal cord injuries and improving the lives of people living with paralysis by funding research and providing grants, information and advocacy.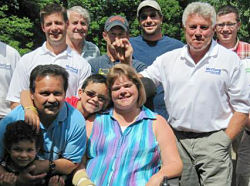 Finally, we would like to recognize and thank our partners in the project:
84 Lumber, East Syracuse
Benjamin Electric
Black Glass
Calley's Hardware
Healy Plumbing, Heating and Air Conditioning
Liverpool Lumber Company
Matheison Portable Toilets
Nightingale True Value Hardware
Skaneateles Scapes
Tiger Claw Hidden Deck Fasteners
Trex Decking
Van Derhoof Roofing Company, Inc.