Homeowners frequently ask us about what they should expect and how they should prepare for their first meeting to discuss their home remodeling projects. They often have ideas they want to communicate to us, or a problem they want us to help them solve.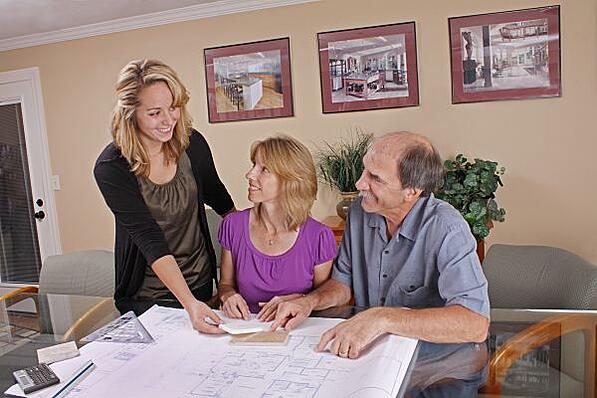 An initial meeting with clients to review project ideas and priorities.
The first meeting is very important because it enables us to understand your needs and expectations. It also helps you to get to know us and learn about our abilities to meet your expectations.
The design-build remodeler's job is to maintain regular communications with you so that you can make informed decisions and not have to worry about managing your remodeling project from the first meeting until the final walk-through. As a design-build remodeling contractor we combine project design, product selection and construction into a seamless process through a single company. This method of planning and construction provides a single point of contact for all aspects of the project and better control over costs and accountability.
When you work with us, you will meet with a Project Consultant who will initiate the specifications for your job. Here are four tips to help you prepare for your first meeting:
1. Be prepared to discuss your needs.
Whether your project involves remodeling a kitchen or bathroom, building an addition or constructing a new home it helps to take the time to prepare a written "wish list" to identify items that are essential to achieving your project objectives and items that are optional. This is a starting point for determining plans and costs.
As an example of what to include on your list, you may want to review an article we compiled to help homeowners who are planning a kitchen remodeling project, "Remodeling Your Kitchen: An A-to-Z Wishlist Guide".
When planning a remodeling project it is helpful to list minor and major problems you currently have with the space such as lack of storage, along with what you like about the current design.
Be as specific as possible about what you want done and make a copy of your list for the contractor.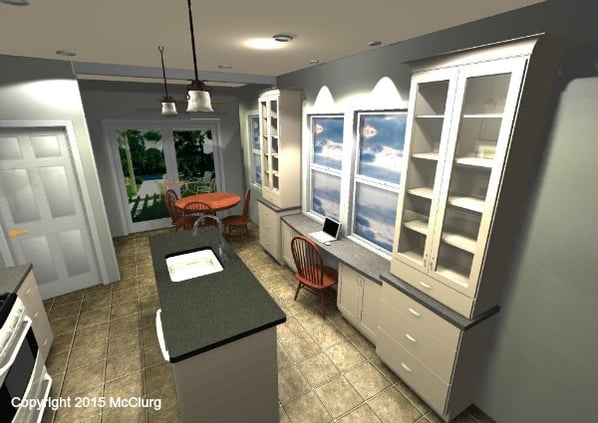 Galley kitchen drawing.
2. Share ideas and information you have collected.
Many homeowners find it helpful to browse through magazines and books or research online to get design ideas for their project. You can clip magazine photos and bookmark webpages to share with your Project Consultant. You can even create an "ideas" book on Houzz or a Pinterest "board" to share with your Project Consultant.
We have compiled a series of free planning guides for homeowners to help you gather ideas for your projects:
You may also want to subscribe to McClurg's Home Remodeling Blog or visit the project photo galleries on our website to get ideas from projects we've built for Central New York homeowners.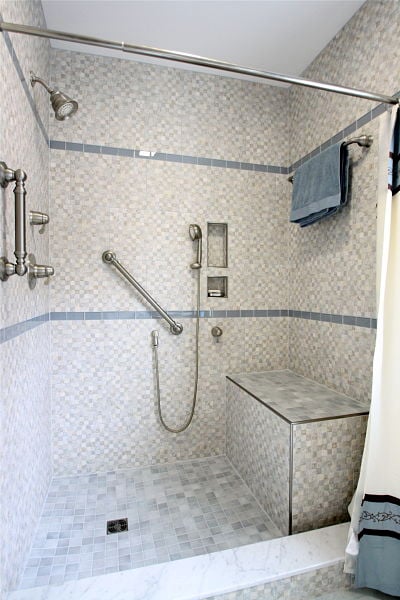 One of today's hottest home remodeling trends is a walk-in shower.
3. Be prepared to discuss your budget.
Prior to meeting with a Project Consultant it helps to have some idea of the budget you have to work with for your remodeling project. The Project Consultant will most likely not be able to give you an estimate of costs during the initial meeting but will take detailed notes regarding your project to present a proposal.
Our Project Consultants are knowledgeable about product lines, vendors and costs and can make suggestions to help you achieve your desired outcomes and keep within the budget limits you set for the project.
4. Ask questions.
Questions you may want to ask would be "when can you start?" or "how long will it take?" You may also want to ask for suggestions about how the space can be optimized, countertop and appliance options, and any concerns about mechanicals (plumbing, electrical, etc.) or structural issues.
If you have questions about specific products that we have used in remodeling projects your Project Consultant can show you some of the fine lines we carry including: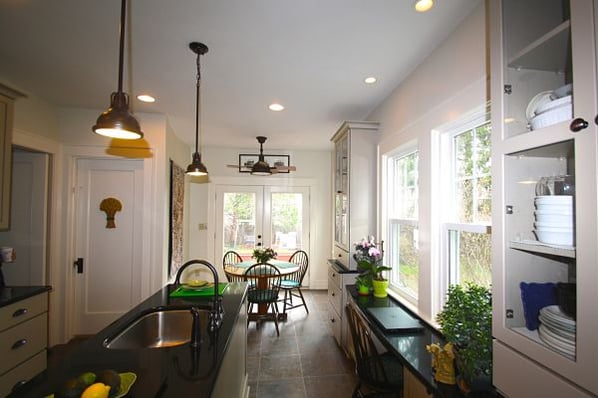 Bishop cabinets, Dobkin Tile and Top Knobs cabinet hardware were selected for this kitchen remodeling project.