Planning a kitchen addition and bringing an idea to reality can be an exciting process. It can also be stressful, but less so if you can break the planning process into steps. There are many details involved in designing and building a kitchen addition including determining the size and configuration of the space, blending the addition with the architecture of the home, creating a layout for appliances, adding mechanicals, designing lighting and selecting products for the room. It helps to follow a planning process that guides you from concept, to meeting with a design professional, to construction.
Here are seven tips to follow in planning a kitchen addition:
1. Collect ideas and photos.
Make a file or folder for project ideas and photos. When you are ready to talk to a design-build professional who will draw the plans, it's important to communicate your preferences and requirements as you get started and to keep revisions at a minimum. There are many online resources and publications from which you can gather ideas, information and pictures. Photos can help both you and the person designing the addition to visualize the features you want to include.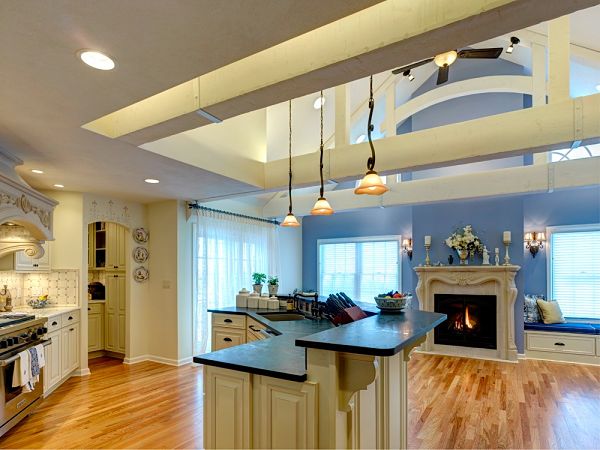 Buttresses and beams were used for a second story main level kitchen and great room addition that opens onto a raised deck. On the exterior, the roofline blends seamlessly into the home.
2. Make a wish list.
A written wish list is always helpful to have in hand before meeting with a design professional. It may include features and products you want to include in the project. For example, identify cabinet style, counter material, flooring, appliances, tile, fixtures and even the type of lighting you would like to use. This list will also be useful as you determine priorities and establish a budget for the project, but don't get overwhelmed with the details, your design-build professional will be able to help you to choose materials and products.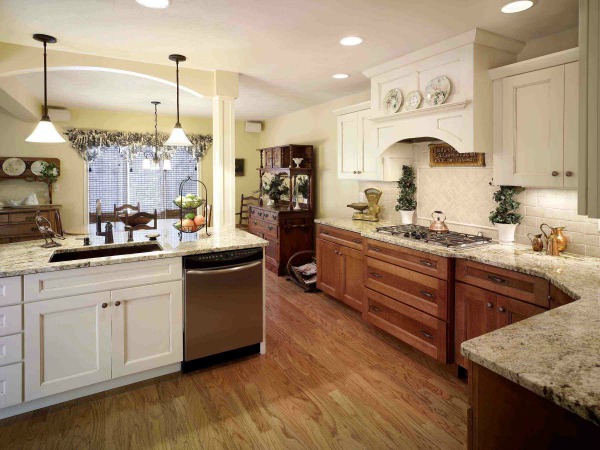 The posts and beams used for support in this kitchen addition add style and architectural interest to the room.
3. Identify functional elements and architectural features you want to address in your project.
Creating a floor plan for a kitchen addition involves a number of decisions you will need to make about how the space will be used and structured. When planning to meet with a design-build professional be prepared to discuss:
Kitchen configuration preferences
Storage needs
Traffic flow
Adjoining spaces
Entryways
Integrating the addition with the exterior of the home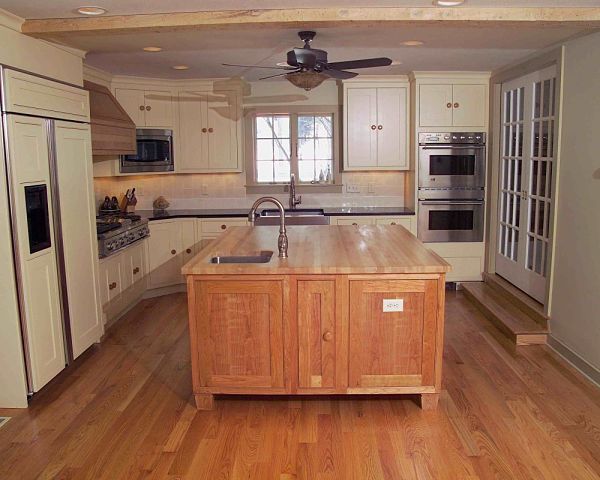 An L-shaped kitchen configuration with wide aisles and an island create a space for homeowners who enjoy cooking. A stepped entry and French doors lead to an adjoining room.
4. Consider the special needs of users.
Consider the height, reach and capabilities of the people who will be using the kitchen when planning the project. How tall should upper cabinets be? Will more than one cook work in the space? Will multiple height counters be needed to accommodate young children or a person who uses a wheelchair? Does anyone in the home have vision problems or limited physical abilities?
You may want to make the space more accessible by incorporating "Universal Design" features in your project such as wide aisle clearances, wide entryways, level thresholds, lever handle faucets and door handles, c-shaped knobs and pulls, and pullout shelving.
5. Determine the location of the addition, how much space will be needed and if zoning regulations will affect your plans.
Will the addition be on the ground floor or on a second story? An addition on the ground floor will require a foundation and you can expect to lose some of the space in your yard. The size and location of a home addition may be impacted by zoning regulations in your area which specify how close a building can be to property lines or space allowances between structures. It's important to know what codes may restrict your project. Your design-build professional should be able to address these issues.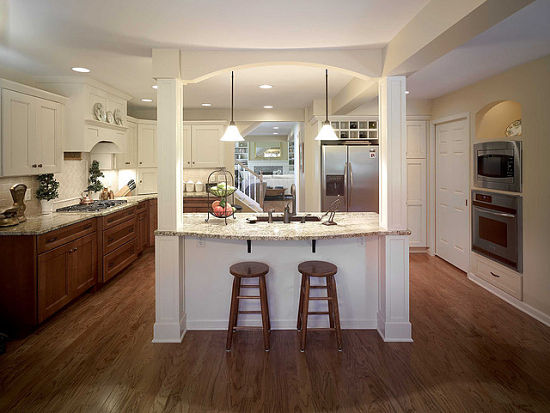 A large kitchen and great room addition were added to this home. The U-shaped kitchen features a central island. Beams and posts connect the new construction to the existing home.
6. Have an idea about the budget you have to work with.
Additions are among the most costly remodeling projects and often homeowners underestimate the cost of construction. Sharing your ideas and wish list with a kitchen design professional will help establish a range for your project.
7. Discuss your options with a design-build professional.
One of the best ways to undertake the process of building an addition onto your home is to retain a design-build firm to address all aspects of the project from drawings to project management and completion. When hiring a contractor, make a list of questions to ask during an interview with the builder. Check references, ask to view examples of their work and consider the track record of the firm. In the home building and remodeling industry, longevity counts. A firm that has been in business for a number of years is likely to be dependable, reputable and will stand behind its work should a problem occur.