Have you been dreaming about adding a sunroom to your home? A three-season sunroom can help extend the summer season and provide a bright retreat for relaxing or entertaining. If your home needs more space, a year-round sunroom can be the perfect solution.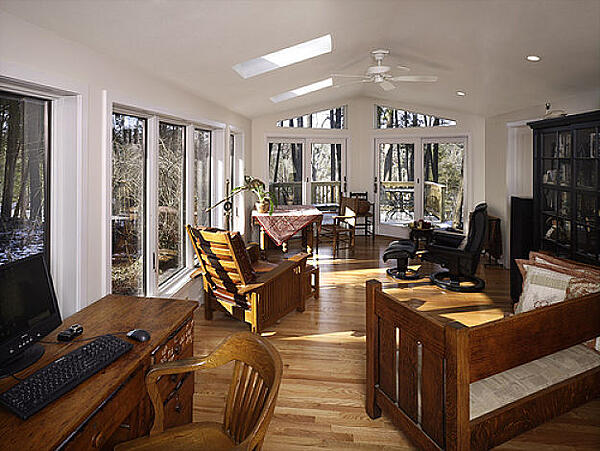 This multi-purpose sunroom addition is unique in that it features many different angles. Natural light floods the room through all of the windows and doors, including the skylights in the cathedral ceiling. The end wall is angled out and includes two trapezoid windows above.
Planning a sunroom addition takes some time. We recommend working with a design-build firm. During your meeting with your design professional it's important to discuss options for the location and size of the room; the architectural design; number of glass windows, doors and skylights you might want to use; heating and cooling; features and decorative details to include and your budget.
Here are five tips for planning a sunroom addition:
1. Determine the Location and Size
Many sunrooms are located on the first floor of a home off of a kitchen or a family room. The roofline of a sunroom and its slope will be important in determining the size and shape of the room and how the addition will connect with the house.
Here are some questions to think about as you consider the location and size of the addition:
Is the area where you plan to build facing north or south?
Is there a view from your yard that you want to take advantage of such as a garden or lake view?
Will the room be built off an area of the home where there is a doorway?

It may save on cost if the sunroom is built onto an area of your home where there is already a door opening.
Where will you exit from the room to the outdoors?
Will the exit be onto a deck or patio?
How do you plan to use the room?
Will you use it primarily for reading and relaxation or do you plan to use the room for dining and entertaining?
Will it be a multi-purpose room?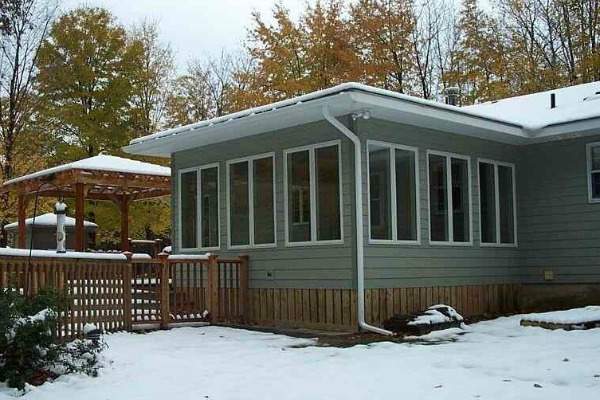 This sunroom addition was built onto the back of a ranch-style home and opens to a deck with a lit gazebo.
2. Design to Complement Your Home's Architecture
The design of a sunroom addition should take into account the architectural style of a home and blend into the existing structure. It should also be designed for function and to meet your needs.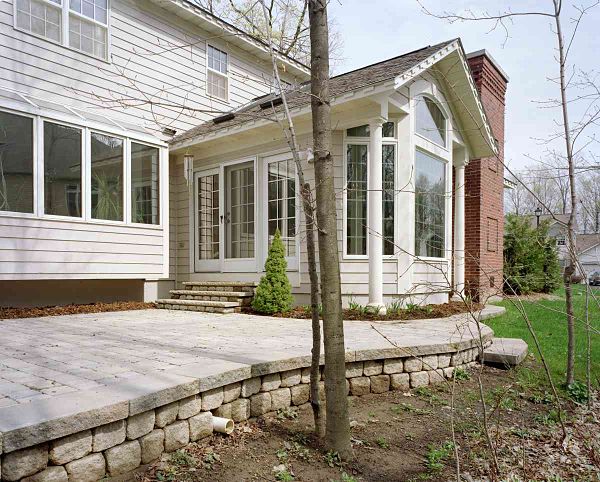 The exterior of this sunroom addition incorporates all of the existing exterior details, making it appear as if it was part of the original home.
3. Three-Season or Year-Round?
Do you plan to use the sunroom year-round or as a three-season room that you will use from April to November in our climate? A sunroom intended for year-round use will require insulation, heating, and thermal paned doors, windows and skylights. Three-season rooms typically don't require all of these features and therefore tend to be less costly. Address the room's solar exposure when discussing the project with a design professional.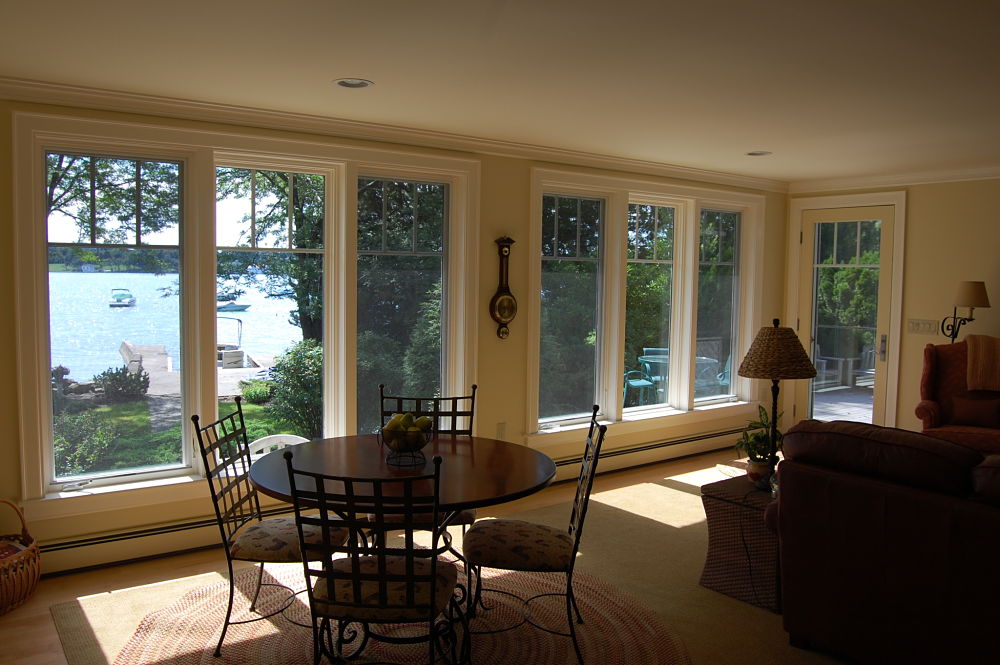 This year-round sunroom features oversized windows that provide a gorgeous view of Skaneateles Lake.
4. Choosing Windows, Doors and Skylights
The number of windows and doors used on the perimeter of a sunroom and skylights on the roof distinguish it from other rooms in a house. Glass will allow natural light to stream into the room, help to heat the room on cold days and optimize a view of the outdoors. Windows should be screened and operable to help cool the room on warm days. Consider ENERGY STAR labeled products when selecting windows and doors for your project. ENERGY STAR labeled windows will feature either double or triple glass panes.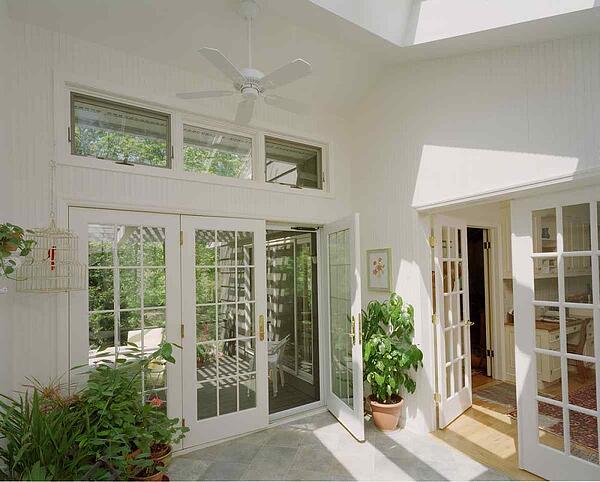 French doors, transom windows and a large skylight were used to create this breezeway sunroom addition. It provides a place for growing plants year-round and is an elegant transition from the main part of the home to the patio. A fan circulates air and two of the transom windows can be opened to cool the space.
5. Plan Project Features and Details
In planning your sunroom project it's helpful to consider the features and details that will help define the interior and exterior of the space. Among these are:
Flooring
Moldings and trims
Lighting
Outlets
Decorative windows
Roofing
Siding
Decking
Patio stone
Landscaping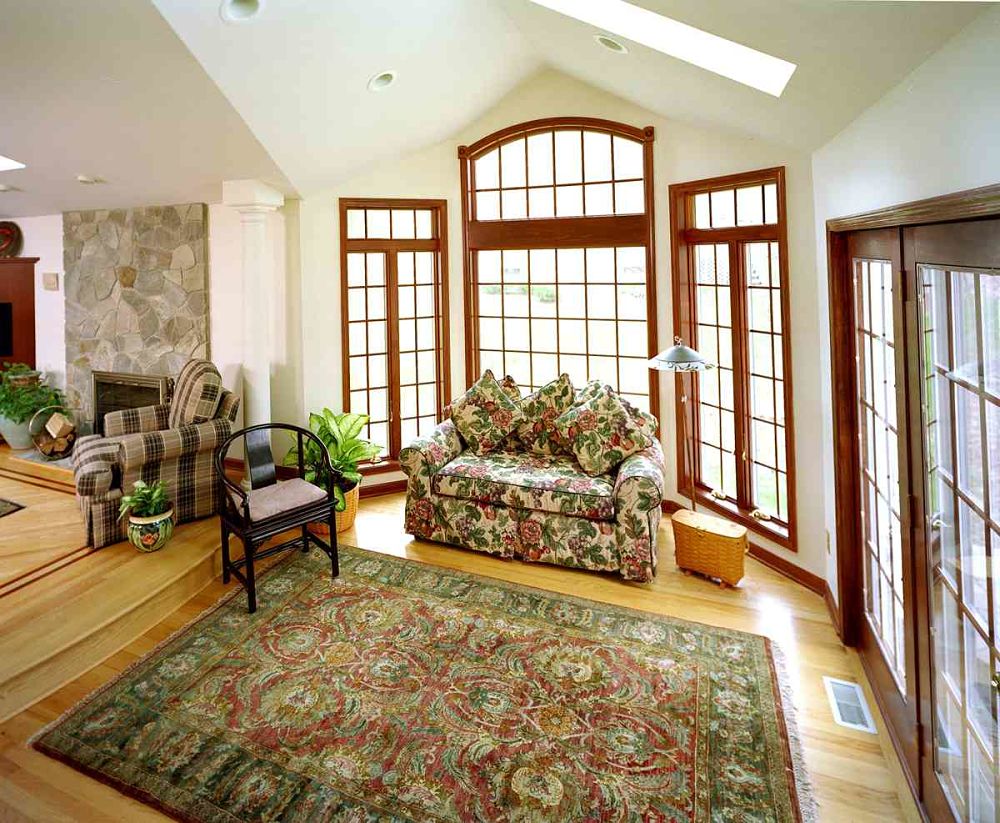 Stained wood moldings and trims, recessed lighting, oak flooring and a decorative column are details that create an elegant look and integrate this sunroom addition with the interior décor of the home.