Over the past several years there has been an explosion of free online information about home remodeling projects. It's amazing how much you can learn and how consumers are better informed today about design ideas and products used in home remodeling.
We thought we would share some of the best Websites we've found that provide homeowners great design ideas for their kitchen and bathroom remodeling projects.
1. Houzz
Houzz was launched in 2009 by Alon Cohen and Adi Tatarko, a husband and wife team who wanted to create a resource for remodeling their own home. The site allows you to browse photos by "Style" (home décor), "Space" (rooms) and "Metro" (location). If you set up a free account, you can create an "Ideabooks" by adding favorite photos of projects you find on the site. Many homeowners find this site to be very helpful for collecting ideas and sharing them with their contractor. The content on Houzz continues to grow everyday as architects, interior designers, builders and consumers add photos and blog articles to the site. Check out McClurg's Houzz page. We'll be adding to it in the months ahead.
2. Pinterest

Pinterest is a social media scrapbook that allows you to create pin boards of images of interest to you. It was developed in 2009 and launched in 2010. If you're planning a remodeling project, for example, you can create a free Pinterest account and collect photos of design ideas and products from virtually anywhere on the Internet. In our blog articles, you'll now find "Pin It" buttons attached to photos, which makes it easy for you to add directly to a "board" in your account. Check out some of our boards on McClurg's Pinterest page.
3. HGTV
HGTV has a great Website, HGTV.com, featuring projects designed by some of the best interior designers in the country. The site also includes videos from shows and how-to-do-it information. The content is easy to browse and changes daily. Photos are in high detail. The Home and Garden Channel first broadcast in 1994, since then HGTV has grown to reach 100 million American households. Hearst publications introduced HGTV Magazine to the market in 2011. In 2012, five issues were published and 10 issues are planned for 2013.
4. Better Homes & Gardens Magazine
BH&G was first published in 1922 and is the fourth best selling magazine in the U.S. according to Wikipedia. The magazine's publisher, Meredith Corporation, also publishes a number of special interest magazines under the BH&G brand that include information about kitchens and baths, storage and whole house remodeling. The BH&G Website is fun to browse and has many great resources you can download including a Kitchen Remodeling Planning Guide and a Bathroom Remodeling Planning Guide.
5. Country Living Magazine
Country Living has feature articles from its magazine issues on its Website. Editor Sarah Gray Miller lives in the Hudson Valley and keeps the content fresh and eclectic.
6. House Beautiful
House Beautiful provides a lot of great content about kitchen remodeling and decorating. The House Beautiful Website has great photos and in some ways outshines the magazine. HB covers interior designers and various decorating styles.
7. This Old House
This Old House is the granddaddy of home improvement shows and continues to provide well written, detailed information on its Website including answers many how-to questions as well as articles on the latest design trends, home maintenance and home investment issues.
8. eHow.com
eHow.com is known as an informational Website that provides straight forward answers to consumers questions. eHow Home has content on interior design, housekeeping, entertaining, home improvement, gardens and landscapes written by experts.
9. McClurg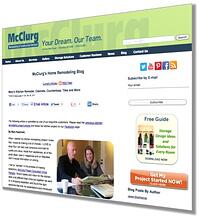 We have to mention our own Website as a resource you can trust for information about home remodeling. Three years ago we initiated a home remodeling blog to answer many questions we hear in the field from homeowners and to share our local perspective about the latest design ideas and trends. You can browse nearly 150 articles in our archive for information about your project and view our photo galleries for interior design ideas from a range of projects that we have built for Central New Yorkers.
From our 30+ years of experience in the remodeling business we have developed the following free guides that you can download: