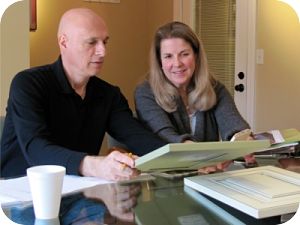 People who love to cook know how important it is to have a kitchen that is both functional and a pleasant environment to work in. If you're planning to remodel your kitchen where do you start? We advise homeowners to talk with a Project Consultant or a kitchen designer because there are a lot of factors considered in a remodeling project. From our experience as a design/build firm we have seen kitchens where mistakes have been made when a clear and well considered design was not developed to guide the work.
To prepare for that initial meeting, we suggest making notes to discuss the following:
1. Begin by assessing how the space is being used.
Take a moment to ask yourself: "What do I like about my current kitchen and what do I dislike?" Make a list of assets and things you want to change. Are you satisfied with the traffic flow, location of appliances and mechanicals such as lighting, electrical outlets and plumbing?
2. Be prepared to discuss structural changes you would like to make in the space.
Is the floor plan sufficient or do you want to remove a wall or add a bump-out to enlarge that space? Do you want to add or remove doors and windows?
3. Next, identify the appliances that you intend to reuse or purchase.
Write down model numbers and dimensions to review with your consultant or designer.

Select the range or cooktop and consider how you will vent the unit. If you are going to cook with an electric glass top or induction unit, which use less power, a microwave/vent placed above the heat surface should provide adequate ventilation and will help conserve space. Many home cooks prefer a gas range and cooktop. Gas ranges and cooktops are manufactured in 30, 36 or 42 inches or larger widths. Hoods typically are sized 30, 36 and 42 inches and come in undermount, wall-mount, ceiling and downdraft models. Take the time to talk with your appliance retailer about the options to determine which unit will work best in your plans. Also, talk to your contractor about installation before you finalize your selection.

Identify the refrigerator for your kitchen remodel. The size of the refrigerator will influence placement of cabinetry in the kitchen design. You and the designer will need to consider depth, as well as height and width. There are counter-depth units that can be built in with cabinetry. Generally, counter-depth refrigerators have less storage capacity. If you need more refrigerator storage you may want to add an under-counter unit for beverages or overflow items. Be mindful of door sizes, depths of freezer drawers and door swings in your plan. You will need to have adequate clearance to work effectively in the kitchen.

Factor the dimensions of other built-in appliances into the plan. More home cooks are adding a second oven and dishwasher to their kitchens. The placement of a microwave oven is also important to the design. Microwaves can be placed over a range, on a counter, in an island or built in or placed on a shelf on a wall. Again, note the door swings and dimension of appliances when doors are open to assure that there is appropriate space for clearance. Your designer will account for these measurements.
Once you've identified appliances, your consultant or designer will work with you to create a "work triangle" by determining the optimal location of the refrigerator, stove/cooktop and sink. If the kitchen has only one sink, it should be placed between or across from the cooking surface, preparation area or refrigerator. Work aisles should be 42 to 48 inches.
4. Before you add cabinets to your plan, identify what you plan to store and where the items should be placed.
For the home cook, storage of the following items is essential:
Spices

Oils, vinegars and liquid flavorings

Baking supplies

Canned goods, bottled items, boxed food and other mon-refrigerated food items

Baking sheets and cutting boards

Pots and pans

Casserole and baking dishes

Small appliances

Cooking utensils and gadgets

Cookbooks
Your consultant or designer will help you by suggesting options for efficient, accessible storage that will include drawers, specially sized cabinets, pull-out units, carousels and inserts.
5. Finally, pay attention to task lighting.
Talk with your consultant or designer about illuminating areas over the sink, and above food prep and dining spaces and over where appliances will be placed. Plan to install under-cabinet lighting strategically. If your cabinets will have glass doors, add puck lights to illuminate the contents.