A master bathroom is a personal retreat. When people consider remodeling a bathroom they often think about tile, fixtures and amenities. However, it's important to be practical when planning a master bath remodeling project and to give thought to comfort, safety and function.
Universal Design has become one of the major trends in bathroom design. We incorporate many Universal Design principles and products in every bathroom we remodel.
Here are ten practical Universal Design features for master bathrooms:
1. Walk-in Showers
Walk-in showers are one of the most requested items on homeowner "wish lists" when they envision remodeling an existing bathroom. Most people prefer a shower to a bath.
There are many styles of walk-in showers – from prefabricated shower enclosures to a custom-built walk-in shower without doors –that are both accessible and easy to maintain.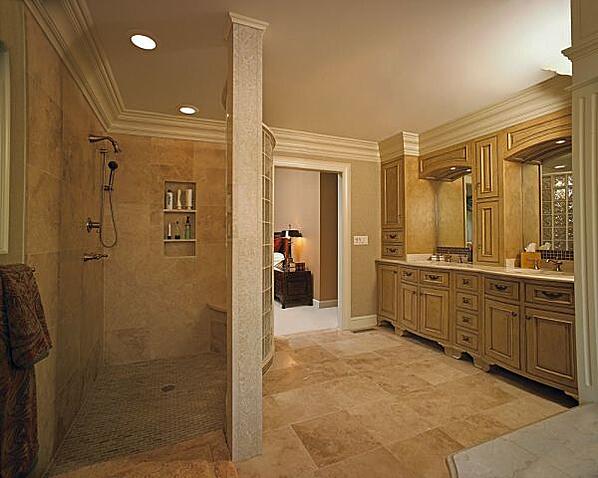 This master bathroom has many Universal Design elements such as a wide barrier-free entry, level thresholds and a walk-in shower. The shower is equipped with a shower seat, a built-in niche for supplies, accessible controls with lever handle faucets, multiple showerheads, easy-care wall tile and slip-resistant flooring.
2. Shower Seats
Shower seats are becoming a necessity in master bathrooms. Shower seats provide a variety of functions for users. It is much easier to shave while seated and the seat can provide a handy place for a washcloth, loofa or body wash.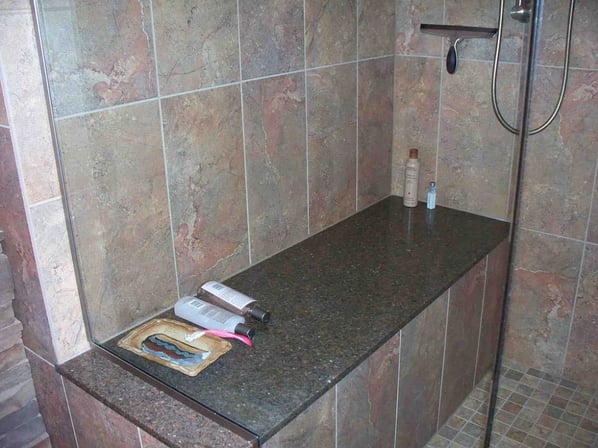 A seat in a shower is a comfortable and effective way for a person to bathe in a shower while sitting down. The seat provides other uses such as a surface to place bathing products and also can be used as a footrest.
3. Multiple Showerheads with Accessible Controls
Many showers we install now include wall or ceiling mounted fixtures and handheld showerheads. Using a handheld showerhead allows you to more efficiently control water flow when rinsing off soap or shampoo. If you've ever had an injury that required a cast or surgery where you may have needed to keep sutures dry, you'd truly appreciate the maneuverability of a handheld shower.
Controls should be easy to reach and can be installed at an appropriate height for users.
A rainfall showerhead with a lever-handle control and a handheld vertical mounted showerhead were selected for this master bath. A small grab bar was installed for safety. Large wall tiles were used for easy maintenance.
4. Grab Bars
Grab bars are always listed as "Universal Design" features for bathrooms and provide stability for shower users. You will find them in a variety of sizes and styles to complement the décor in your master bath.
A grab bar should be able to support a person weighing up to 250 pounds. The height and position of the bar can be adjusted for users.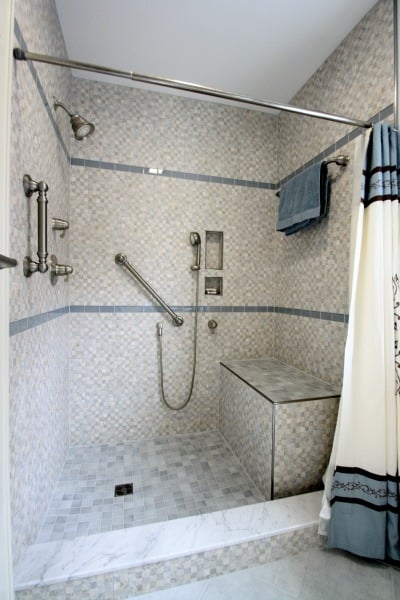 Universal Design features of this custom shower in a master bathroom include stylish grab bars, lever-handle faucets, a large seating area and a hand-held showerhead with a faucet that is mounted to be controlled while seated. The tile base of the shower was designed to be integrated with the shower seat.
5. Pedestal Sinks or Vanities with Toekicks
Bathroom sinks should be accessible. Since many bathrooms are small spaces, wall mounted or pedestal sinks can help keep floor space open providing more room to maneuver, especially if a user has a condition that impairs their mobility.
If you are installing a vanity, mount the sink bowl close to the edge for easier use and select cabinetry with easy-glide drawers that close automatically. Use a cabinet with a "toe kick" to help users maintain their balance when using the sink.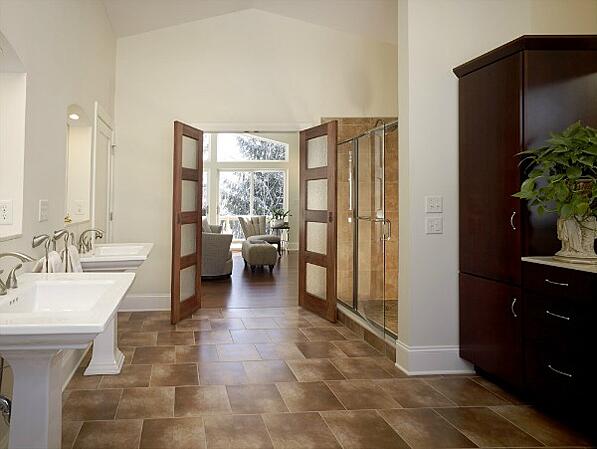 Universal Design elements in this stunning master bathroom include a wide entryway from the master bedroom, pedestal sinks with lever-handle faucets and ample space.
6. Lever Handles on Faucets and Doors
Consider lever handles for faucets on the sink, tub and shower. Lever handles are easier to push and adjust when wet rather than a knob you have to grasp. The same principle applies to doors.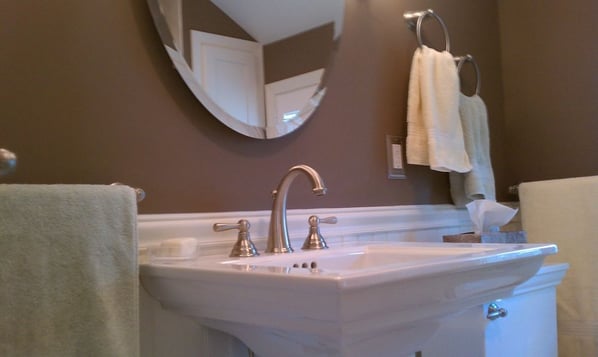 This pedestal sink is a stand-alone fixture that features a wide basin and narrow base. Lever handle faucets used for the sink complement the style.
7. Comfort Height Toilets
Taller "comfort height" toilets are designed for adults. Toilets should be centered 18 inches from any sidewall, tub or cabinet and the seat should be 18-to-19 inches off the floor.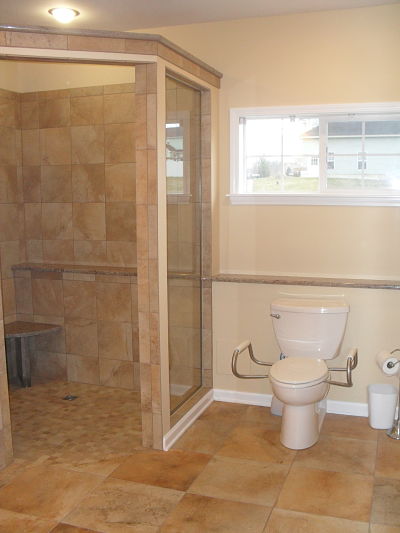 This master bathroom was expressly designed for a homeowner who requires "Universal Design" accommodations. The comfort height toilet includes two handrails for support. The doorless shower has a wide opening that makes it very accessible. There is a shower seat and ledge that provides storage space both inside and outside of the shower. A fixed glass panel creates a more open feel to the shower and allows in some of the natural light from the window.
8. Accessible Shelving and Niches
Bathroom storage should be readily accessible. More homeowners are adding open shelves to master bathrooms for storing towels and other items they want to have at hand. Storage drawers of vanity base cabinets and in-wall units hide contents and keep items organized and easy to reach.
Recessed niches in a shower stall serve to contain soaps, shampoos, conditioners and razors in the shower to keep these items from falling onto the floor and becoming a hazard.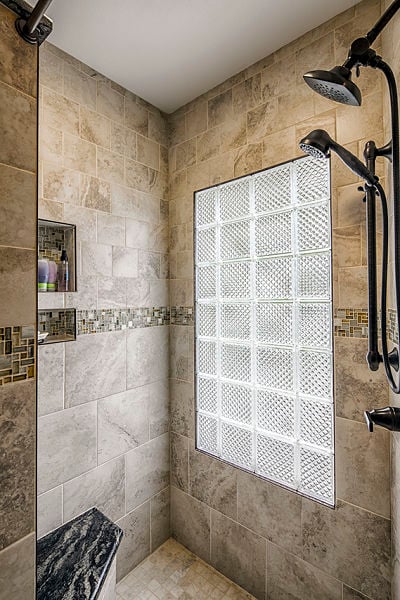 This shower has two recessed niches for shampoos and soaps. Other "Universal Design' features include two showerheads, a grab bar, lever handle faucets, a shower seat and slip-resistant flooring.
9. Slip-resistant Flooring
While no flooring is slip-proof, you will want "slip-resistant" flooring in the bathroom and shower stall.
There are three types of slip-resistant rated tile recommended for use in shower stalls: ceramic, porcelain and stone. Ceramic and porcelain are resistant to moisture while stone should be sealed prior to use. Vinyl flooring can be used for the floor outside of the shower.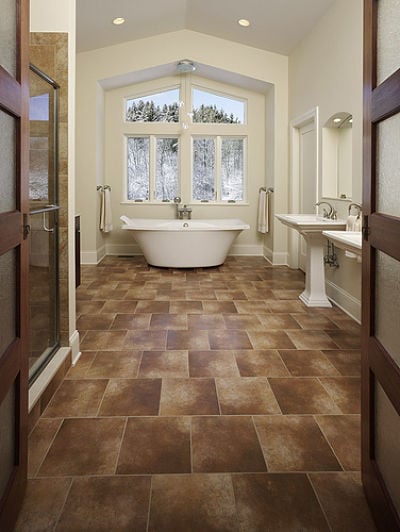 Slip-resistant porcelain tile makes a design statement in this stunning master bathroom. The layout of the large floor tile has the effect of making the bathroom appear large and spacious. The bathtub seems to be floating over the floor. Cathedral ceilings, a wall of windows, pedestal sinks with lighted built-in wall niches and dark wood cabinets and doors are practical and stylish features of the design.
10. Level and Modified Thresholds in Showers and Entryways
Level thresholds in entryways and showers can help to prevent tripping and falls in master bathrooms. Thresholds in showers may require modification if a person uses a wheelchair. Talk with your contractor about threshold transitions and widening door openings if necessary to make your bathroom safe and accessible.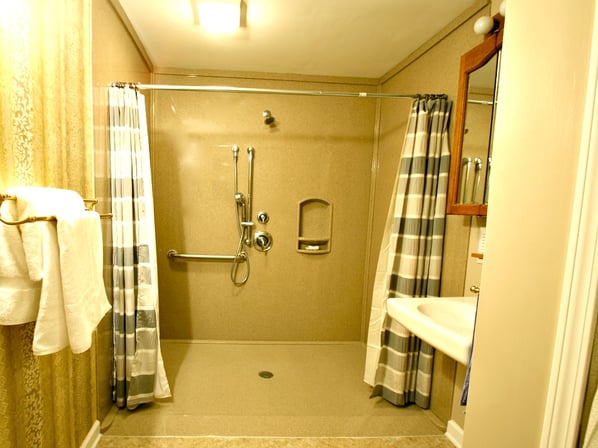 This walk-in shower features a wide manufactured shower base with a ramped threshold. A ramped threshold can be integrated with a shower base or it can be a separate removable piece when used with a base that has a low threshold. The slope of a ramp base can increase from zero to 1½ inches or from zero to 2¼ inches depending on the length of the ramp.