One of today's most popular trends in bathroom design is a walk-in shower. Why? Most people prefer a shower to a bath and walk-in showers can be installed in almost any bathroom. Part of the appeal of walk-in showers over shower-tub combinations is that they are safer because you don't have to step over a tub side (which is typically 16 inches high) and they are easier to clean. Accessories can be added for comfort such as seating, grab bars, wall jet sprays, hand-held shower sprays and rainfall showerheads. Walk-in showers can be designed with or without doors.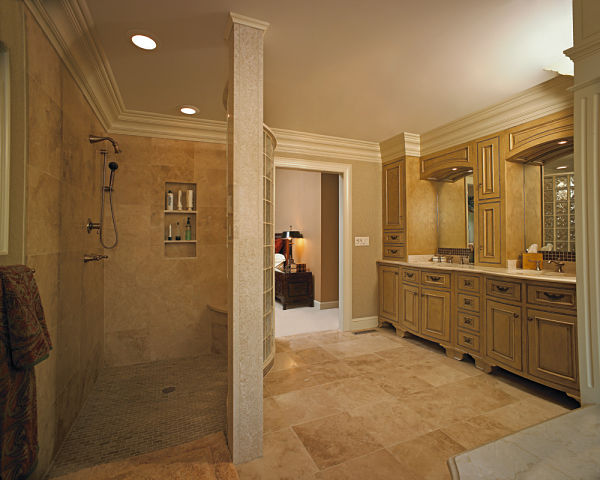 The design of your shower will depend on the space of your bathroom. Here are three design options to consider:
1. Custom Walk-In Showers
Custom walk-in showers offer the most design options. They can be designed to fit almost any bathroom space and a variety of materials can be incorporated into the design such as tempered glass, block glass, marble, solid surface, tile and granite.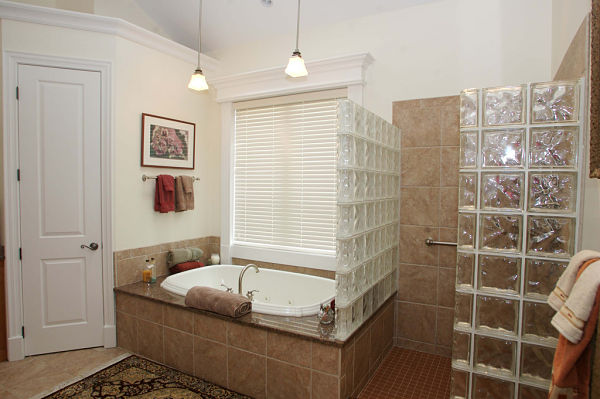 Custom walk-in showers can be designed to minimize upkeep. Consider this as you choose a base or flooring for the shower, an enclosure or doors. Tile enclosures are easier to clean if you use larger tiles in the surround. Larger tile means less grout to clean. Walk-in showers without doors solve the problem of having to clean the debris that will build up on door frames and can be wiped down easily without having to contend with cleaning both sides of doors.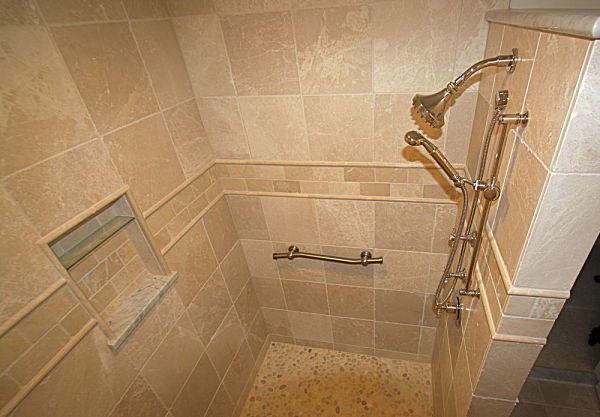 If you want a walk-in shower with doors, and have a bathroom space where door swings will not present a problem, consider hinged doors which are much easier to clean and more hygienic than sliding doors. Hinged doors do not have tracks where soap scum, mildew, mold, debris and calcium can build up causing the doors to jam and run off the track.
Another popular option for custom walk-in showers is a wall/base kit from Onyx. Onyx produces bases in many shapes and sizes that will fit virtually any space. They also offer configurations for showers with and without doors.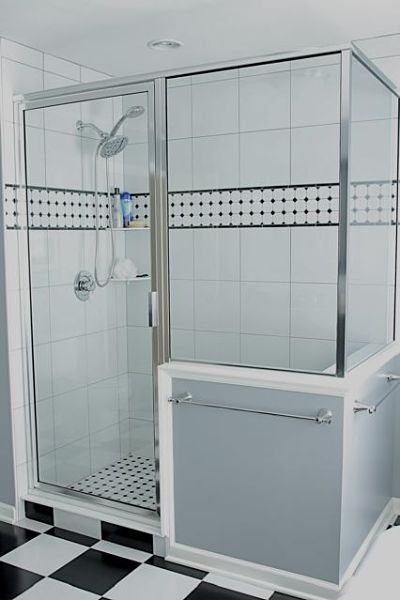 2. Prefabricated Shower Pans Fitted with a Separate Surround
Prefabricated shower pans or bases are available in a variety of materials including stone and acrylic. Prefab pans can be combined with prefabricated shower stalls, solid surface material or tiled stalls. Some homeowners are using acrylic prefab shower pans with tile surrounds because of the durability of acrylic and its easy maintenance. Acrylic is seamless, slip-resistant and will not crack like tile flooring may in a shower, plus there is no grout to clean. Prefabricated pans are also less expensive than a custom base.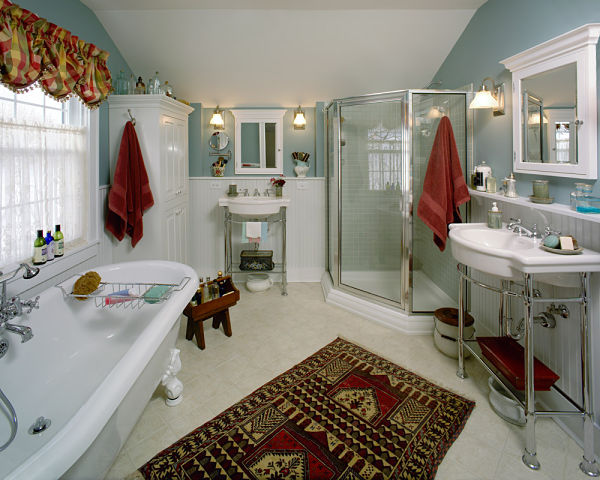 3. Prefabricated Walk-In Shower Stalls
Prefabricated shower stalls are made of fiberglass finished with acrylic or polyester gel coat. They come in a variety of shapes, sizes and colors. Most are square or rectangular with an open side for a door or curtain. There are also corner units.
Some prefabricated units have a low or no threshold, which is important for individuals who use a wheelchair or have impaired mobility. Other features you can purchase with a pre-fabricated shower stall include a shower bench, soap dishes and storage shelves, grab bars and offset controls placed away from the water stream to minimize the risk of scalding.
Prefab shower stalls come in several models for assembly. One-piece units are large and sometimes difficult to get into a room. Two or three piece stalls make the logistics of moving the unit easier. Some units may contain a shower pan while others may require a separate pan. Doors are usually purchased separately. This is the least expensive option for a walk-in shower.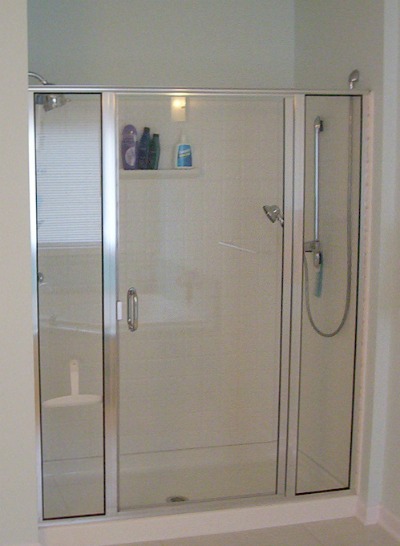 If you are considering a walk-in shower, you will want to talk with a remodeling professional to discuss your ideas. They can give you the best advice about design options for your walk-in shower and bring your plan to life.
Editor's note: This post was originally published on August 9, 2011 and has been updated to provide information about the latest trends and design ideas.