Stone veneer is an architectural element that adds beauty and value to a home. It is typically used as a decorative cover on interior as well as exterior walls and surfaces. Stone veneer, which has been available for many years, can be made from real stones or manufactured stone.
Because of recent advancements in technology, more homeowners are now remodeling with manufactured stone veneer. Compared to natural stone veneer, manufactured stone is more affordable, lighter in weight, easier to install, available in many shapes and colors, easy to maintain and requires no sealing. Manufactured stone veneer products are made to replicate the look of natural stone and are backed by manufacturer warranties.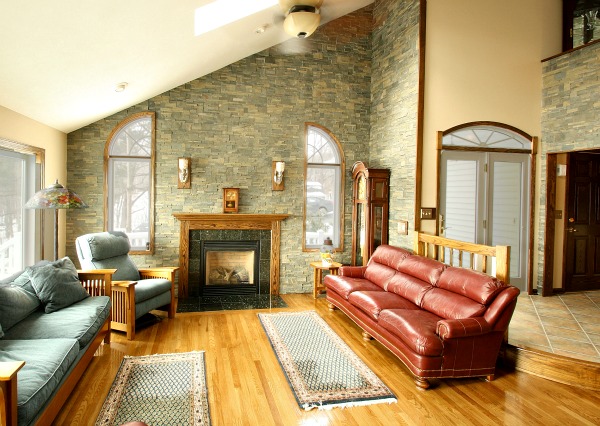 The architectural elements of Craftsman design are stone, natural wood, clay and wrought iron. Each of these elements can be found in this great room remodel. Cultured Stone "Country Ledgestone," was used on the fireplace wall and on accent walls in the room. The wood used on the mantel, trims and flooring is oak.
If you are considering using manufactured stone veneer or stone panels for a home remodeling project here is what you need to know about the product:
Manufactured Stone Veneer Products
The manufactured stone veneer industry continues to grow each year driven by both residential and commercial use. One of the best products we've used is Cultured Stone® by Boral®.
Cultured Stone was introduced to the market in 1962 by Garret and Floyd Brown of Vallejo, CA. The Brown brothers were plasterers who developed flexible molds replicated from natural stone and used lightweight materials to produce a material with the look of stone – a "veneer" or decorative stone surfacing. The veneers the Browns produced were one-fourth the weight of stone, light enough to be adhered to walls.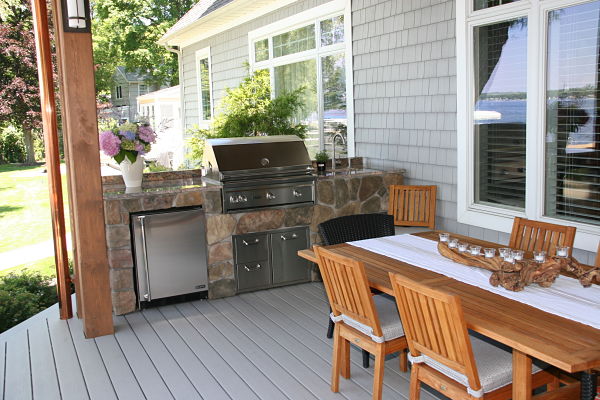 Cultured Stone "Dressed Fieldstone in Chardonnay" was used create this outdoor cooking island, which is part of a porch addition to this lakefront cottage.
Today, Boral operates two manufacturing plants, one in Napa, CA and the other in Chester, SC. Boral produces Cultured Stone in 21 textures and 100 colors. Cultured Stone has a 50-year warranty.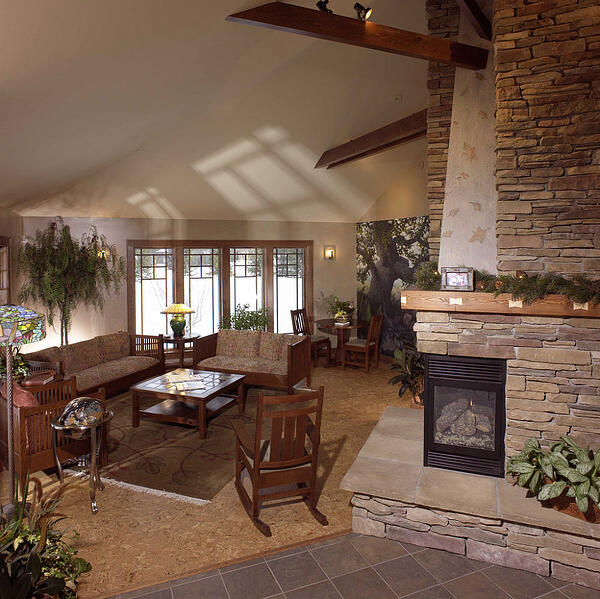 The waiting room of this dental office includes a three-sided gas fireplace surrounded with Cultured Stone "Drystack Ledgestone." The room also features a cathedral ceiling, cork flooring, a hand painted mural of a forest scene and exposed wood beams. This project won a national award.
Installation
Cultured Stone veneer is installed in the same manner in which you would install natural stone veneer. A pattern for placement of the stone is laid out. Water-resistant building paper is applied to the surface and then a wire mesh lathe is installed to hold mortar. Mortar is applied to the lathe as a scratch coat and then raked to allow the stone to adhere. Stones are set onto the mortared surface ½-inch apart. The joints between the stones are then filled with mortar, which can be colored with iron oxide pigment for aesthetics.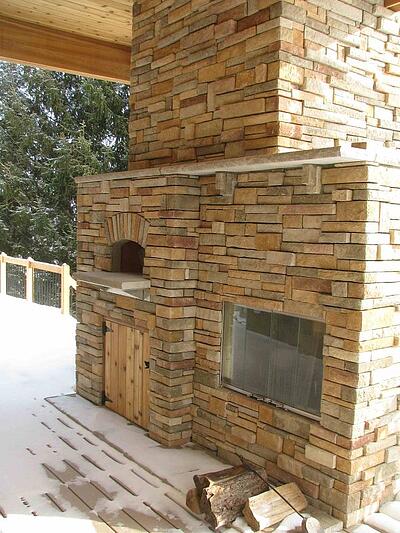 Cultured Stone "Drystack Ledgestone in Caramel" was used to create a surround for a wood-burning fireplace and a pizza oven on a deck.
Design Options
Cultured Stone is available in a variety of shapes and colors. Popular styles include ledgestone, limestone, river rock and shadow rock. It is commonly used for fireplace surrounds and will withstand heat. Other interior applications include using stone veneer for a kitchen island or bar, backsplash and accent walls. On the exterior, stone veneer is used as a masonry accent on a home and can be used for retaining walls, benches and outdoor kitchens.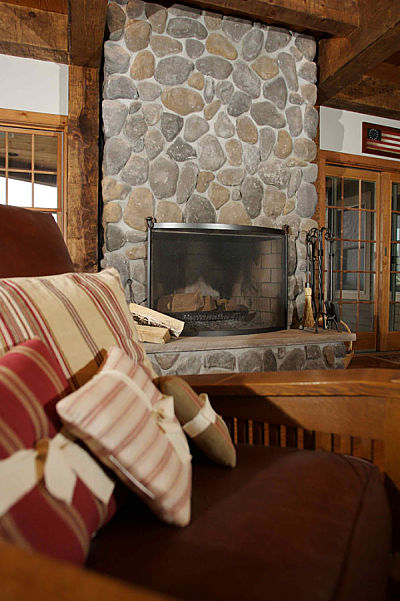 Cultured Stone "River Rock" was used for this masonry fireplace wall and hearth.
Stone Veneer Panels
Stone veneer is also available in panels that install with fasteners similar to siding. Panels are made of lightweight aggregate material designed to withstand freezes, thaws and heat. If you are considering using a panelized stone veneer product, it's important to work with your contractor to determine the proper measurements for your project and scrap allowance. Boral makes a stone veneer panel product called Versetta Stone® that has a 50-year warranty.
Cultured Stone, Versetta Stone and Boral are registered trademarks of Boral Limited.