If you visited this year's Parade of Homes you may have been impressed by the beautiful stone facades on the exterior of the showcase houses and the decorative interior stone veneer used on walls and fireplace surrounds.
Decorative stone veneer can add architectural and visual interest to the interior of a home or office and become a focal point in any room.
While stone veneer, which can be made from natural stone or manufactured stone, has been around for many years, today's products provide consumers with a wide variety of shapes, textures and colors.
With more and more customers asking about stone veneer products, we thought we'd share some design ideas from recent remodeling projects that used stone veneer to enhance home and office interiors.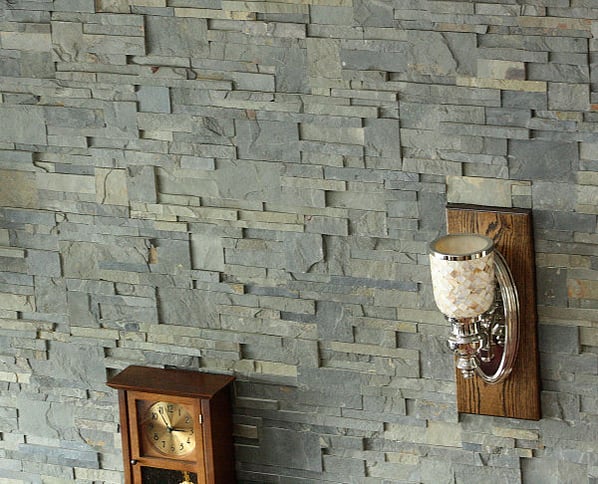 The manufactured ledgestone veneer panels used for this project have various shades of gray stone with ivory and rust colors infused into the stone.
Stone Walls
Stone accent walls are becoming a popular interior design trend because recent advancements in technology have made manufactured stone veneer more affordable and available. These products are very attractive and look just like natural stone. They are also lighter in weight and easier to install than natural stone products.
For interior applications manufactured stone veneer is easy to maintain and requires no sealing. Manufactured stone is available in veneer panels or in pieces that are set with mortar for a conventional look.
Stone veneer panels are made of lightweight aggregate material and installed with fasteners similar to siding. Boral® makes a stone veneer panel product called Versetta Stone® that has a 50-year warranty. If you are considering using a stone veneer panel product, it's important to work with your contractor to determine the proper measurements for your project and scrap allowance.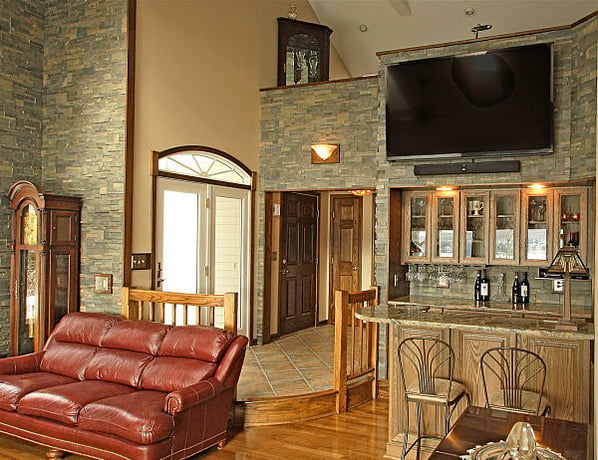 Manufactured ledgestone stone veneer panels were used for accent walls and a backsplash in this family room remodeling project. The granite countertop and hardwood flooring complement the stone.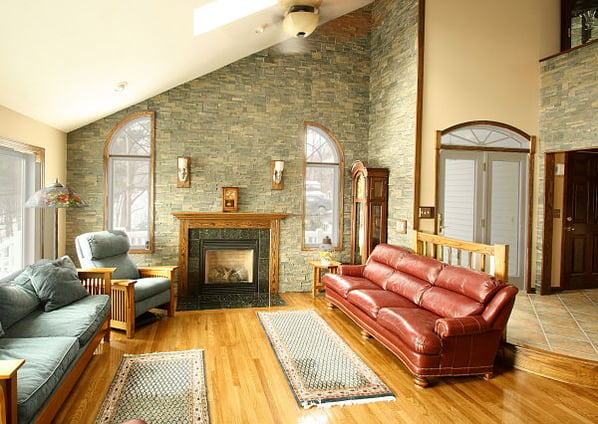 This is another view of the family room showing stone veneer used on a wall where a gas fireplace was installed.
Stone Fireplace Surrounds
Cultured Stone® is another stone veneer product manufactured by Boral. It is commonly used for fireplace surrounds because it will withstand heat. Cultured Stone is available in a variety of shapes and colors. Popular styles include ledgestone, limestone, river rock and shadow rock.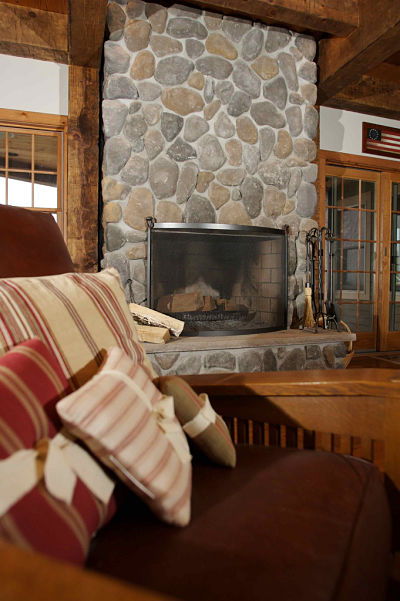 Cultured Stone "River Rock" was used for this masonry fireplace wall and hearth. The colors and shapes of the stone make the fireplace a focal point in the room.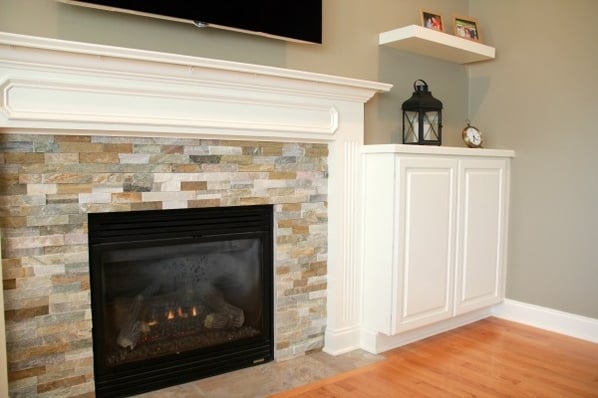 Drystack stone veneer adds color, form and texture to the fireplace and architectural interest to this living room, recently featured as a Project of the Month.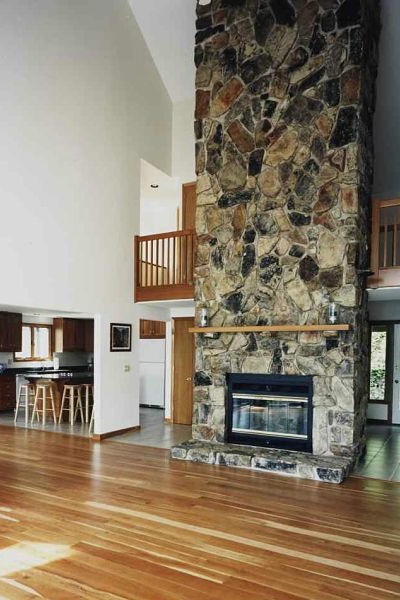 Based on a great room design plan, this home has two story cathedral ceilings in the living room and the focal point in the room is a floor-to-ceiling natural stone chimney. The natural stone was cut for decorative use and set in mortar.
Other Interior Applications
Other interior applications include using stone veneer under counters and kitchen islands, for bar areas or as a backsplash. In addition to homes, stone veneers are also being used in offices, restaurants and other business settings.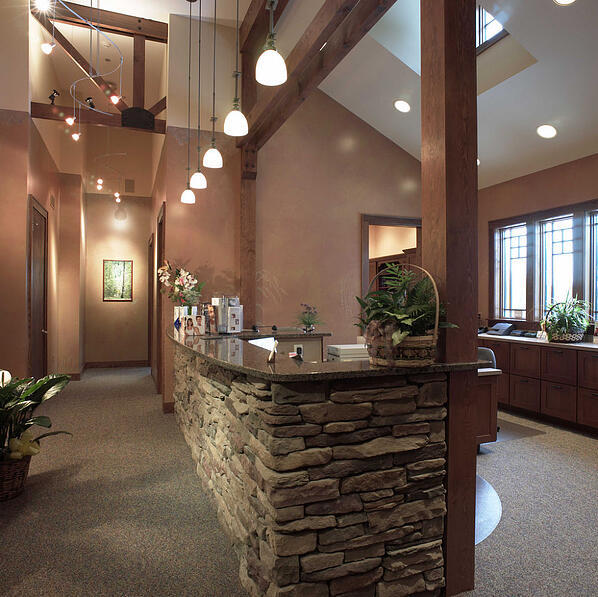 Drystack stone veneer was used for the reception desk of this dental office. Drystack gives the appearance of being mortar-less and casting shadows between the stones.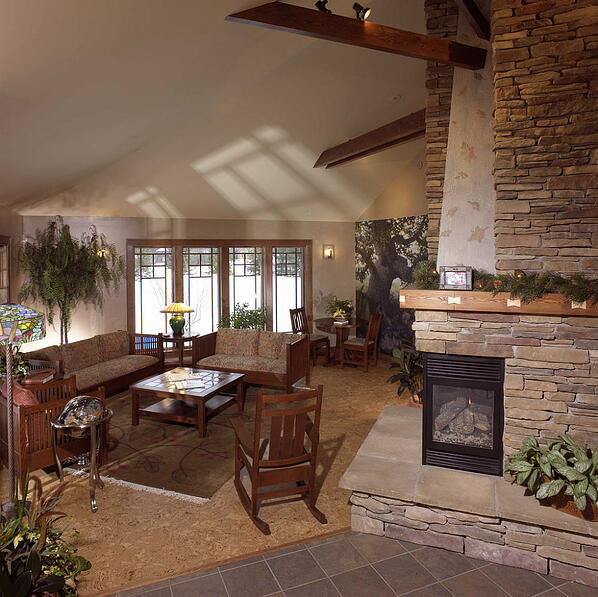 The dental office waiting room features a dry stack veneer stone accent wall, hearth and fireplace surround.