At the 2016 Central New York Parade of Homes most of the model homes featured exterior stone facades and trims. Stone is an architectural element that adds beauty and value to the exterior of a home.
Stone veneer, which has been available for many years, can be made from real stones or manufactured stone. It is generally used as a decorative cover on exterior walls and surfaces.
Because of recent advancements in technology, more homeowners are now remodeling with manufactured stone veneer.
Compared to natural stone veneer, manufactured stone veneer is more affordable, lighter in weight, easier to install, available in many shapes and colors, easy to maintain and requires no sealing. Manufactured stone veneer products are made to replicate the look of natural stone and are backed by manufacturer warranties.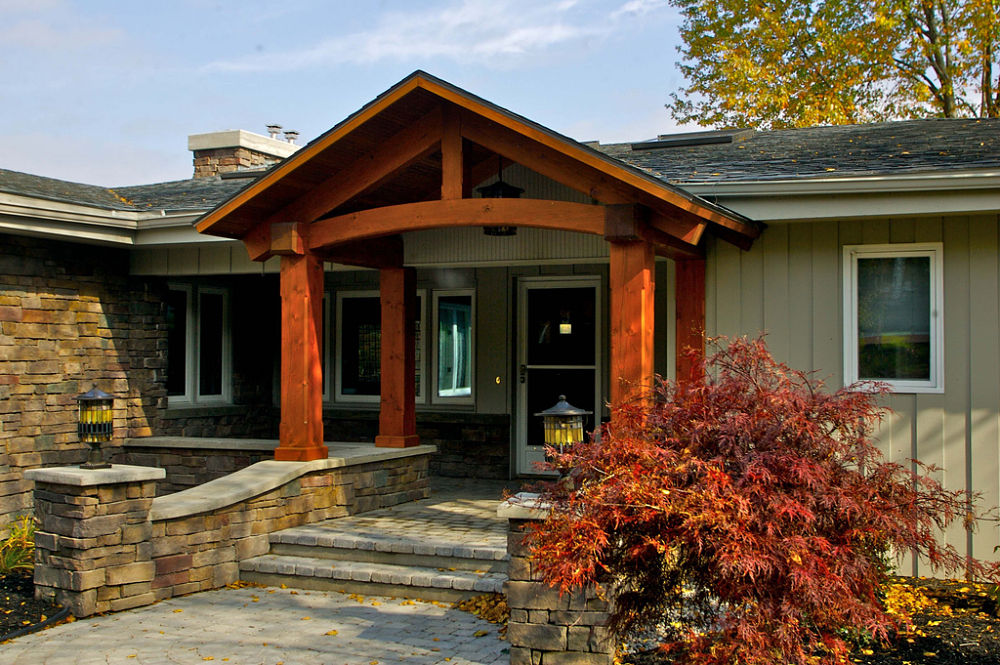 Natural stone veneer was used for the chimney, façade and walled walkway of this Craftsman-style home.
Here are five exterior design ideas showing you how a home's exterior can be transformed with natural or manufactured stone veneer.
1. Facades
A façade is the home's front exterior that faces the street. It's the part of the home that gives it curb appeal. Stone veneer provides a decorative element and architectural interest to homes that primarily use siding or clapboards.
Exterior stone veneers are installed with a water resistant barrier, metal lathe, fasteners and mortar. Bonding agents and pigments can be added to the mortar. There are optional sealants available to minimize cleaning but sealants can change the color of the stone.
Just as siding and clapboards require periodic cleaning or painting, stone facades and trims require cleaning from time-to-time. The manufacturer of Cultured Stone® by Boral® recommends cleaning stone veneer with granulated soap or detergent and water with a bristle brush, then rinsing with water. That's it! Pretty simple. No need for a wire brush, acid products, power washing or sandblasting since these methods will damage the stone.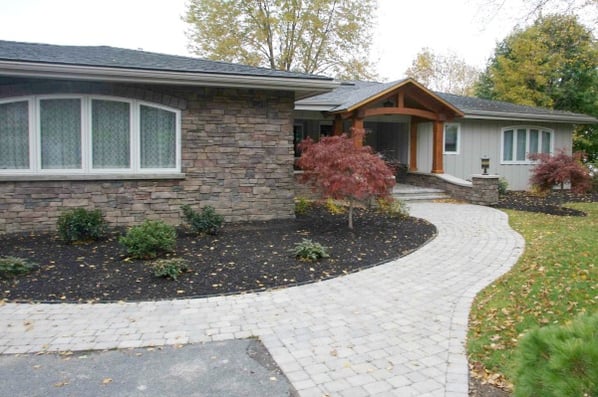 A stone veneer facade and trims transformed this ranch home.
2. Trims
Stone and veneer trims can make a major impact on the look and style of a home. Even minimal trims, such as stone veneer added to a post, provide architectural interest.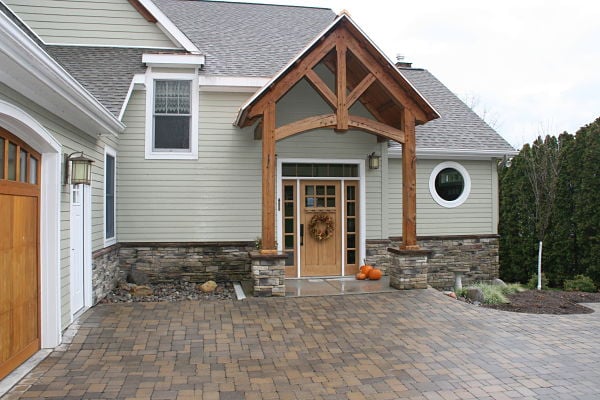 Stone veneer applied to the base of this home's front entryway and to the base of posts that support the overhang add curb appeal.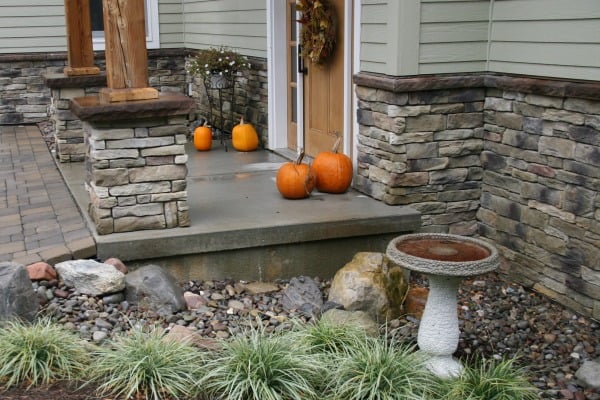 Close-up view.
3. Chimneys
Stone veneer panels can be used for chimneys. Veneer panels come in a variety of designs and colors, even brick.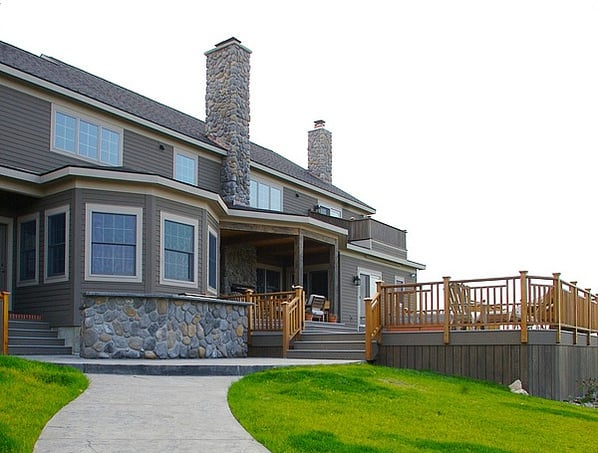 Stone was used on the chimneys of this home and as trim to provide a rustic look.
4. Outdoor Fireplaces
A growing trend in Central New York is the addition of an outdoor fireplace for both cooking and gathering. Outdoor fireplaces can be either wood or gas fueled and stone veneers provide a finishing touch.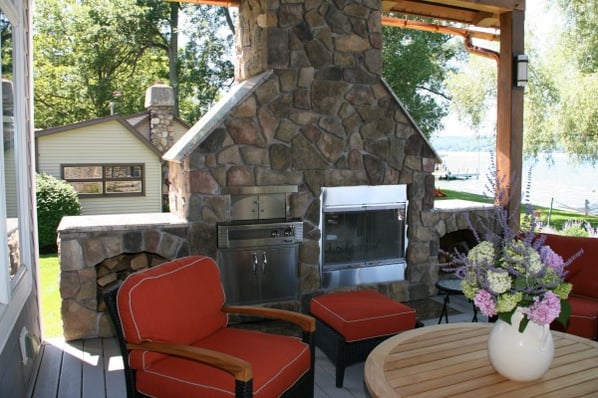 Cultured Stone "Dressed Fieldstone in Chardonnay" was used to create this outdoor fireplace, which is part of a porch addition to this lakefront cottage.
Outside view of fireplace chimney.
5. Other Exterior Applications
Stone veneers can be used for walls, seating areas and outdoor kitchens.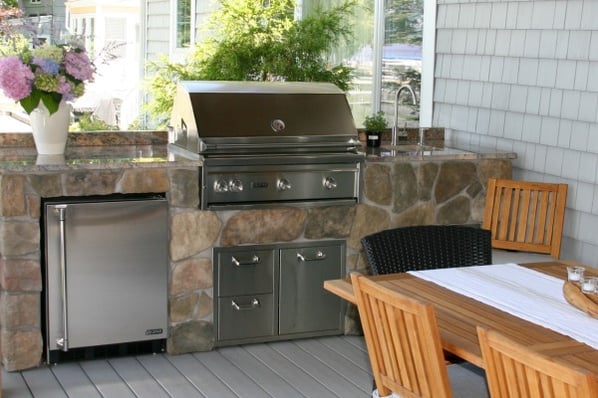 This outdoor kitchen with Cultured Stone veneer siding and granite countertop features a gas grill, refrigerator, storage cabinets and a bar sink.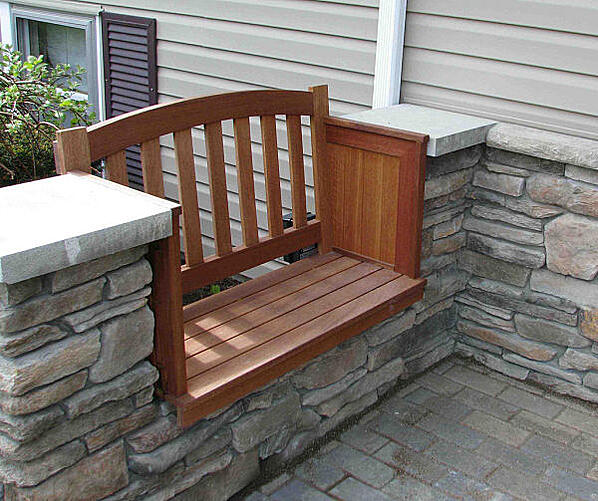 Stone veneer was used to form a foundation for a mahogany bench in an entryway.