A fireplace is often a focal point in a room. Design details are important and help to define the style and mood of the space - casual or formal. Mantel design, the surround, hearth and the fuel source are key elements to consider when updating or adding a fireplace to your home. There are many products and accessories to choose from. Here are nine unique fireplace projects we designed and built for Central New York homeowners that show a range of options and creative ideas.
1. Limestone Mantel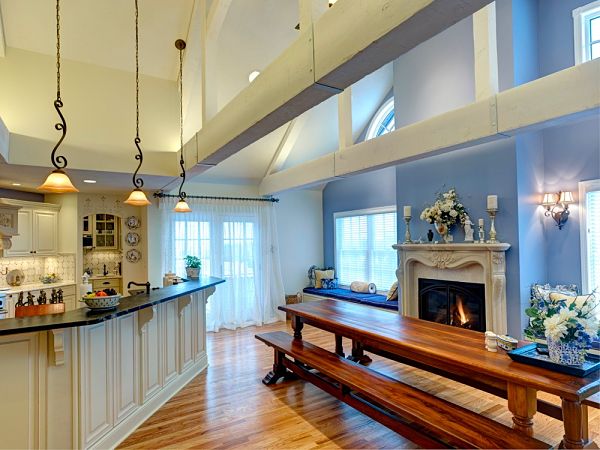 We worked with the owners of this Tully home to create a multi-purpose addition that expanded their kitchen, added dining, gathering and office space, and opened to a deck with a spectacular valley view. The design style for their home is "Country French" which mixes both formal and rustic architectural elements such as decorative cabinetry and lighting, hand-painted wall tiles, rustic beams, marble and carved stone, and lavender blue accents. The cast limestone mantel of the gas-fueled fireplace was ordered from Old World Stoneworks expressly for the project and required special care during installation.
2. Oak Mantel with Stone and Granite Surround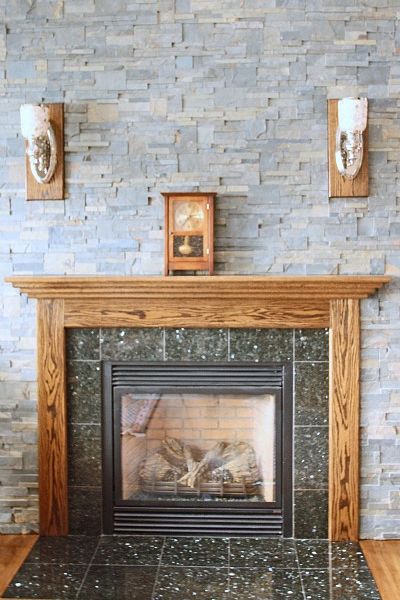 The owners of this Skaneateles lakefront home updated a great room. The room was designed to include architectural elements reflective of Craftsman style interiors such as natural wood, stone, clay and wrought iron. The fireplace wall was constructed with a ledger stone façade. The hearth was fashioned with granite tiles. The Mission oak mantel was made to match a mantel owned by the homeowners that could not be used because it was not the right size for the updated fireplace. A new, deeper mantel was constructed to fit with the stone. A gas fueled fireplace insert with a brick interior was used. The fireplace operates with a remote control device.
3. Stained Wood Mantel and Quartz Surround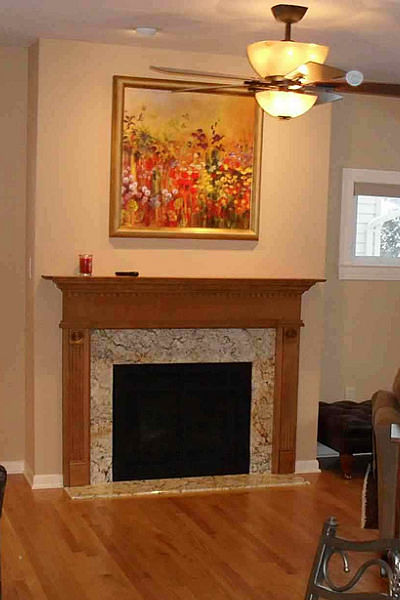 A garage was converted into additional living space providing an area for relaxing and informal gathering. The new gas fireplace features a classic wood stained mantel that complements the owners' Mission cherry furniture. Cambria quartz ("Windermere") was selected for the fireplace surround and hearth to match counters in an adjacent kitchen. Granite and quartz are being used more frequently as fireplace surrounds and hearths instead of brick and stone. If you visited the CNY "Parade of Homes" during the past few years you've seen Cambria quartz used for embellishing gas fireplaces.
4. Traditional White Painted Fireplace Mantel, Brick Surround and Cast Iron Stove Insert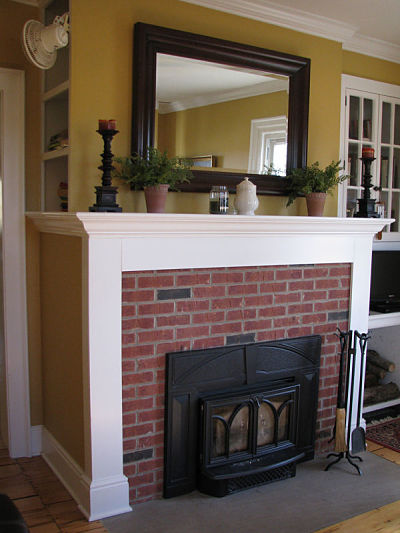 A cast iron wood burning stove insert was used for this fireplace, which has a traditional white painted mantel. The brick surround adds a touch of color and complements the insert. A custom built woodbin and shelf hold supplies for the stove.
5. Traditional Brick Fireplace with Hidden TV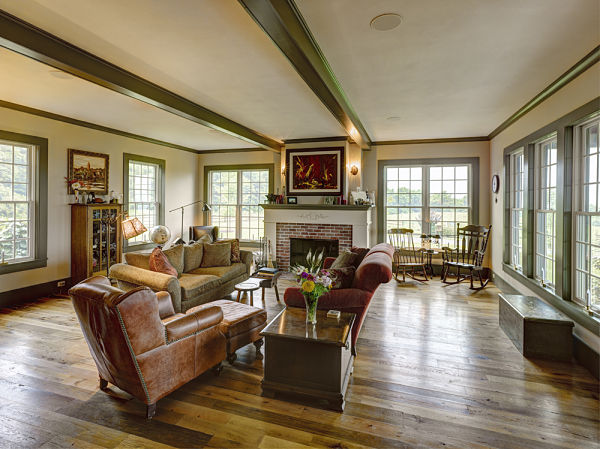 This newly built Farmhouse-style home features a traditional brick wood-burning fireplace with a custom designed wood mantel and surround. What's unique about this fireplace is the custom-built television panel directly above the fireplace that lowers and raises a flat screen TV for viewing. When not in use, the television is hidden by artwork.
6. White Painted Fireplace Mantel with Flat Screen TV Above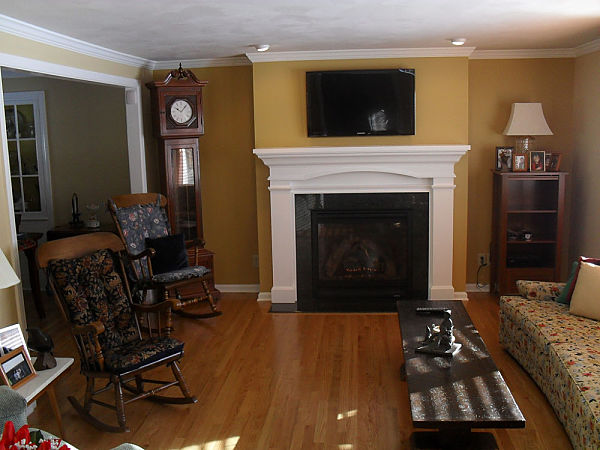 Fireplaces are often placed on the wall of a room that can also be an optimal location for a television. Today flat screen TVs are replacing the traditional paintings that were once placed over a mantel. Wires can be hidden. This fireplace features an oversized mantel, a gas fireplace insert and a granite tile surround and hearth. The flat screen television placed over the mantel augments the granite and blends into the room.
7. Masonry Fireplace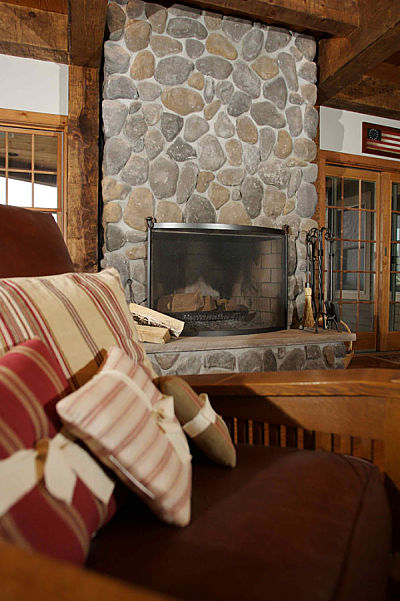 This masonry wood-burning fireplace is unique in that it is two sided. An additional firebox was incorporated into the chimney for an outdoor entertainment area.
8. Adobe Fireplace
Authentic adobe fireplaces were designed to fit into the corner of a room. Adobe is a clay material used for building primarily in the southwest U. S. and other areas of the world that receive little rainfall. Adobe is sun-dried clay made into bricks. This gas fireplace was built into the corner of a dining room and built up with plaster to create an adobe-type look.
9. Outdoor Fireplace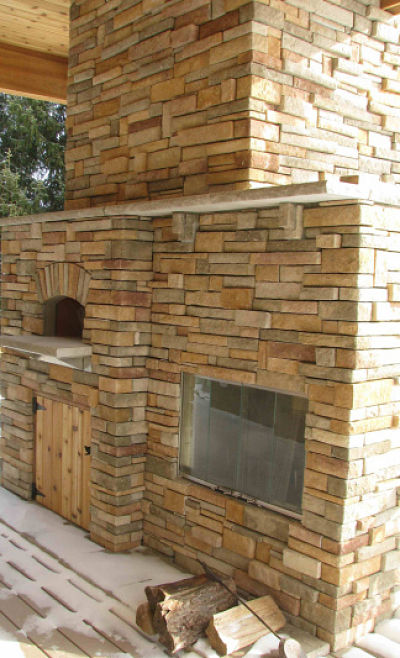 An outdoor fireplace helps to extend the days we can use our outside living space. This composite deck features a custom fireplace, which includes a wood-burning pizza oven. The fireplace is veneered with cultured stone.