Is it time for change in your kitchen? Some kitchens may require a full remodel to meet the needs of the homeowners. Others can be improved with a fresh paint color or by adding a few new features such as a countertop or backsplash. What are your needs?
We thought we'd share the top five reasons homeowners decide to remodel a kitchen:
1. Replace timeworn appliances and fixtures.
When the fixtures and appliances in your kitchen are over 25 years old it may be time to remodel. Cabinets and countertops can become damaged with use and age. You may be noticing that drawers no longer close properly, finishes are deteriorating, shelves and doors may have become warped or a counter is scratched, stained or chipped.
Appliances have also changed significantly over the past two decades. There are many options and today's appliances must meet energy saving standards. Small appliances such as mixers, Keurig coffeemakers and electric kettles are now "must-haves" for many kitchens as are cellphones, tablets and computers that may require additional outlets.
If your kitchen has an old fluorescent light in the middle of the ceiling, it may be dim and difficult to work in the space. Options for home lighting have dramatically improved. LED, halogen and compact fluorescent bulbs are replacing energy inefficient incandescent bulbs that are being phased out.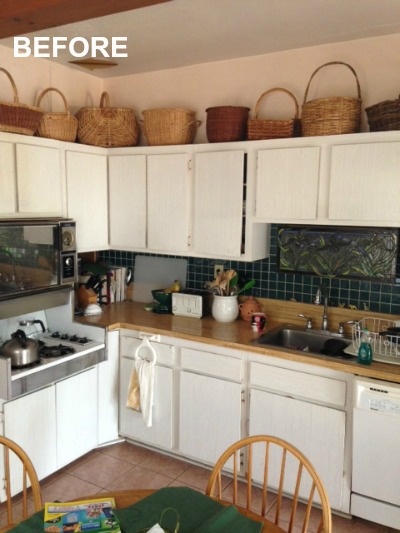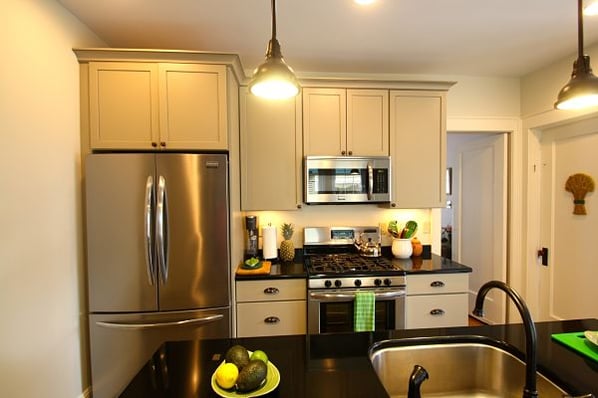 AFTER: The owners of this Syracuse home that was built in the 1920s transformed their galley kitchen to create a functional space with practical storage and efficient work areas. New cabinets, countertops, appliances, fixtures, lighting and flooring give a bright new look and feel to the room.
2. Improve the work areas.
Does your kitchen have an inefficient floor plan? This is often the case in older homes or in kitchens where "improvements" that no longer make sense were made to accommodate appliances or to add storage.
Changing appliances may also require changes in a floor plan. Kitchen appliances should be positioned to enable you to work efficiently. The sink, cooktop/range-vent, and refrigerator should be placed in a convenient configuration such as a "kitchen triangle" with work aisles and door swings factored into the design.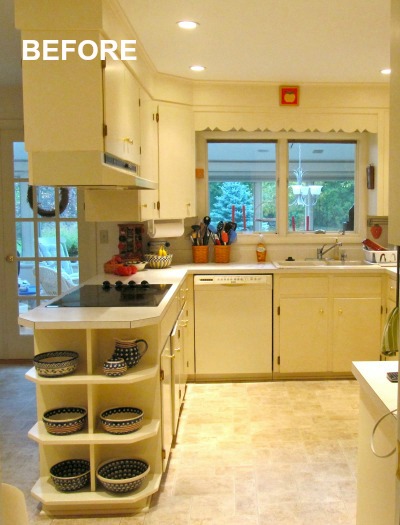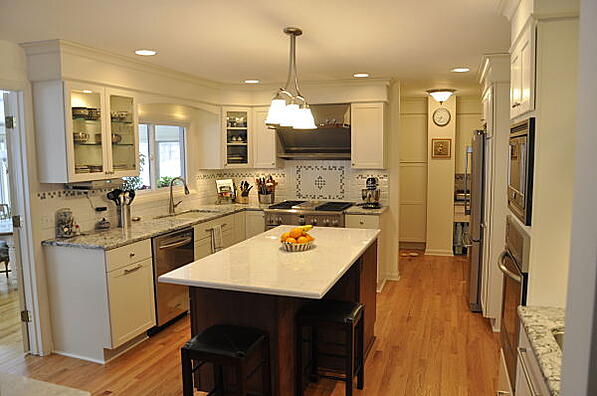 AFTER: This kitchen was completely redesigned within the existing footprint to meet the homeowners' needs. The original kitchen was built in 1958 and did not include a dishwasher. Over the years there were changes made to the kitchen that no longer made sense. The new efficient design reconfigured appliances along the perimeter. An island was added to provide food prep space, convenient storage and an area for informal dining.
3. Add more functional storage space.
Is your kitchen becoming cluttered or is it difficult to access base cabinets or upper cupboards? When homeowners talk to us about remodeling a kitchen they almost always want to create more functional storage by installing pullout shelving, organizers, Lazy Susans or deep storage drawers. They also discuss reconfiguring cabinets to improve storage or may want to add a pantry.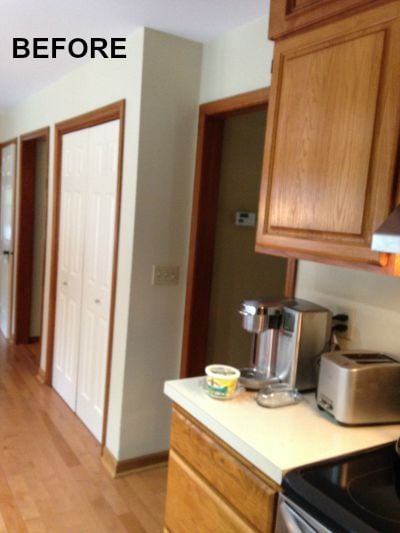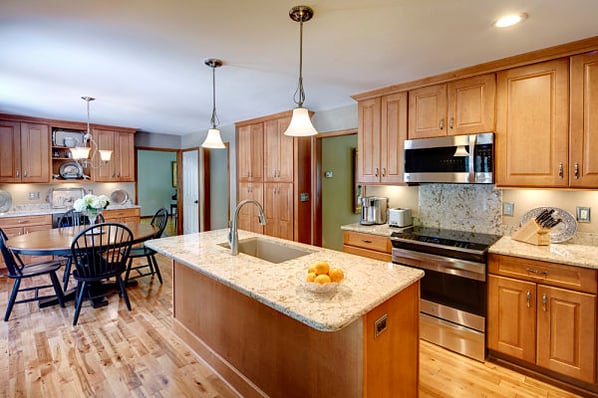 AFTER: We worked with the owners of this Jamesville, NY home on solutions to create more storage capacity and update both the look and function of their 1980s style kitchen.
4. Improve space for cooking and entertaining.
An organized kitchen is essential for people who enjoy cooking. Cooks want to have utensils at hand; storage for pots, pans and bakeware; an adequate area for food prep; and organized storage for oils, vinegars and spices.
Other features they specify often include two ovens, two sinks, a commercial cooktop or range and other optional appliances such as warming drawers, convection ovens, icemakers and beverage and wine refrigerators.
Traffic flow and seating are also important considerations for family use of the kitchen and for entertaining. Some of the kitchen remodels we've built for homeowners involve removing a wall between a kitchen and an infrequently used dining room to open up the space.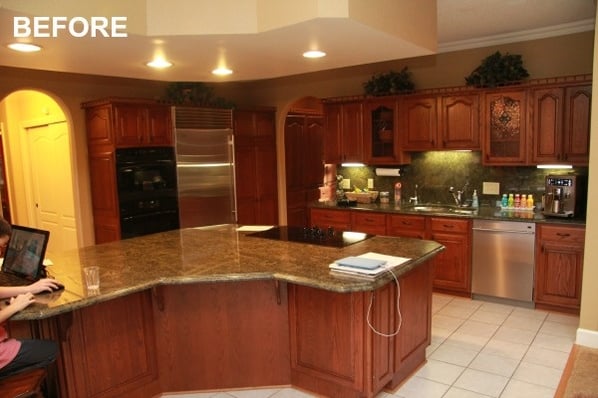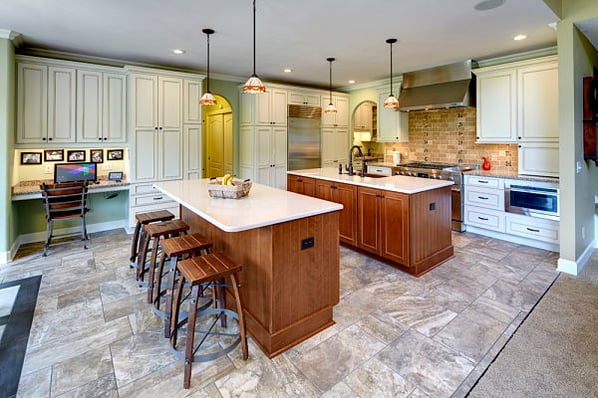 AFTER: Two islands, one providing a space for cooking and the other for informal dining and entertaining, were placed in the center of this kitchen. Cabinets were reconfigured to accommodate a 48-inch gas range with a double oven and a microwave drawer oven. Removing a double wall oven created ample space for pantry storage. A beverage center and a home office space were also part of the plan.
5. Update aesthetics.
Kitchen updates are popular projects and can greatly improve a home. Updates may involve painting or refinishing existing cabinets; painting walls; replacing counters, sinks and flooring; changing a backsplash; installing new appliances; adding trim; installing new window treatments; and replacing dated light fixtures.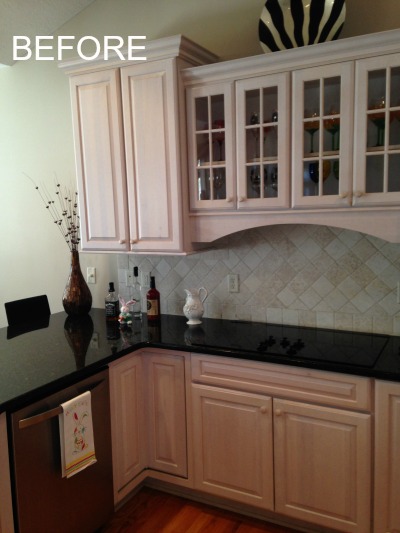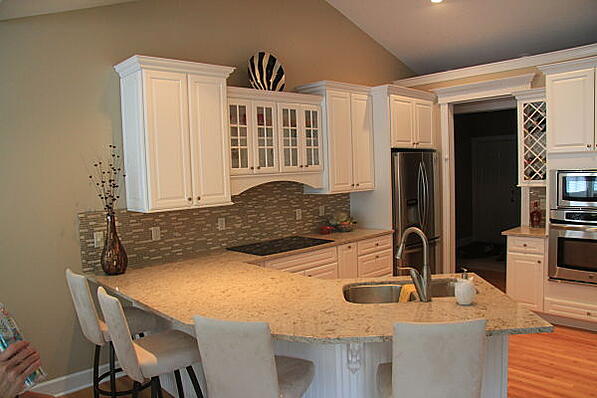 AFTER: This kitchen was in very good condition but did not complement or connect with the décor of adjacent living areas. The kitchen was transformed by repainting cabinets and installing new counters, cabinet hardware and a mosaic glass tile backsplash.