We've often talked about backsplash tile as a focal point in a kitchen. It is one of the most important design elements in a kitchen remodeling project. That's why it's important to work with designers who have extensive expertise in creating backsplash designs and are knowledgeable about the latest products and trends.
Below are some of the new trends in kitchen backsplash tile. The designs are from kitchen remodeling projects we recently designed and built for Central New York homeowners.
You may want to consider these designs for your kitchen. You can learn more about them by clicking on the links below.
1. Stone Tile
Tumbled marble and travertine tile can provide a neutral field and texture in a kitchen. The colors of stone tile complement granite, quartz and stone-look laminate counters and stained cabinets.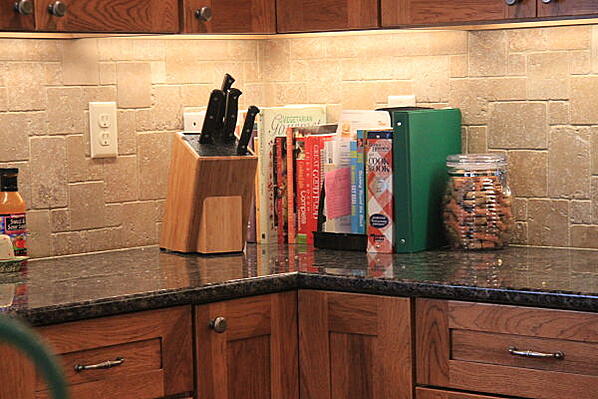 Tumbled marble sheet tile was used for the backsplash in this kitchen. The varied rectangular sizes and muted colors of the tile and its crevice texture help to unify the stained oak cabinets with the black granite counters.
2. Borders
Using a tile border as an accent for a backsplash adds interest to a kitchen. Popular border treatments include the use of glass and stone mosaic tile or hand-painted tile as an inset border, and relief tile for edging.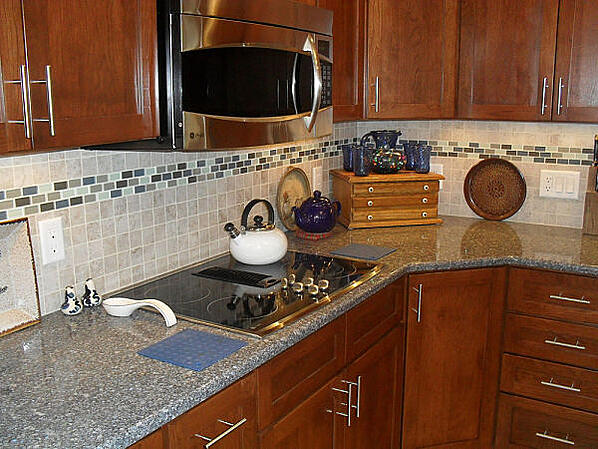 A glass mosaic tile border accents a field of neutral two-inch square ceramic tile set in a grid pattern. The border complements the dark wood cabinets and gray granite counters.
3. Classic Layouts
Subway (brick), grid and diamond patterns remain the most popular tile patterns today. They can stand alone or be used in combination to create an interesting design.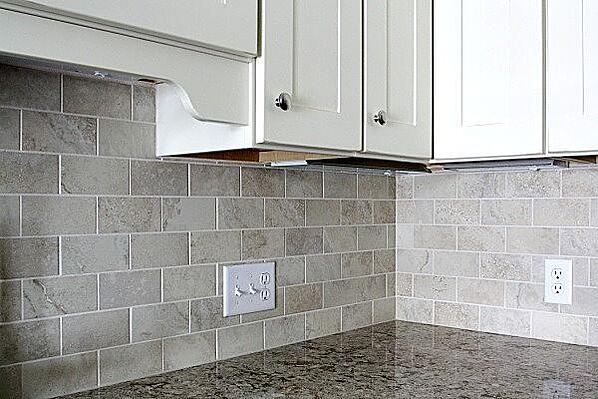 Glazed porcelain subway tile complements Cambria counters.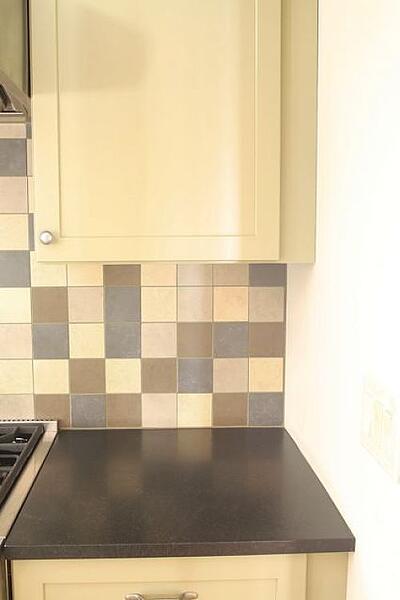 A tile backsplash comprised of two-inch squares in mixed colors was laid in a grid pattern to connect all of the elements in this kitchen.
4. Mosaics
One of the hottest trends in kitchen tile today is mosaic tile in glass, stone and other materials. New mosaics include patterned tile, curved and round shapes and stainless steel tile sheets. Mosaic tile can be used as a border or accent but really makes an impact when it is used as a field tile.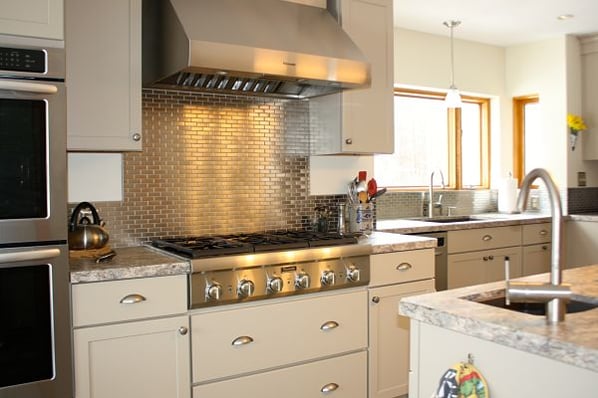 A mosaic backsplash made of stainless steel tile laid in a brick pattern stands out in this kitchen. The owners added stainless steel appliances, fixtures and hardware to update the kitchen.
5. Accents
Accent tile can be set into field tile to break up a monotonous pattern and add interest to a backsplash. Often relief tile, square tile or mosaic squares are used as accents.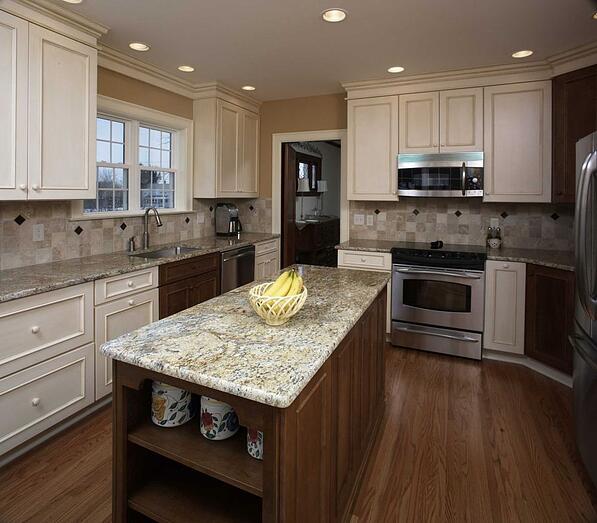 Two-inch square black relief tile diamonds enhance this traditional grid pattern backsplash.
6. Tile Behind a Range or Cooktop
The area behind a range or cooktop is often the largest area of a backsplash design. The tile should be both functional and attractive. Here are examples of how the area behind a stove was designed for a traditional Country French kitchen and for a transitional kitchen that you may have seen featured in our television commercials.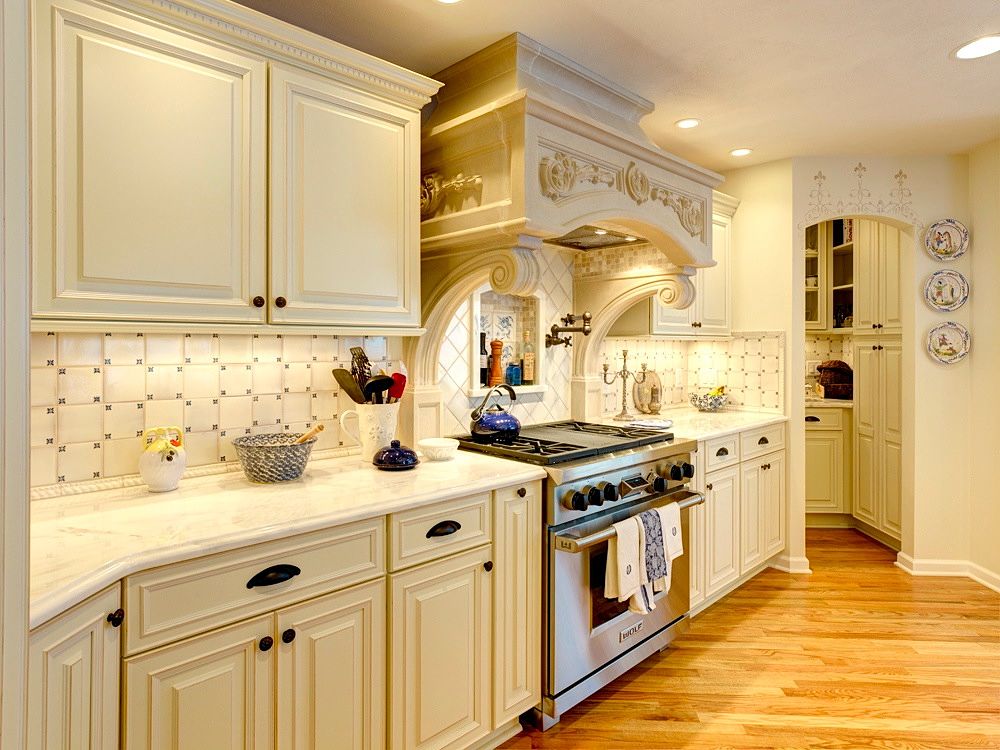 This beautiful kitchen has many refined elements. One of the most stunning features is the carved limestone hood over the WOLF range. The 1000 lb. "Old Stone Works" range hood matches a fireplace mantel. The kitchen cabinets are from the "Bishop" line of custom cabinets in an off-white painted finish with edge wear and oil rubbed bronze hardware. The perimeter counters are marble. A special imported hand-painted tile was selected for the backsplash. Tiles used for the niche behind the range were custom designed to express the homeowner's love of sunflowers. The niche is framed in marble. Four-inch tile set in a diamond pattern was used for the stove section of the backsplash and mosaic tile was used inside the niche and hood as an accent.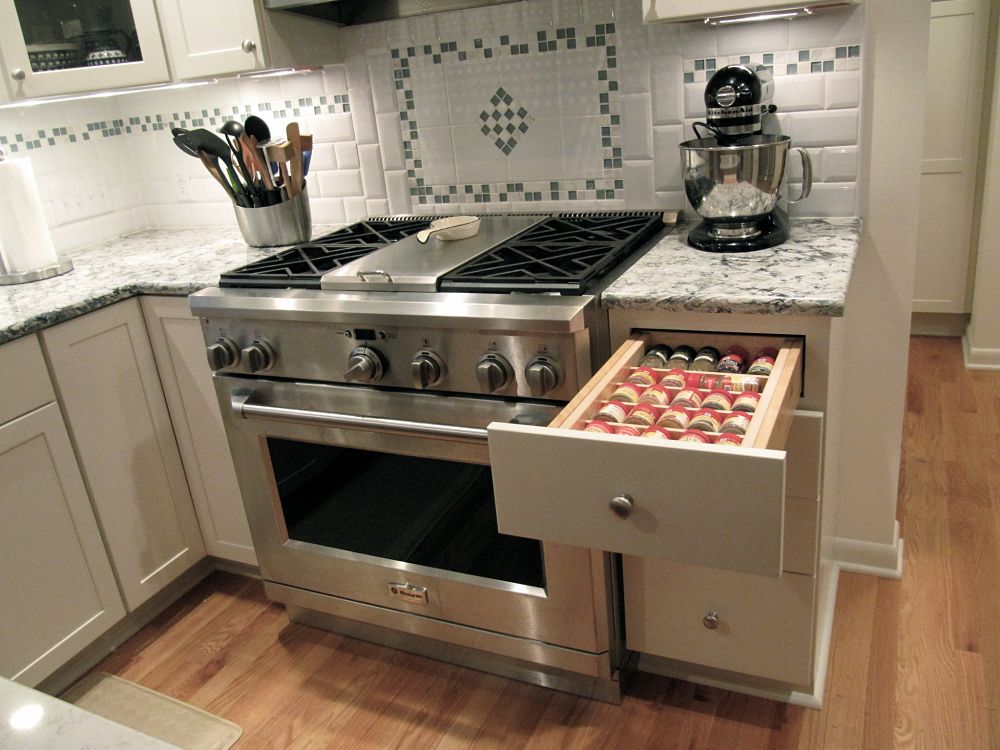 We designed this kitchen for homeowners who enjoy cooking. There are many practical features in the design. The backsplash tile is one. The owners wanted to use classic white subway tile with a glass and statuary marble border to match the Cambria "Praa Sands" counter surface on the perimeter and the "Torquay" counters on the island and peninsula. When it came to the area behind the GE commercial range, one of the specifications was to minimize grout lines for easy maintenance. Eight-inch square ceramic tile was used to minimize the grout lines. We worked with the owner to layout the inset tile design, which can be viewed from an adjacent formal dining area.
For more kitchen backsplash ideas, check out the backsplash gallery on our website.