Our customers often ask for our thoughts about design trends when they plan a project. We remodel a lot of bathrooms each year and are happy to share ideas about trends and products to help homeowners in the planning process. Based on bathroom remodeling projects we're doing here in Central New York, and what we're observing nationally, here are our picks for best bathroom design trends that we believe will add comfort, function and value to your home:
1. Walk-in showers for today's busy lifestyle.
Walk-in showers were on our list of bathroom design trends for 2011 and are at the top of our list for 2012 because they are easy to maintain, attractive and accessible. More homeowners are choosing walk-in showers for their master bathroom.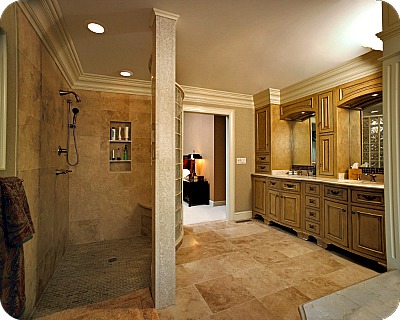 2. Add style with tile.
Tile design is an essential element in any bathroom remodeling project. Tile provides a water barrier in the shower, tub and sink areas and on the floor. Bathroom tile has changed significantly over the years. The options include porcelain, glazed, natural stone, glass and tiles made from other materials. The shapes, textures and colors have also changed. Standard square ceramic and vinyl tile are out; two of the hottest new trends are glass tile and natural stone pebble mosaic tile.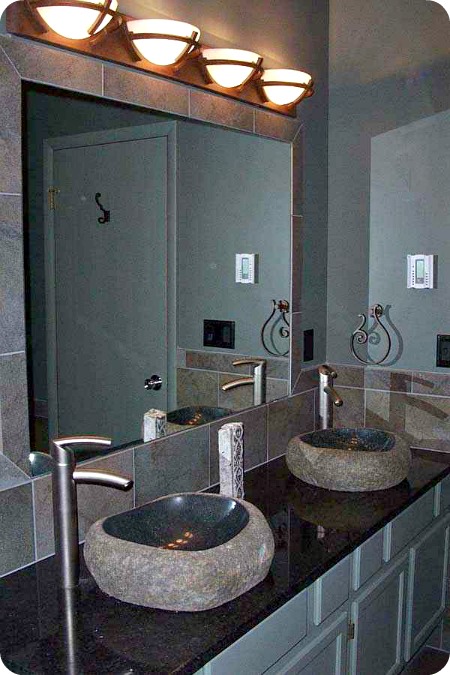 3. New designs of quartz surfaces are gaining popularity in bathrooms.
Quartz is both beautiful and functional in a bathroom. It is easy to clean, and comes in designs that look like marble and granite. Cambria and now Zodiaq quartz have created veined designs. The National Kitchen and Bath Association (NKBA) says that more designers are using quartz with clients in their latest list of kitchen and bathroom trends.
4. Brushed nickel and brushed satin nickel fixtures and hardware accent a variety of design styles.
NKBA is also seeing an increase in the number of homeowners installing brushed satin nickel fixtures and hardware in their bathroom remodeling projects. We also like brushed nickel. Both are easy to maintain and complement most designs from modern to classic.
5. Heated floors add comfort to Central New York bathrooms.
We compile this list in January when temperatures are dropping. It may take time to heat your home in the morning and bathroom floors tend to be cold. Heated floors add a touch of comfort when you get up on a winter morning to start your day.
6. Brighten up a bathroom with bold colors.
Bathrooms are often small spaces and the perfect place to add a bright color to the palette of your home. You can add color by selecting accent tile, wallpaper or paint. Today's "hot" colors for bathrooms include apple greens, burgundy, gold, turquoise or the combination of "jet black and bright white".
7. Consider "adaptability" when planning your bathroom project.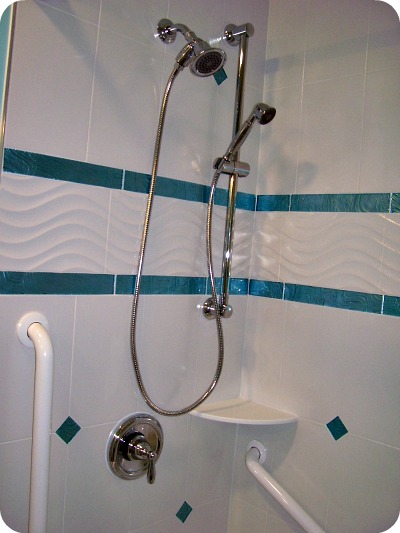 Having a bathroom that is "accessible" is important at all stages of life. The "Baby Boom Generation" is a key consumer group and as this cohort updates their living spaces, they desire changes that add comfort, are aesthetically pleasing and don't scream "old age". Even young active families may encounter times when using a bathroom may be a challenge, like when a child breaks an arm or sprains an ankle. Here is a list products that add function to any bathroom space:
Handheld shower
Shower and bath tub seats
Wall mounted sink
Vessel sink
In-tile grab bars or grab bars integrated into the design of the tub and shower areas
Comfort height toilet
Gooseneck spouts and lever handled fixtures
Non-slip surfaces in floor, shower and tub areas
Also, check out Kohler's video on "universal design".