Early spring is the perfect time to start an outdoor living space project. The soil is easy to work, temperatures are moderate and conditions are ideal for adding new plantings to your landscape. Central New York summers are spectacular and can be enjoyed even more with a backyard retreat.
If you visited the Home and Garden Show this past weekend, you may have caught "spring fever". If you did, you may enjoy some of these design ideas for outdoor living spaces that we've built for local homeowners to inspire you as you consider your project.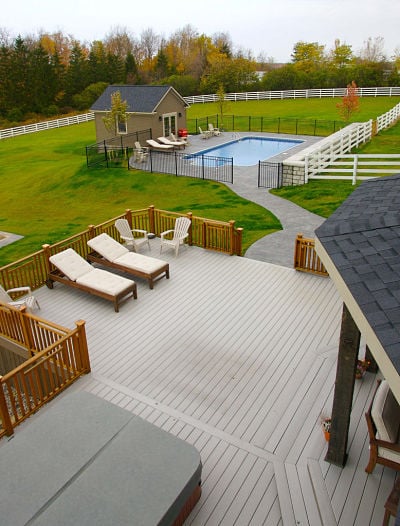 1) Decks
Decks remain one of the most popular outdoor living projects. We build a lot of composite and wood decks. There are many new features that you may want to consider including glass panels that optimize a view, ornamental balusters, a range of options for railings, deck lighting and customized seating.
Composite decking has many advantages. It is user-friendly. You can walk barefoot on the deck without worrying about splinters. It is easy to maintain and can be cleaned off with a hose. It comes in a range of colors and does not require annual sealing or staining. Composite decking can be laid in patterns to create architectural interest. A popular product that homeowners often choose is DuraLife composite decking.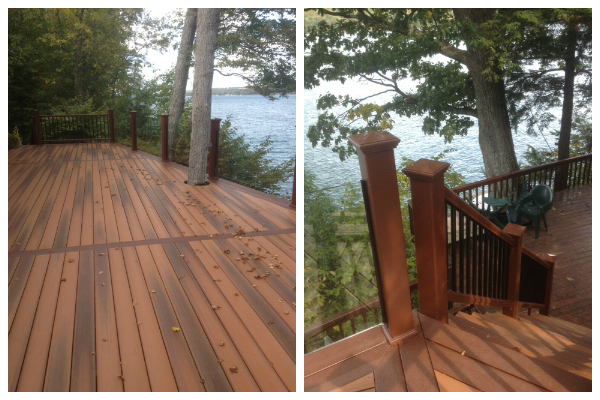 This composite deck was built for a lakefront home. Glass panels were used to enable the homeowners and their guests to enjoy the view. There were trees on the property that the homeowners wanted to retain. The trees were incorporated in the deck design.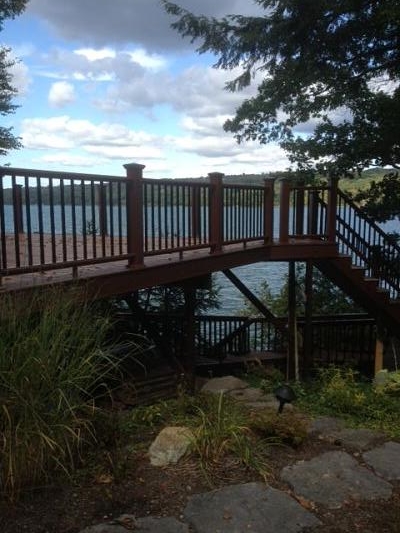 When building a deck it is important to consider the location, the architecture of the adjacent home and landscape. Decks can be built on a slope but require stairs and railings to provide access to a yard or, in this case, to a lake. The home is not located on level lakefront property. The deck is elevated and tiered. A staircase provides a pathway to the lake.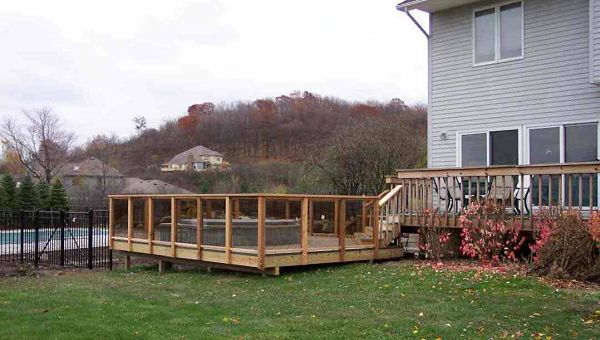 Pressure treated wood decking is durable and, if properly maintained, it can last decades. The owners of this conventional home set a hot tub on a wood deck with glass panels so they can observe activity in the adjacent pool and seating area.
2) Porches
Porches help Central New Yorkers extend the warm weather months. A sheltered porch with windows can be enjoyed from spring through mid-fall and can be a haven for reading, relaxing, dining or growing plants. Screened porches provide protection from insects and comfort on warm summer nights. Open porches are a place to socialize on a warm sunny day or during a light rain.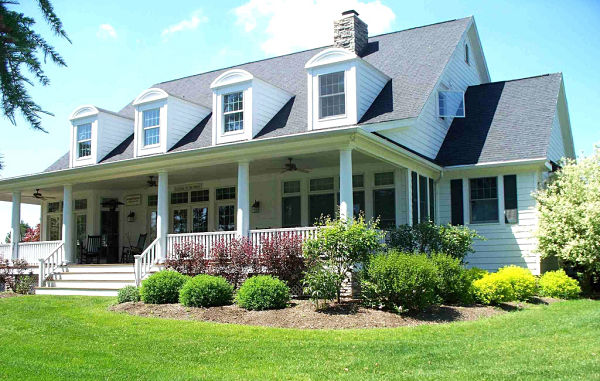 This open porch is cooled by ceiling fans, which also help deter bothersome insects on summer nights. There are areas for casual dining and seating. The design of the porch blends with the home's architecture.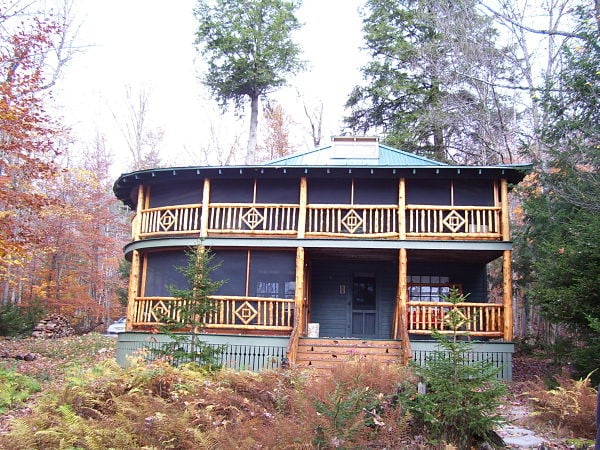 The rough-peeled cedar rail system on the upper and lower porches gives this Adirondack cottage the rustic look the homeowners wanted. The moose and tree cut-outs in the front stair stringers add character to the home's exterior.
3) Outdoor Fireplaces and Firepits
One of the latest trends in outdoor living spaces is adding an outdoor fireplace or firepit to your yard. In our climate, these features are great for outdoor entertaining and are a "must have" if you enjoy swimming in a backyard pool on cooler days or in the evening. Big box stores offer wood burning firepits but they aren't very durable, have a limited capacity and have to be replaced frequently. Custom firepits made of stone are more permanent and use either wood or gas as fuel.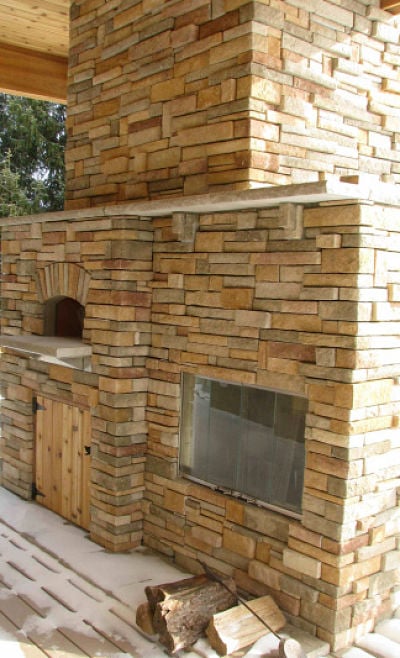 This composite deck features a custom fireplace, which includes an authentic wood-burning pizza oven. The fireplace is veneered with cultured stone. The homeowners often use it during mild winter days.
4) Pool Houses and Cabanas
New appliances designed for outdoor use have sparked an increased interest in outdoor kitchens and entertainment areas. Pool houses and cabanas have traditionally provided a place for changing, storage of pool supplies or a bar. Now, they can be used to shelter outdoor refrigerators and televisions or provide a place for a poolside outdoor kitchen.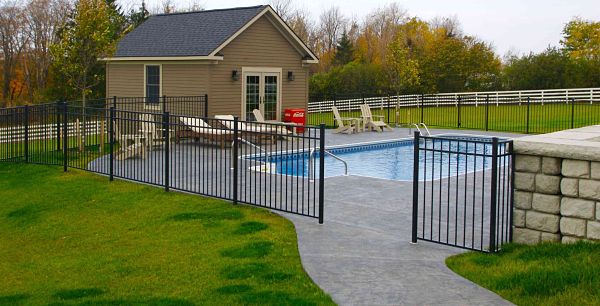 This two-level poolhouse provides plenty of room for outdoor furniture storage in the walkout bottom level and plenty of room for entertainment on the first level.
5) Sunrooms
One of the things we lack in Central New York is an abundance of sunny days. A sunroom addition can make winters less dismal and can be integrated with a patio or deck for summer entertaining and enjoyment. The key elements in a sunroom are windows and doors that provide adequate lighting, solar heat during winter and can be opened to cool a home during summer.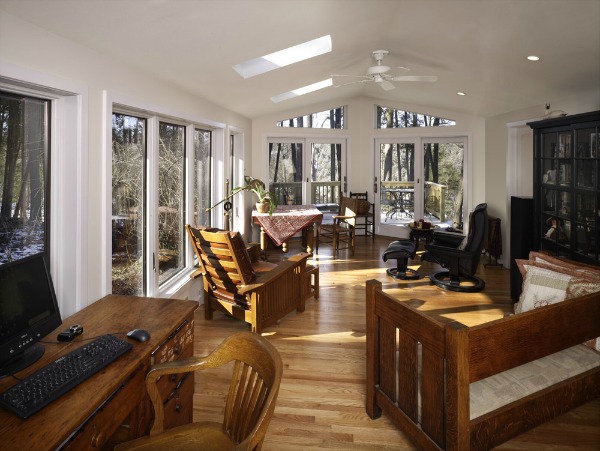 This sunroom addition is unique in that it features many different angles. Natural light floods the room through all of the windows and doors, including the skylights in the cathedral ceiling. The end wall is angled out and includes two trapezoid windows above.
Remember, outdoor living spaces can be created in phases. Take the time to consider your priorities and the way you would like to enjoy your yard as an extension of your home.