4 min read
Spruce Up Your Pool Area with These Design Ideas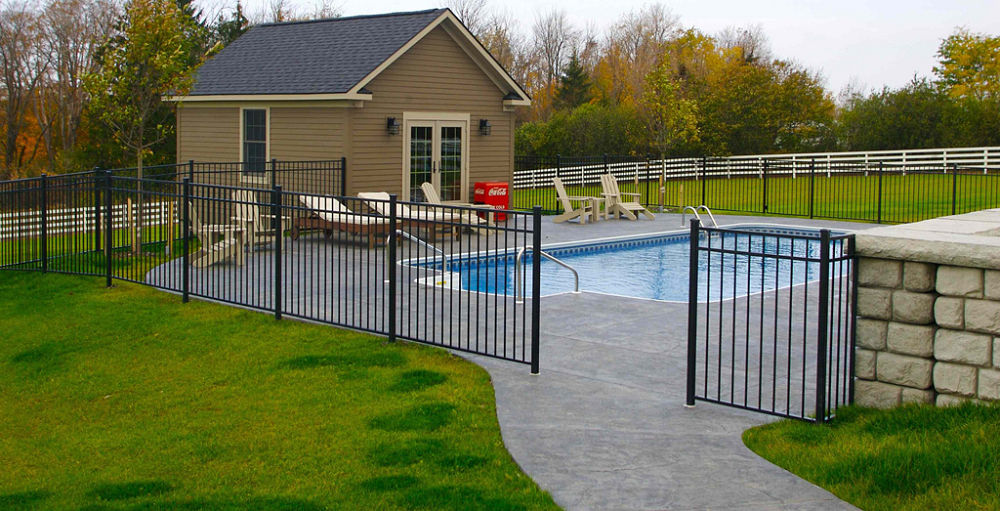 It's officially swimming season in Central New York. If you have a pool, you've likely been looking forward to opening it back up all winter. Now that summer is finally here, you may be noticing that your pool area is due for an upgrade. Whether you want to build a deck around your above ground pool, or add a pool house for additional storage, the McClurg Team can help you make the upgrades you have in mind. If you're looking for inspiration, check out our design ideas below to make the most of the area surrounding your pool.
Integrate a Patio
Having an in-ground pool in your backyard can be the perfect excuse to add a patio to your outdoor space, or incorporate the patio you already have with your pool. Not only will it give you more space to entertain guests and family, it will also help your pool fit into the overall landscape of your home.
If you already have a patio, an easy way to attach it to your pool area is by installing a walkway to connect the two areas. When choosing the material for your pathway, keep in mind that its main use will be for travel to and from your pool, so you'll want to use a material that's friendly on the feet. Stamped concrete is a good option, as it's relatively smooth, but can be patterned to resemble materials like stone or marble, and it comes in different color options.
If you don't currently have a patio, consider having one installed to provide a designated space to lounge alongside your pool. A patio can be made of poured concrete, precast concrete pavers or natural stone, but keep in mind you'll want to coordinate the materials and color schemes you use if you want to create a cohesive backyard style. A poolside patio takes your backyard from a simple swimming hole to an area that can be used for sunbathing, dining and socializing for those who aren't taking a dip in the water.
Build a Pool Deck
If you have an above ground pool, you may feel that you're limited in terms of design, and won't be able to create an eye-catching entertainment area that fully incorporates your pool. The addition of a deck can change all that. A pool deck that is designed to accommodate your pool can provide you with a designated area to set up some lounge chairs, or create a smooth transition from your home directly to your pool, creating a whole new space for relaxing or entertaining guests.
In terms of design, there are many options to choose from. You can have a deck built that goes all the way around your pool, or only part way. If you want to be able to walk out of your home directly to the pool area, the deck can be built to attach to your home. It can also be separate from your home but incorporate steps that lead up to the deck area, creating an oasis, a paradise, in the middle of your backyard. If you have a hot tub, a deck can also be designed to serve as a bridge between the two. Discussing your ideas with an experienced design-build contractor will ensure that you'll end up with a durable deck that will be well-suited to the type of backyard layout you have.
Keep in mind that a deck should never be directly attached to your pool, and even if you're going for a minimal style you'll want the surface to be a minimum of 3 feet wide to ensure safe walking. Besides the design, material is also an important consideration. You want a deck surface that will be able to withstand sun exposure, as well as being splashed with chemically treated water. Composite lumber or plastic decking have the durability to withstand the elements, but pressure treated wood can also be used. Just keep in mind that the last choice will require a higher level of maintenance to ensure it stays in good shape.
Add a Pool House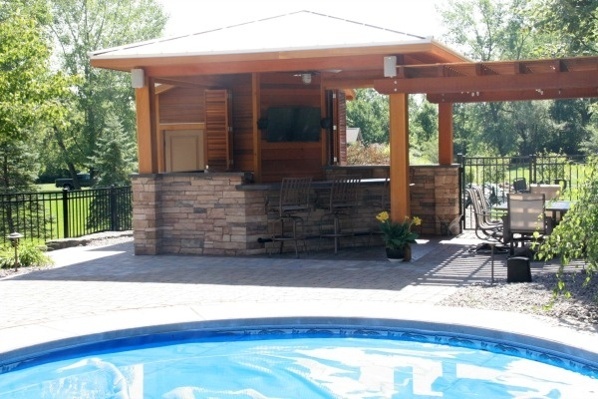 Whether you do a lot of entertaining or simply want to spend as much time by the pool as possible this summer, a pool house can be the perfect addition to your swimming area. Even the simplest pool houses can provide ample storage and a place to change, so you don't have guests trekking from your pool to your home in wet bathing suits.
If you're looking for more design options, consider incorporating your pool house into a pavilion or pergola to provide more space in the shade. This added space can go even further by housing an outdoor bar or kitchen to make entertaining easier. As a host, the last thing you want to do is spend time cooped up in the kitchen when you could be outside by the pool spending time with your guests.
The summers go fast in CNY, so if you want to get even more use out of your pool house, outfitting it with a bedroom and bath could make it double as a year-round guest house. However, if you just want a little more storage, a small pool house can be the perfect way to camouflage all the necessary gear it takes to keep your pool clean and functioning. Just be sure that it's built to withstand the harsh winter months. This goes for your entire swimming area. After all, you want to bring your personal backyard paradise back to life for many more summer seasons to come.
Whether you're looking for more poolside ideas, or you're ready to begin a renovation project to update your home, the McClurg Team is here to help. Feel free to contact us any time!