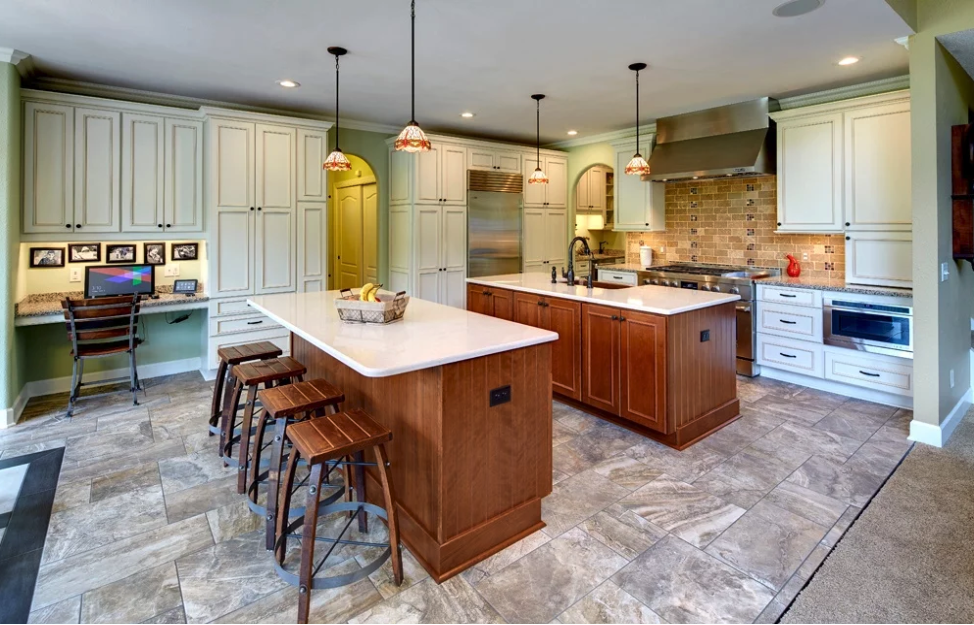 If your kitchen needs some TLC, but you're not ready for a full-on remodel, not to worry! There are plenty of updates you can make that will improve both the style and functionality of your home's kitchen, whether you're making improvements for the upcoming holidays, or you're simply seeking out some inspiration to get started. Between cooking, eating, and entertaining it's likely that you spend a bulk of your time in the kitchen. Below, we cover 5 updates that can make a big impact on improving the look, feel, and functionality of your space.
1) Revamp your cabinets
Kitchen cabinets typically make up a large portion of a kitchen, so changing up this one element can make a big difference in the look and functionality of the space. Don't want to completely replace your cabinets? Refinishing, repainting, or having the hardware replaced can create a new look with minimal disturbance to your kitchen.
Alternatively, if you're looking to replace your cabinets, the options are endless. Consider installing lower cabinets with roll out drawers for easy access and more storage space, or go with open shelving in some areas of your kitchen to show off your glassware in a stylish way.
2) Update your appliances
A kitchen with outdated appliances can be a major headache, while new appliances can add both style and functionality to your kitchen. If you entertain often or have a big family, that top of the line dishwasher may be worth the splurge. A new sink and faucet or a new cooking range can also bring your kitchen into the present day. There are plenty of styles to choose from, whether you're going for cozy and rustic, or a modern and sleek feel.
3) Try out a new surface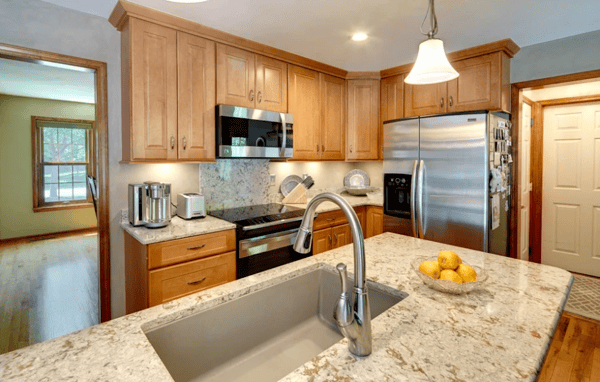 Updating surfaces such as the backsplash behind your stove and countertops, or replacing the countertops themselves can refresh your entire kitchen. A colorful backsplash with a unique design can make for a great focal point, or you can choose from different colors and materials to match with your current décor if you want something subtler.
The same idea applies to your countertops. When choosing your material, consider what's most important to you. Are you looking for an easy to clean surface? Granite or quartz could be good choices—and they are heat and scratch resistant. If you want to add some warmer elements to your kitchen, wood countertop surfaces made from walnut, cherry, or maple can add a beautiful and rustic addition to your kitchen.
4) Add an island oasis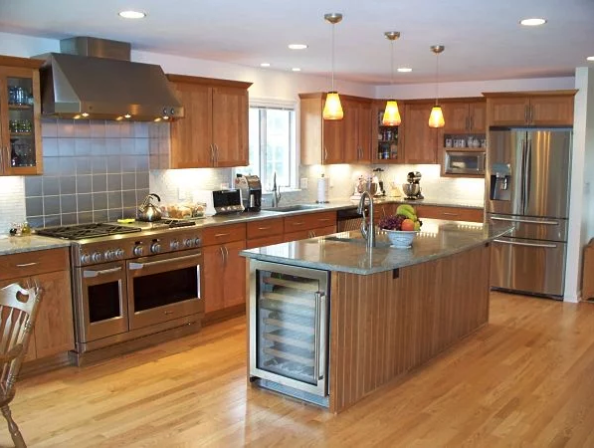 If your kitchen layout allows for it, adding in an island is a great option for additional surface and storage space. An island can also serve as another focal point for friends and family to gather around. Add some stools to create additional dining space. An island can be as simple or as complex as you want to meet your kitchen needs. Some have electrical outlets to accommodate additional appliances, or you can have a sink installed to create another food prep station.
5) Switch up your lighting
A well-lit kitchen can bring out specific design elements, and should also serve a functional purpose—after all, no one wants to cook in the dark. If you don't have a lot of space to spare, recessed lights make for an effective solution. They're subtle and don't take up space, but can provide both general illumination, as well as task lighting over specific work spaces. Under cabinet lighting can also make for great task lighting, banishing any countertop shadows.
If your kitchen seems to heat up easily, and you have the space, consider installing a ceiling fan light for improved air flow. Going for style? Hanging pendant lights or a chandelier can make a strong statement. For example, placing this type of lighting over a kitchen island can help create a welcoming focal point.
If you decide to upgrade the lighting in your kitchen, consider making the switch to LED lighting. This type of lighting is far more efficient: Energy.gov reports that residential LED lighting has the potential to use up to 75% less energy and last 25 times longer than traditional incandescent lighting. It's also well-suited for the recessed downlights and the task lighting mentioned above.
Are you ready to begin a project? At McClurg, we've been remodeling homes for over 35 years. We do everything from repairs, to home renovation and additions. Contact us today to learn how we can help you make your home renovation dreams a reality!