6 min read
Design Ideas: 8 Types of Kitchen Light Fixtures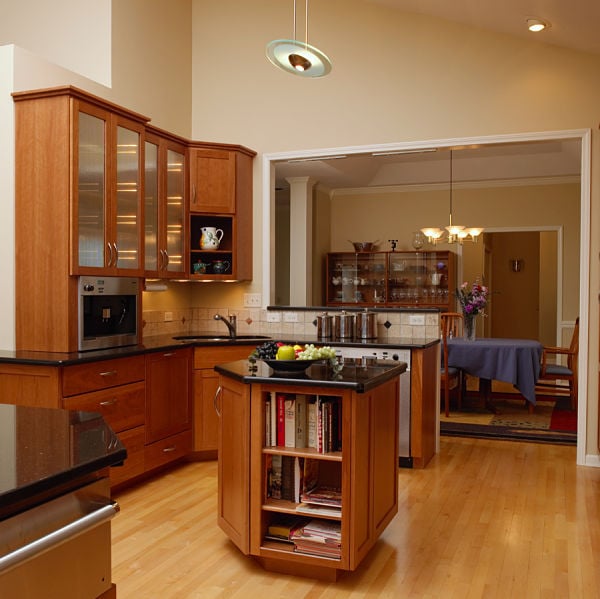 If you're planning to update or remodel your kitchen and have been viewing photos online or from magazines for ideas, you've probably noticed how lighting enhances the design.
Kitchen light fixtures can be both functional and attractive. They can provide proper illumination for work areas, and accentuate and complement architectural and decorative elements of a kitchen.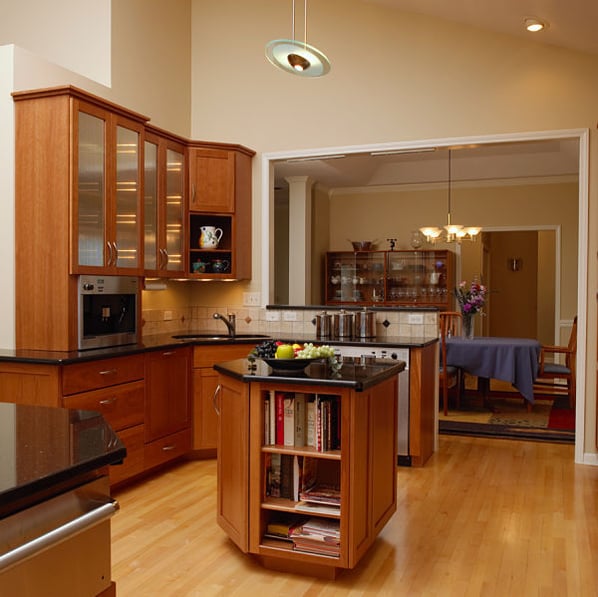 This kitchen features a creative lighting design that includes a contemporary hanging fixture directing a light beam over an island, interior and undercabinet lighting, recessed lights with an eyeball casing and an uplight chandelier in the adjacent dining room.
Here are eight types of lighting fixtures to consider for your kitchen:
1. Recessed Lights
Recessed lights are used for both general lighting and over task areas in kitchens. The most common size of recessed light cans is 6 inches in diameter which can be used for all applications. Lights are typically spaced 5-to-6 feet apart for general lighting and can be placed closer in proximity over task areas.
When selecting recessed lights it's important to know that you will have several choices for trims although a baffle trim is the most popular and helps to reduce glare. There also are different types of bulbs, including incandescent, CFL, LED and halogen. Consider using dimmer switches to regulate the lights and save on energy costs.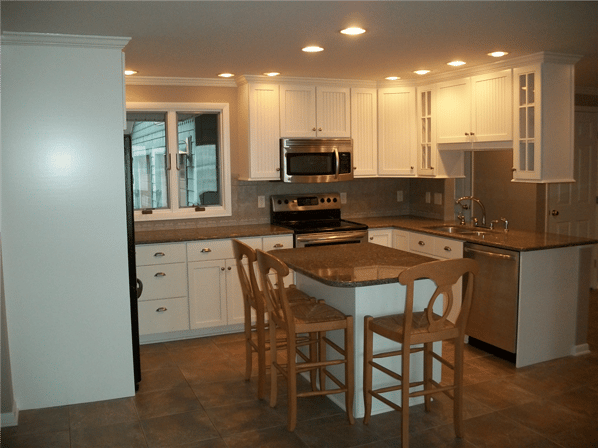 Recessed incandescent light fixtures with a white baffle trim are used to illuminate the work areas and provide general lighting in this L-shaped kitchen with an island. Lights used over task areas are spaced approximately two feet apart.
2. Directional Recessed Lights
The beam of light from recessed fixtures can be directed if an eyeball trim casing with rotation is used. Directional trims are adjustable and can be used to illuminate work and display areas.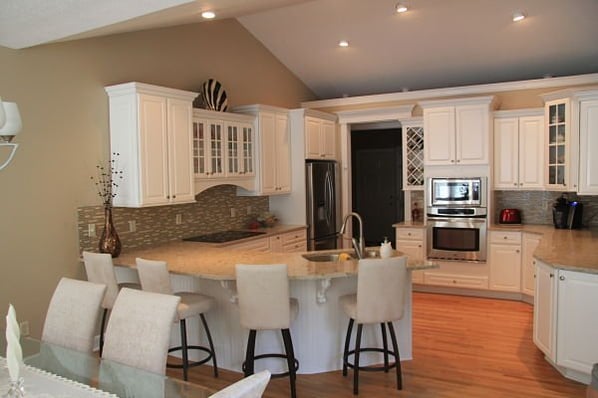 Directional recessed lights were used to cast light onto the work areas of this kitchen. There are lights over the cooktop, refrigerator, ovens, food prep area and sink.
3. Decorative Pendant Lights
Decorative lights can add style, color and a focal point to a kitchen. Pendant lights come in many shapes, sizes and materials. Glass lights glow while metallic fixtures become an architectural element. Pendant lights are often used in twos or threes when placed over an island or peninsula.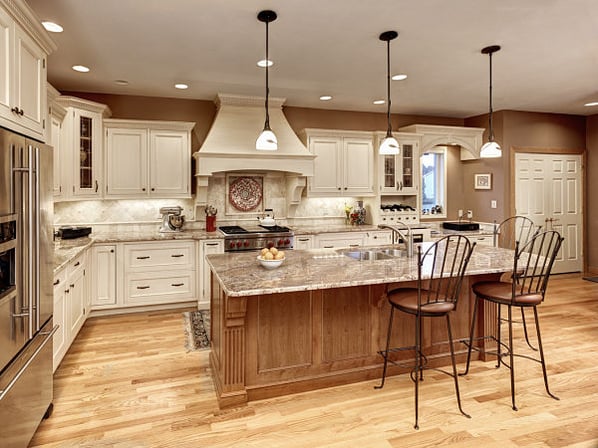 Three decorative pendant lights add interest to this elegant kitchen. The white globes suspended from dark metal rods become an architectural element in the design of the room. Recessed lights and undercabinet lights are used to illuminate task areas.
4. Multiple Lamp Fixtures
A multiple lamp fixture can be mounted with a single connection on a ceiling and, depending of the design, can disperse light over an area of two feet for each lamp. These fixtures are ideal for illuminating the surface of an island or peninsula if downlight lamps are used. Using a dimmer switch with this type of a fixture can reduce glare especially over reflective counter surfaces.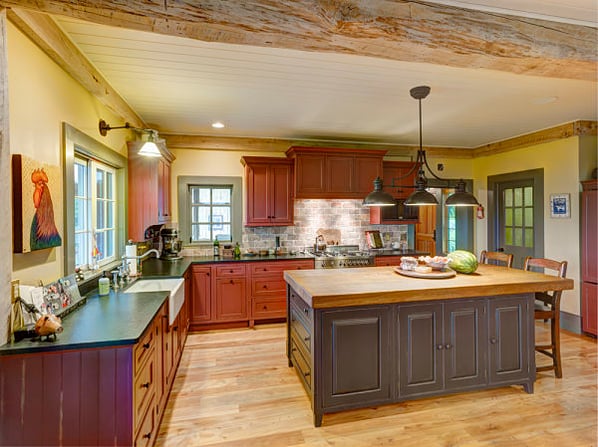 Some interesting fixtures are used to illuminate the island and sink in this custom kitchen. A three-lamp downlight ceiling mounted fixture is used over the 6-foot island and a wall-mounted lamp suspended by an adjustable arm illuminates the farm-style sink.
5. Cabinet Lighting
Cabinet lights are great for displaying contents but are also practical, especially for people with vision problems. Puck lights can be installed inside cabinets with glass doors. LED light strips are a great option for undercabinet lighting. Both light fixtures can be installed with dimmer switches for ambiance and, for puck lights, to reduce the heat they give off in an enclosed cabinet.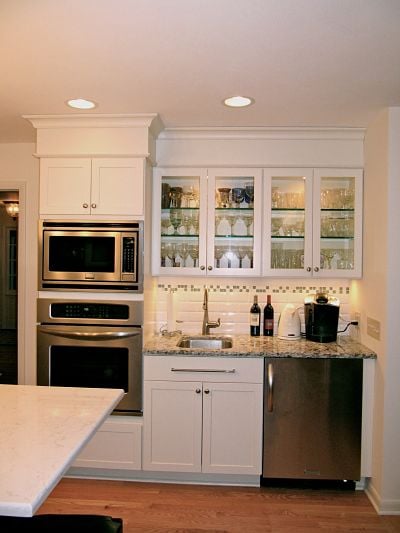 Puck lights were installed in the glass door cabinets in this beverage bar area of a transitional kitchen. Six-inch recessed lights are placed over work areas and two LED light strips illuminate the bar sink and counter.
6. Track Lights
Track lights have improved over the years and are now made with smaller lamps. Pendant lights can also be added to a track. The advantages of using a track light system are:
Tracks are versatile and can curve.
You can easily determine the number of lights you want to use.
You can direct the lights to illuminate task areas and decorative elements.
They are easy to install.
Many track light systems now feature LED lights that have a long life and do not require frequent changing of bulbs.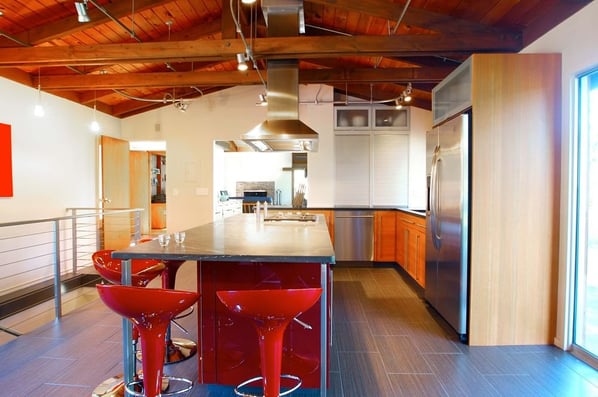 Track lighting was used in this kitchen to emphasis the architecture of the ceiling and to complement the contemporary design of the kitchen. Pendant lights are hung from a track to illuminate the stairs.
7. Spotlights
There are times when general lighting and task lighting may not be sufficient, especially in a large kitchen. Spotlights can be added to increase illumination and be directed in a design over task areas.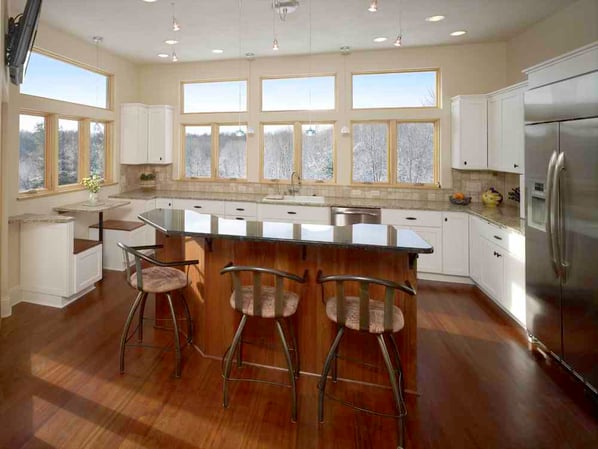 This kitchen was designed to optimize a view but the windows limit wall space. There is a long extension of counter on the perimeter to allow for the placement of base cabinet storage and an island. Recessed lights were used for general lighting and suspended directional spotlights used for the task areas. Pendant lights were also included in the design and are placed over the sink and dinette.
8. Dining Area Fixtures
More kitchen remodeling projects involve opening up an existing floor plan by removing a wall to incorporate an underutilized dining room or reconfiguring the space to include an area for dining. Fixtures selected for dining areas of a kitchen can add style and interest. A dimmer switch can help set the mood when entertaining.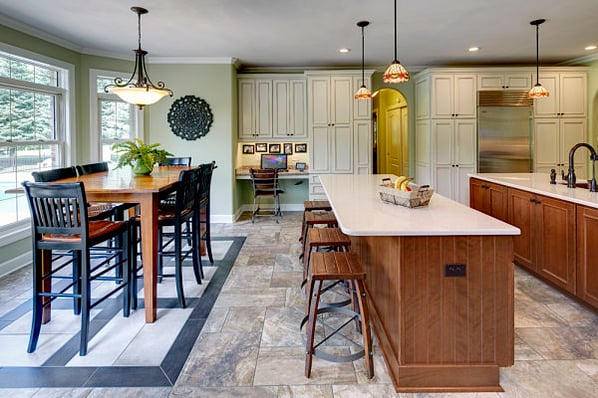 The lights selected for this kitchen are an important feature in the overall design. An uplight chandelier was used for the dining area and four stained glass downlight pendants illuminate the dual islands.
You can find even more kitchen lighting design ideas on our website and from a resource made available by the American Lighting Association and Better Homes and Gardens magazine. It's a special interest publication titled "Lighting" that features photos, design ideas and product information to help you update the lighting in your home. You can order a copy for free and view it online.