When remodeling, many homeowners choose hardwood flooring for the beauty, endurance and architectural interest it adds to a room. Traditional hardwoods come in a variety of natural woods, colors, plank sizes and finishes. Newer products, such as engineered hardwood and luxury vinyl flooring with the look of hardwood, are growing in popularity. Luxury vinyl flooring is often installed in lower level remodeling and in areas of a home where hardwood flooring would not be practical.
Here are facts and tips about floor care and maintenance to keep your floors looking like new: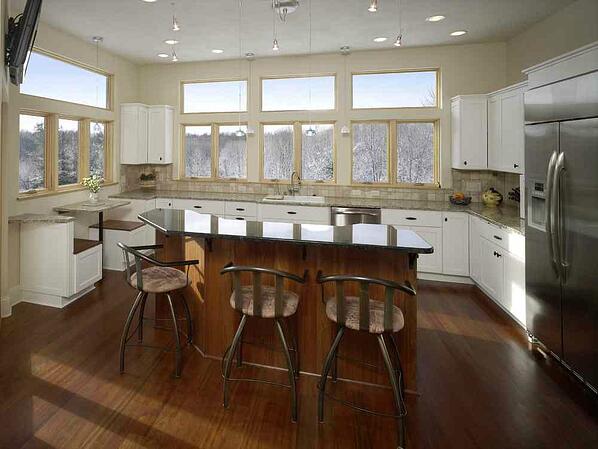 Flooring is an important element in any room. Dark stained wood floors complement the cabinets in this bright kitchen.
Facts About Hardwood Flooring
If you are considering hardwood flooring for your home, here are facts you should know.
Hardwood floors will expand in summer and contract in winter occasionally creating hairline gaps between planks. These gaps are acceptable up to 1/8-inch. Changes in humidity are significant in Central New York and you will find more movement in wider plank flooring and possibly "cupping" of the boards. One way to reduce the possible movement in wood flooring is to use smaller width flooring, such as 2¼-inch select red oak, which is very common in our area.
Hardwood floors are beneficial to allergy sufferers because wood does not collect dust, animal hair and other allergens in a home.
Hardwood floors are eco-friendly because wood is both renewable and recyclable.
Hardwood floors add value to a home. Real estate listings will note hardwood flooring as an asset.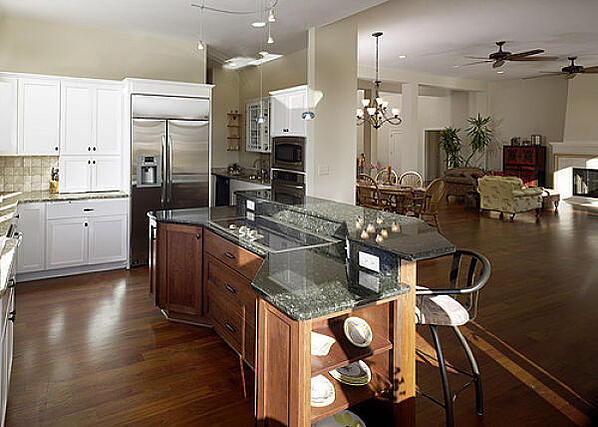 Wood flooring unifies a kitchen and family room in a home with an open floor plan.
Hardwood Flooring Care and Maintenance
Homeowners often ask us how to care for and maintain their hardwood floors. Dennis Ashcraft, who works with us and has over 30 years experience installing wood flooring, advises the following:
For New Floors That Will be Finished in Your Home
To prepare for the installation of a new wood floor remove all furnishings, draperies, paintings, and other items from the room. The wood may need to acclimate, which will vary from two days to two weeks or even longer.
Do not walk on the floor for 8 to 10 hours after the finished is applied.
Walk on the floor with stocking feet only (no bare feet or shoes) for 2 days following the final coat of finish.
No furniture should be placed on the floor until the final coat has dried for 2 days.
Attach felt pads to the bottom of furniture legs to preserve your floor.
Do not place area rugs on the floor for at least 3 weeks after the final coat.
The finish will cure over a 1 to 2 month period. Tiny particles in the finish are not unusual due to the thickness of the final coat and will dissipate in time to appear smooth. Hair, insects and dust unfortunately may adhere to the finish.
Variations in floorboards are normal and your flooring may change color as it ages. Sun exposure can also change the color of hardwood. Minimize direct sun exposure and periodically move furniture and area rugs in the room.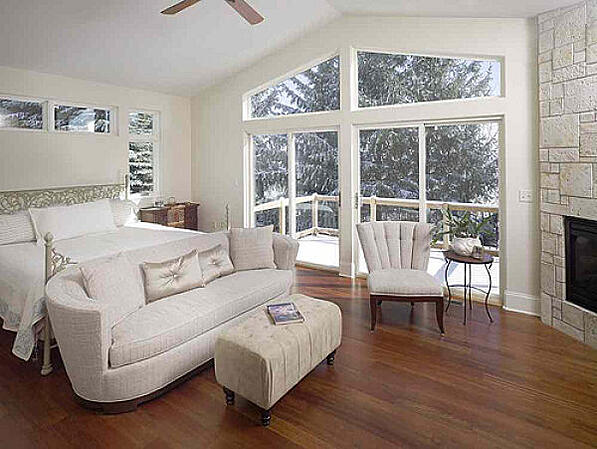 This master suite has hardwood floors, stone masonry and a gas fireplace. Windows surround the bed. Transom windows bring in light and a glass door exits to the outdoor deck.
General Care and Maintenance
Never wax or wet mop hardwood floors. Water saturation can cause floors to warp.
Vacuum or use a "Swiffer" duster before mopping the floor to clean off dust and debris.
Spray original Windex or Vinegar Solution Windex on the floor and damp mop. You can make your own cleaning solution by adding a cup of white vinegar to a gallon of warm water and lightly damp mop. You can also use Bona, one of the best products we've come across, for periodic cleaning and restoring the shine to your hardwood floors.
To preserve your floor in a kitchen, use throw rugs or mats in front of sink and appliance areas.
Maintain fluctuations in home relative humidity to 10% - 20%. In summer use a dehumidifier and in winter use a humidifier if possible.
Never walk on wood floor with high heels, which will cause indentations in the wood. Be careful when moving furniture to prevent dents and scratching.
When to Refinish
Hardwood floors should maintain the shine for many years. It is time to refinish the floor with a light sanding, buffing and recoating when you notice cloudiness in the finish or when high traffic areas become dull and worn.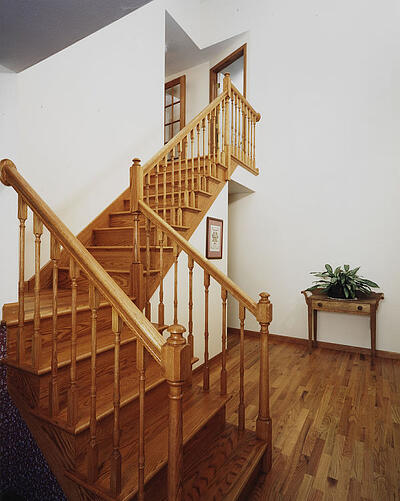 Oak stair and floors and beauty to a home.
Engineered Hardwood Flooring Care and Maintenance
The care and maintenance tips for hardwood flooring also apply to engineered hardwood flooring. Be sure to check the manufacturer's care instructions.
When engineered hardwood dulls it can be refinished in accordance with the manufacturer's instructions.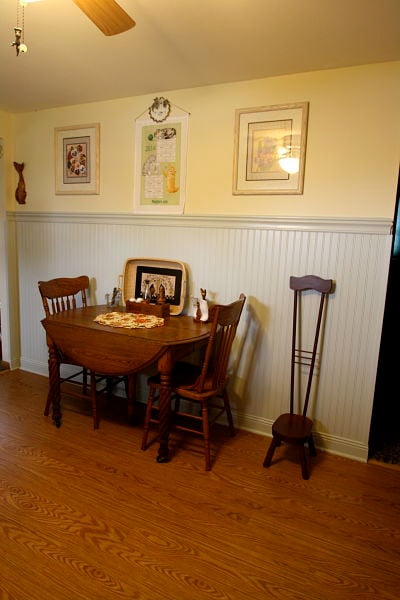 Engineered hardwood flooring was used to update this kitchen.
Luxury Vinyl Flooring Care and Maintenance
Luxury vinyl flooring products have the look of natural wood or stone but also require special care. Mannington, one manufacturer of luxury vinyl, offers the following advice about caring for their products:
New Floors
Keep traffic light during the first 24 hours so adhesive can dry properly (if adhesive was used).
If the floor has been seamed, avoid stepping on the seam sealer for 24 hours so it can dry undisturbed.
Avoid scrubbing or washing floor for at least three days after installation. Spot clean floor avoiding all seams.
When moving heavy furniture or appliances across the floor, always use wood or hardboard runways to protect the floor.
General Care and Maintenance
Sweep your floor at least once a week to remove dirt.
Wipe spills promptly to prevent stains.
Dried on food and stubborn sticky substances including gum, asphalt, tar and paint can be scraped off with a dull knife
Always check the manufacturer's care instructions. There are special cleaning products offered by manufacturers but floors can be cleaned by using two or three capfuls of non-sudsy ammonia mixed with a gallon of water. No rinsing is required. Do not use soap or detergent products as they will leave a dulling film.
Luxury vinyl sheet floors have a low gloss. Use polish or "mop and shine" products only if you wish to make the floor shiny. After several applications of polish, an occasional stripping and reapplication of polish may be necessary. High traffic areas may require more than one application of polish. Allow polish to dry "tack-free" between coats.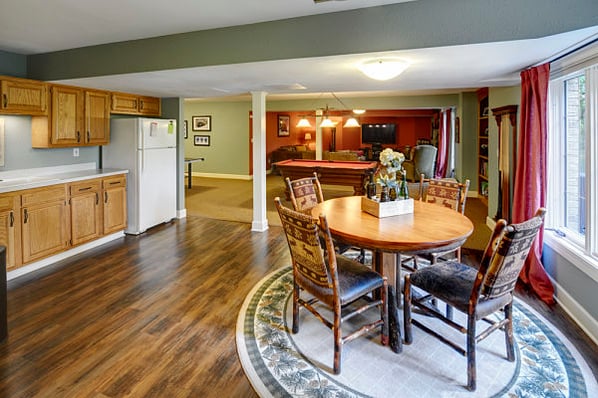 Luxury vinyl flooring was used for this basement remodeling project. It has the look of wood but will not warp in humid conditions.