If you're considering remodeling or replacing flooring in your home there are five new trends in flooring products that may be of interest to you. These products offer an option to traditional flooring such as hardwoods, laminates, linoleum and carpet. Some are eco-friendly and all are attractive and durable.
1. Luxury Vinyl
Luxury vinyl flooring has the look of either wood or stone. It is durable and easy to install. The advantage of luxury vinyl tile over laminate flooring is its resistance to water, which makes it a good product for use in bathrooms, laundry rooms and basement remodels.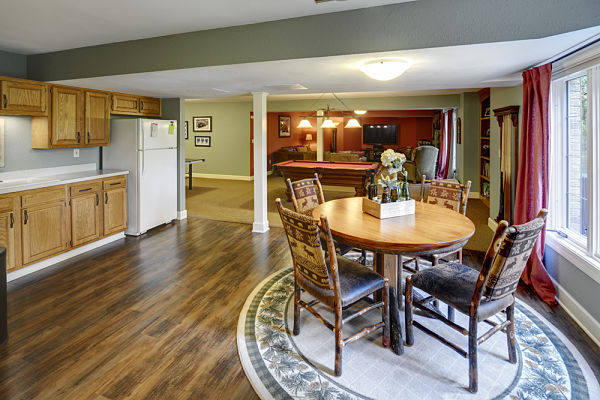 Liberty plank flooring from Earthwerks, a luxury vinyl floor product, was used for the kitchenette in this basement remodeling project.
2. Engineered Hardwood
Engineered hardwood flooring is a veneer glued onto plywood or a composite board surface. The advantages of using engineered wood flooring is that unlike solid wood it does not significantly expand or contract and can be installed over concrete or even tile. It is available in a variety of wood finishes such as oak, cherry or maple and most manufacturers warranty their products for 10 to 30 years. Price and quality are determined by the thickness of the product and species of the veneer. Most engineered hardwood flooring can be refinished at least once. Similar to solid wood, engineered hardwood is not recommended for bathrooms where moisture occurs due to steam and water exposure.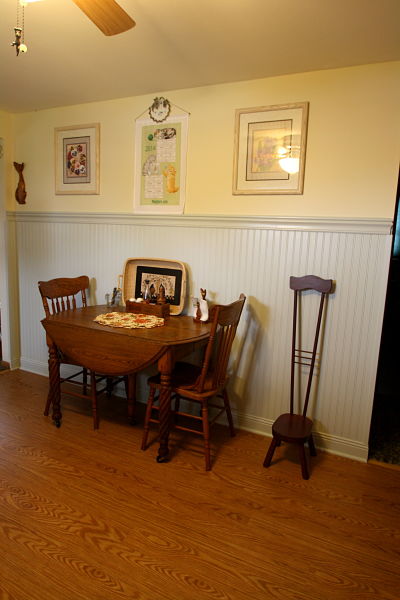 Engineered hardwood flooring with an oak grain finish was used in this kitchen.
3. Reclaimed Hardwood
Reclaimed hardwood provides a distinctive look to a home. The wood often is salvaged from barns or other old structures and requires milling for reuse indoors. Nail holes, cracks and discoloration due to age add to the patina and unique character of the wood. Old wood may have been from trees that were hundreds of years old that are both denser and stronger than the trees harvested for lumber today. If you are planning to use reclaimed wood for your project, it's important that you know the source and if the wood has been treated. These are issues to discuss with your contractor to attain the best result.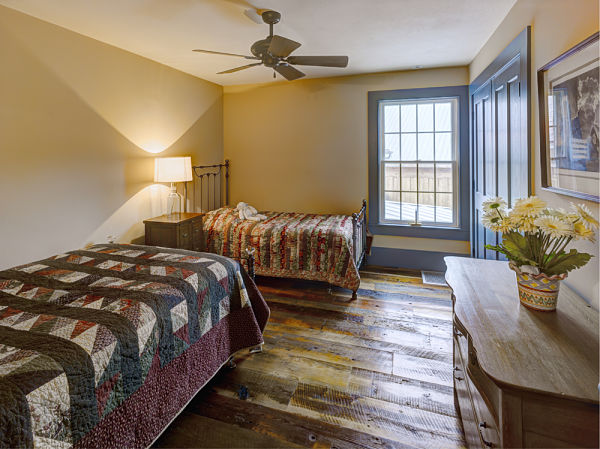 Reclaimed barn wood was used for the floor in this bedroom to create a unique rustic look. (Click here to see more flooring used in this home.)
4. Bamboo
Bamboo flooring is growing in popularity among homeowners because of its attractive appearance, durability and sustainability. Bamboo is a grass and the primary source is China and Southeast Asia. It has the look of hardwood flooring and is available in a range of stained colors.
There are two types of bamboo planks – solid bamboo and engineered bamboo. Solid bamboo planks are comprised of layers of bamboo strips that have been glued together to create a strong solid surface. Engineered bamboo flooring is comprised of strips of bamboo that form a top layer that is glued to a wood core. Engineered bamboo is typically less susceptible to expansion and contraction than solid bamboo and can be installed over concrete.
Pricing of bamboo flooring will vary depending on the thickness of the product, which ranges from 1/2-inch to 5/8-inch. Solid bamboo is generally more costly than engineered bamboo and is more difficult to install due to it's density.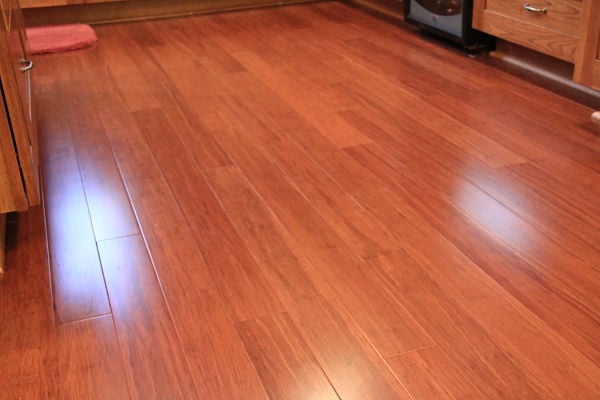 Bamboo flooring has the look of traditional hardwood floor.
5. Large Tile
Large tiles are trending because of the look they provide to a room. Floors covered with large tiles are also easy care for. Larger tiles have fewer grout tines where dirt can accumulate. Ceramic and porcelain floor tiles can have the appearance of cut natural stone or wood planks and are durable, slip resistant and water resistant. Popular sizes include 18-by-18 inch square floor tile and 6-by-24 inch plank tile.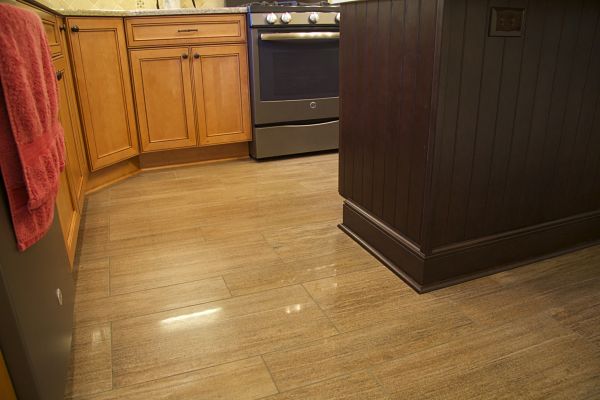 This custom porcelain tile flooring was laid in a design using both 6-by-24 inch and 12-by-24 inch planks that replicates the look of wood.
Large ceramic plank tile was used to add style and define the work zone and dining area of this kitchen.