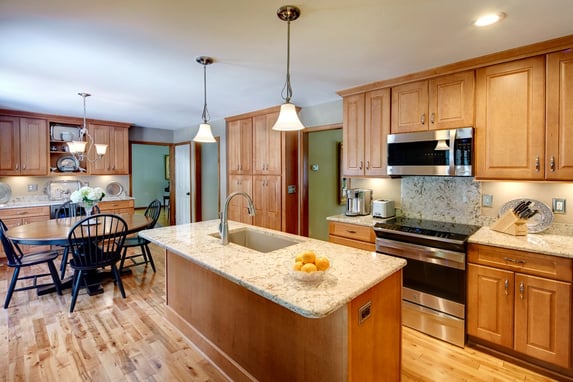 The kitchen is often considered a central hub of activity in the home. A place that gets so much use and provides a functional purpose should also be a place you enjoy being in. Whether you're tired of dealing with outdated appliances, or simply want to give your kitchen a fresh new look, there are plenty of changes you can make to bring your kitchen into the modern age. Read on for 5 kitchen updates that will have you cooking, eating, and drinking in style.
1) Revamp your storage space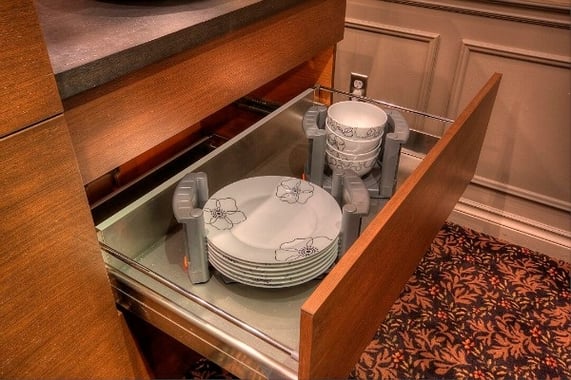 Storage space is a nice thing to have in every room of your home, but it's especially important in the kitchen. Having well-organized spaces for your cookware, dishes, and food make cooking easier and spending time in your kitchen far more enjoyable. If your cabinets are starting to show the wear and tear of daily use, or you find you're running out of space, it may be time for a storage upgrade.
If you still like the style of your cabinets, but want a fresh new look, some sanding and repainting may be in order. For a clean look, consider going all white. Adding contrasting hardware can add interest so your kitchen won't look too monochromatic. If white sounds too traditional for your tastes, don't be afraid to go bold with color. Bright blues or reds can make your kitchen feel more welcoming and cozy.
For a completely different look, replacing your cabinets entirely may be the answer. Customize your space with what makes the most sense for you. If you have beautiful dishware, utilize open shelving to show off your collection. A similar affect can be achieved with glass front cabinets if you want a more enclosed storage option. Are you a wine lover? Consider a vertical row of cubbies alongside a cabinet for a convenient way to store your bottles. When it comes to kitchen storage, the options are endless.
2) Kick old appliances to the curb
Are you tired of the refrigerator ice machine getting jammed, or the tiny sink you've been dealing with for years? Or the oven that runs so hot you feel like you're taking a gamble every time you bake something? It may be time for a new set of kitchen appliances that you enjoy using. With so much time spent in the kitchen, the little annoyances that older appliances cause can add up quickly.
A modern oven with a large cooking range will make whipping up a full course dinner easy as pie. Speaking of—don't forget dessert! As for all those dishes that build up—have a dishwasher installed if you don't have one already. If you enjoy entertaining, or simply hate doing dishes, modern appliances like this will make all the difference.
While high-end appliances are nice, one thing you can't go without in a kitchen is a good sink. While there are many styles to choose from, at the end of the day you want something that will stand up to the rigors of daily use. How you plan on using it can also help determine which style you should go with. If you're prone to just tossing things into your sink, you'll want something durable that isn't prone to denting or scratching. Stainless steel is a good choice. It's also recommended if you have a solid surface counter of stone or marble as it can under mount easily. If you want easy clean up, consider a soapstone sink. Not only can this material resist stains and withstand heat, its density prevents it from harboring bacteria.
3) Maroon yourself on an island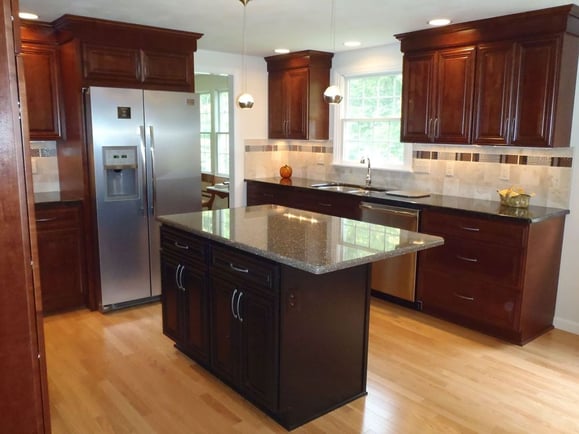 A kitchen island that is. Whether you want to have another surface for food prep, more storage space, or a focal point that family and guests can gather around, an island makes a great addition. They can come in all shapes and sizes, and be as permanent or as impermanent as you like.
Before you jump ship onto the idea of an island, the key is making sure you have enough floor space to accommodate this addition. The last thing you want to do is make your kitchen less efficient and more cramped. Take note of your needs and consider having an island custom designed. Incorporate shelving for storage, or make a space for holding appliances like a microwave to save counter space.
If simplicity is more your style, round up a few bar stools to make a casual space for people to gather. An island is also a great vehicle for adding a pop of color to an otherwise monochromatic kitchen. Don't be afraid to try out some brighter colors. They can create a great contrast against an otherwise neutral color scheme. If you're looking for a way to make your island addition feel as though it's always been a part of your kitchen, consider giving it the same surface as the rest of your countertops.
4) Let there be light
Storage and appliances are important to the functionality of a kitchen, but lighting is the star of the show when it comes to setting the mood. The last thing you want is a functional kitchen with an unwelcoming feel, especially since this space tends to be where friends and family gather.
To create a warm and welcoming atmosphere, think about lighting in terms of layers. You don't want one single glaring light in the middle of the ceiling. Instead, combine task, ambient, and accent lighting that will meet your needs of a well-lit workspace for cooking and create an equally inviting area for entertainment.
Task lighting is focused lighting that should be placed wherever you'll be preparing food. Think underneath overhead cabinets, or over a kitchen island. Ambient lighting, or indirect lighting, is what creates an inviting glow in a room. It can come in many different forms, including pendant lights hanging from the ceiling, or adjustable track lighting. Accent lighting is less commonly used in the kitchen, but can be especially useful if you want to showcase a piece of artwork, or illuminate the beautiful backsplash behind your sink. Accent lighting inside glass cabinets can also illuminate your treasured collection of glassware.
5) Add surface appeal
Besides being filled with good food, a kitchen is also filled with numerous surfaces. They can be found in the form of flooring, countertops, and backsplashes. Old surfaces can make your entire kitchen feel drab and dingy. Updating your floors and countertops, and installing a unique backsplash are all great ways to bring your kitchen out of hibernation, and give it a fresh new look.
Your home's kitchen sees some of the most traffic in your home—especially if it's connected to a main entry way. With everyone tramping in and out, it's inevitable that your floor will start showing the wear and tear over time. Luckily, if your floor needs an update there are many materials to choose from. Hardwood flooring is relatively low maintenance, and can provide you with decades of use. Vinyl flooring has a softer feel, and can be ideal if you're constantly on your feet cooking. It's also a more forgiving surface if you're prone to dropping things—we're only human after all, and grace is not a gift bestowed upon everyone. These are just a few of the many flooring materials available.
The same idea of wear and tear applies to your countertops. Whether they're showing their use, or you're just ready for an update, a different material can completely change the face of your kitchen. If you're tired of cleaning in between tiles, consider upgrading your countertops to smooth surfaced marble or granite. Wood countertops can provide touches of warmth in a kitchen otherwise filled with metal design elements. Cambria countertops are great for easy clean-up—they have the look of natural stone, but are also stain resistant. With all the styles and materials available, you'll easily be able to find a countertop that suits your needs, as well as one that compliments your style and fits your budget.
They say the beauty of home is in the details. Adding a backsplash to your kitchen is just one detail, but it can pack a powerful punch of beauty. A well-designed backsplash can add interest to your walls, and the wealth of materials and styles available to choose from will allow you to match the backsplash to the rest of your décor. If you want a simple look, utilize subway tiles in one or two colors. For more warmth and a rustic feel, add a backsplash made of repurposed wood. An experienced design-build contractor can make a wide range of materials work with your kitchen.
For more kitchen remodel advice, contact the McClurg team! Our experienced design-build contractors will help you bring your dream home to life.