If you're planning to remodel your master bathroom consider including features to create a comfortable and enjoyable personal retreat. A good master bath design should address both function and style. Some master baths are small but can be equipped for comfort. Others are large but may require reconfiguration to add amenities. Or, you may be starting fresh by adding a master bath addition. In each case, here are twelve essential comfort items to consider in your master bath remodeling plans:
1. Optimize Floor Space
In bathroom design, floor space adds to comfort by making it easier to function in a small room and aesthetically makes the room seem bigger. Your selection of fixtures and cabinetry can help create more floor space. Space saving features include pedestal and wall-mounted sinks, tub/shower combos, freestanding tubs and corner shower units. Shelving and cabinets can be recessed into walls to optimize space. If your bath is a standard size (i.e., 5-by-7 feet) consider a pocket door to eliminate a door that swings into the room.
2. Wider Entryways
An entry to a bathroom can be as small as 24 inches wide. If you're remodeling, it may be the time to increase the width of the entry to 34-to-36 inches. A wider entry makes it easier to enter the room when you need to gather towels on laundry day or clean and, if you ever have a health problem that impedes your mobility, the bathroom will be easier to access.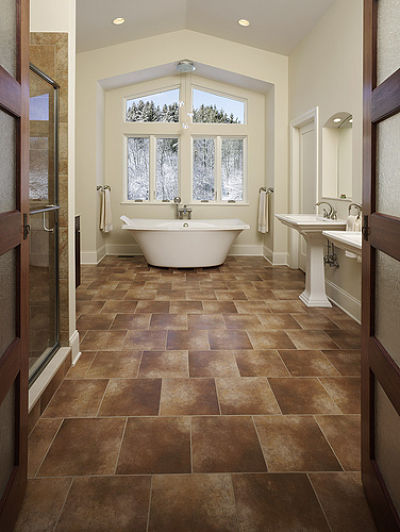 3. Walk-in Showers
Most people prefer a shower to a bath. Walk-in showers can have beautiful tile designs, a shower seat and shelving for soaps and supplies. Realtors continue to debate the question of tub vs. shower for resale value. There is no empirical evidence to support the case for or against replacing a bathtub with a walk-in shower and the impact on resale value. Realtors seem to agree that there should be at least one bathtub in a home to appeal to a range of buyers but resale value can also depend on the demographics in your community. Buyers age 50+ and young first-time buyers seem to prefer a walk-in shower in the master bathroom.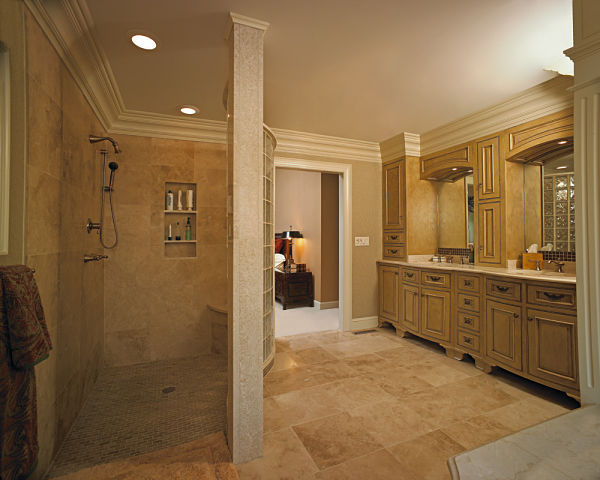 4. Multiple Showerheads
A wall mounted showerhead or ceiling mounted waterfall showerhead coupled with a handheld shower are "must haves" for many homeowners. Multiple jets can make a shower a "spa" experience.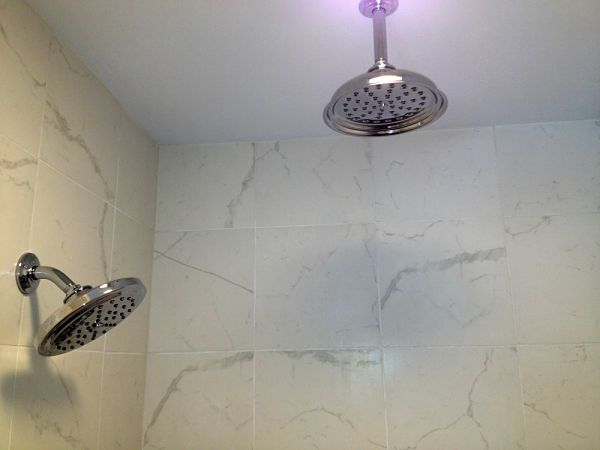 5. Multiple Sinks
When designing a master bath, people often seek luxury. Adding a sink for each user provides a personal space for grooming. Pedestal sinks are currently popular but vessel sinks can add elegance and architectural interest to a master bath.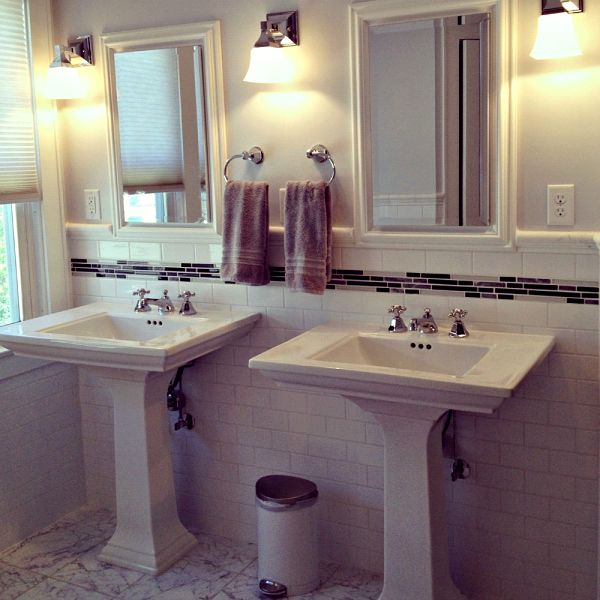 6. Furniture-Style Cabinetry
A trend that adds style to a master bath is the use of furniture-style cabinetry. Furniture style cabinets appeal to many homeowners. You will find cabinets in Mission, Country French, Shaker, Traditional, Modern, Asian and other styles. These cabinets are often made by semi-custom or custom cabinetmakers.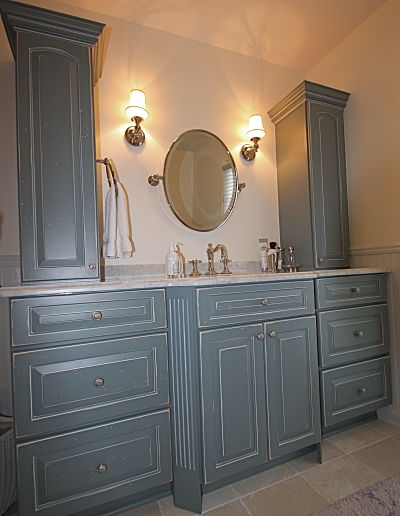 7. Lighting and Mirrors
It's important to have good lighting in a master bath. Consider both natural and electric lighting. You will find many types and styles of bathroom light fixtures, often with matching mirrors. Be aware of "up-light" and "down-light" illumination when you select fixtures. Lights may also be included in mirrored medicine cabinets and bathroom fan light fixtures.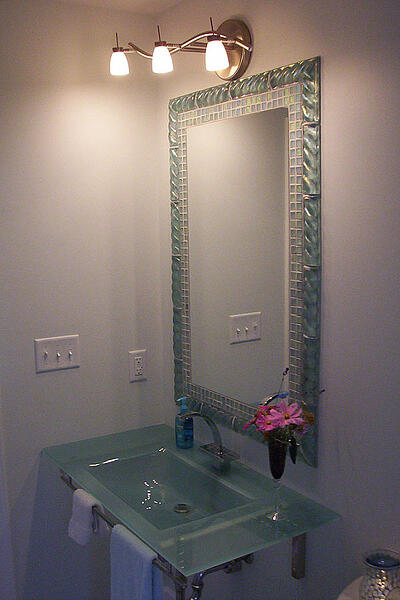 8. Heated Flooring
This is a feature you will most likely appreciate nine months out of the year in Central New York.
9. Ample Storage Space
Storage is always a challenge when designing a bathroom. Consider space saving linen and vanity towers, built-in cabinets and open shelves, and glass shelving for storage. Medicine cabinets can be recessed into the wall to provide storage for small items.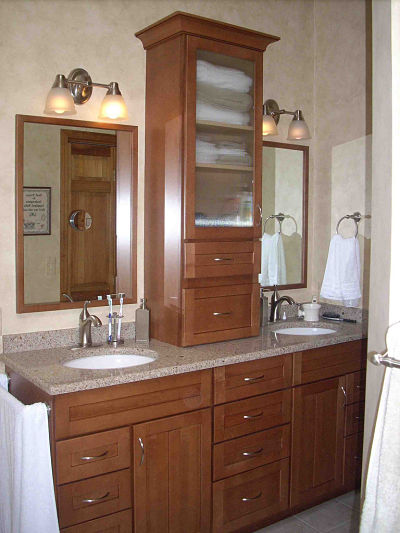 10. Safety Features
When planning your project, pay special attention to safety. Grab bars should be installed in shower and bathtub areas to support users as they enter and exit. Slip-resistant flooring and a non-slip surface on the shower basin and tub are essential. A shower seat and wide entryway are also good safety features. Only ground fault circuit interrupter (GFCI) outlets should be used in bathrooms to prevent electric shock. Add a nightlight, too.
11. Compartmentalized Commodes
If your floor space allows, consider creating a separate area for the toilet and perhaps an additional sink for added privacy in a space that is often shared by two people.
12. Relaxing Colors
Create a comfortable bathroom with color. One of the most popular colors for a master bathroom this year is pale blue. Check out our 2013 color selections which feature Lookout Point 1646 by Benjamin Moore, a pale blue wash with a hint of gray.