Generally, we don't write about specific products in our blog. However, we are very excited to be introducing a new line of custom cabinetry to the Central New York market – Elmwood Fine Custom Cabinetry – and we wanted to give our loyal blog readers a first hand look.
Beautiful kitchens and baths begin with selecting the right cabinetry. We've been looking for a high quality, full-custom cabinet manufacturer to complement our extraordinary line of semi-custom cabinets from Jim Bishop Cabinets. We found what we were searching for at Elmwood.
Elmwood is a family-owned and operated company that got its start in 1973. Their cabinets are made at a 150,000 square foot manufacturing facility in nearby St. Catharines, Ontario, Canada, just north of Buffalo. As an Elmwood dealer, product is shipped directly to us from this facility.
What sets Elmwood apart from other big name cabinetmakers is its use of fine hardwoods, the exceptional quality of its craftsmanship and the range of innovative design options offered. The Elmwood team is very progressive in manufacturing and finishes. They not only keep up with global cabinetry design and manufacturing trends, they are among the leaders when it comes to fine custom cabinetry.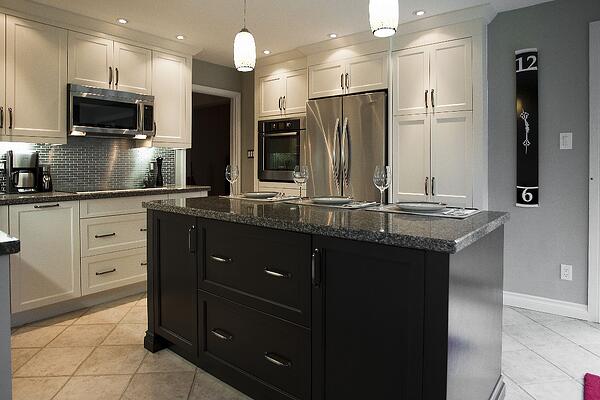 Photo by Elmwood Fine Custom Cabinetry - Transitional Kitchen.
Light cabinetry: Ashbury painted Antique White. Island: Federal Maple stained Carbon
The company produces dozens of door styles to address every type of interior design style from Art Deco to Zen Feng Shui. Most doors are manufactured onsite. With custom cabinetry you can add a wonderful touch to your home including custom finishes, woodworking and cabinets designed expressly for your needs and sized for your room.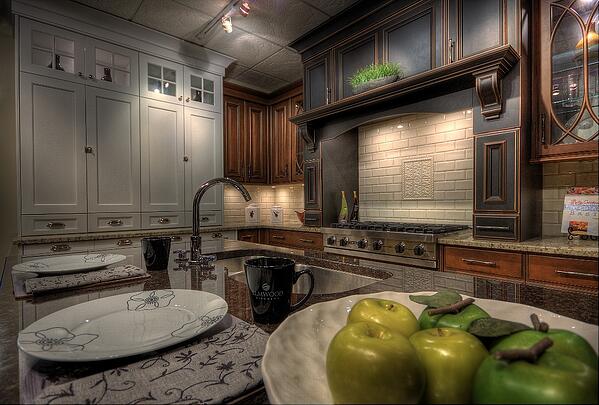 Photo by Elmwood Fine Custom Cabinetry - Full Access All Wood,
Savannah, Maple, Sable Java, White Hutch: Fenwick 2 3/4" Rail Paint Grade, White.
Hood: Augusta Maple Tannery.
Elmwood also offers accessories including pullout storage, drawer organizers, wine storage racks, dividers, range hoods and beautiful carved and plaster accents. To help you visualize how the cabinets will look when installed, the company has set up a website with a gallery of design styles and a virtual tour feature. If you have an iPad, take the "virtual tour" by holding your iPad as you move in a full circle and raise your arms up towards the ceiling and down towards the floor. You will get an exceptional 3-D experience of the whole room. Very cool!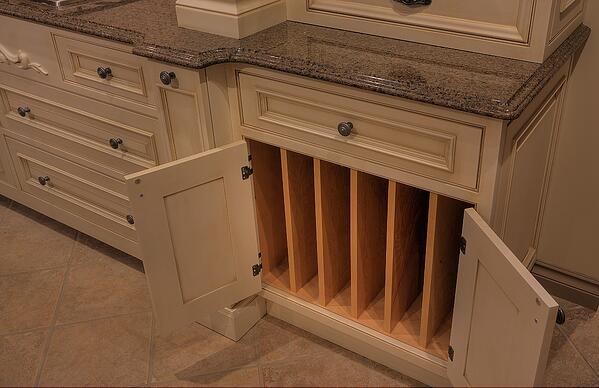 Photo by Elmwood Fine Custom Cabinetry - Base Door & Drawer Cabinet
with Removable Wood Tray Dividers.
The Elmwood cabinet line features an incredible range of finishes. All finishing is done in-house and to order. If you have a piece of furniture that is a focal point of a room and want cabinets to match, Elmwood can custom-match the finish.
Our customers who want to create a one-of-a-kind kitchen or bathroom with custom cabinetry now have a resource to help bring their ideas to life. Elmwood cabinets are also wonderful additions to other rooms of the home such as a family room, media center, library, wine locker, office or bedroom.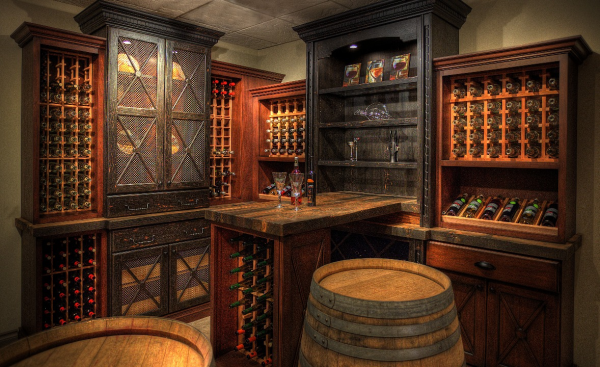 Photo by Elmwood Fine Custom Cabinetry - Light Cabinetry: Rosedale
Mahogany Chablis Java. Dark Cabinetry: Vintage Weathered Conte.
We are the only Elmwood dealer in the Syracuse area. If you are interested in learning more about Elmwood Fine Custom Cabinetry, call us at 673-2051. We are extremely excited about this product and hope that you will be, too.