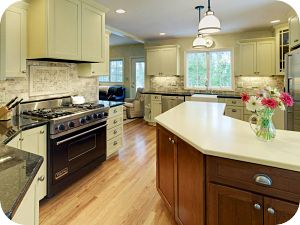 Cabinetry is often the most expensive item in a kitchen remodeling project. Cabinets will define the work space of your kitchen and how it will function.
Types of Cabinets
When you shop for cabinets you have three options:
Stock cabinets. These are the type of cabinets sold in home improvement stores. They are generally the least expensive cabinets you will find as they are produced in standard sizes and limited styles and finish options.
Semi-Custom Cabinets. Semi-custom cabinets are just that. They are built-to-order. You will find more options for not only style, color and finish but also function. Semi-custom cabinets offer accessories that you will not find in stock cabinets such as a variety of glass inserts for cabinet doors, pull-out shelves and moldings. These cabinets need to be ordered from the manufacturer.
Custom cabinets. Custom cabinets will give you a free hand in defining your kitchen but at a premium price.
Types of Cabinet Construction
Kitchen cabinets are constructed in two ways: face-frame construction or frameless construction.
Face-frame cabinetry has a solid wood frame attached to the cabinet box. Hinges can either be hidden or exposed. The frame overlaps the door opening so drawers and pull-out inserts are smaller than the width of the cabinet.
Frameless construction is used in contemporary cabinet styles and there is a bit more space inside the cabinet. Door hinges are not visible and are installed inside the cabinet.
Cabinet Features to Look For
When selecting cabinets you will want both quality and durability. These are the features to look for:
Construction. It is important to select cabinets constructed with solid wood face frames, door fronts, door frames and drawers. Look for corner braces. You will find that high quality cabinets will have plywood sides and rear panels in the cabinet box. Particle board boxes are fine as long as they are installed properly.

Drawers. High quality cabinets will have drawers with solid wood or plywood sides at least ½-inch thick. Dovetailed or doweled joints on drawers will stand the test of time. Glued and stapled joints will not be as durable. Self closing drawers are the best. If your budget permits, drawers with full extension glides are a plus.

Shelving. Wall cabinets should have adjustable shelves. Consider your options when selecting shelving for lower cabinets. Fixed shelves are standard for cabinets, but pull-out tray inserts with full extension glides increase storage space and make it easier to access contents.

Performance. When you visit a kitchen showroom or a home referred by your contractor, pay attention to the way doors and drawers open. The doors and drawers should open without wobbling or sticking.

Warranties. Review the manufacturer's literature particularly as it pertains to extended warranties and product guarantees.
We work with our customers, who have a range of design ideas and budgets, to find the right cabinetry for their kitchen remodeling projects. We install all types of cabinet lines and custom cabinetry.
We also offer a cabinet line that many people may not be familiar with – Bishop Cabinets. We decided to offer Bishop Cabinets to our customers because of the quality and value. Unlike other manufacturers, Bishop does not invest a lot in advertising intentionally to keep its semi-custom cabinet line affordable. Bishop cabinets are made in Montgomery, Alabama and the company is great to work with. We have samples, catalogs and product displays. If you're interested in seeing these cabinets, please contact us at 673-2051.
Want to know more about choosing kitchen cabinets? Check out Better Homes and Gardens Kitchen and Bath Ideas. For design ideas visit the Kitchens Gallery on our Website.