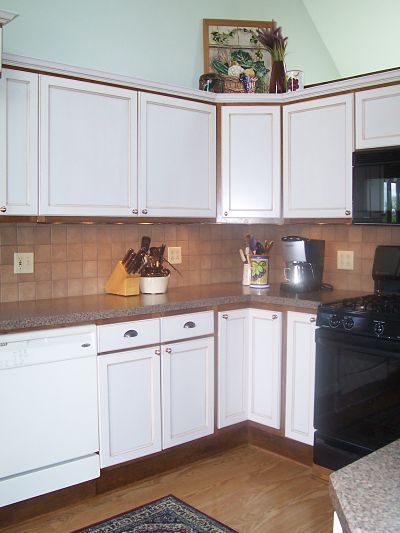 If your kitchen needs updating, a minor remodel may provide the solution. According to Remodeling Magazine's Cost vs. Value Report for 2011-2012, the average cost for a minor kitchen remodel in our area will range from $13,000 to $20,000 and will provide a payback of about 65 percent at resale of your home. What is included in that estimate? Remodeling Magazine's report uses the following criteria in reviewing costs:
The size of the kitchen is 10' x 20', or 200 square feet.
There is no change in the existing floor plan or electrical wiring and plumbing
Cabinet boxes are left in place but fronts are replaced with raised wood panels and drawers with new hardware
Two appliances are replaced, the cooktop and wall oven
The sink and faucet are replaced with a mid-price model
30 linear feet of countertop is replaced with laminate counters
Flooring is replaced with resilient flooring.
The trims are painted and new wall coverings added.
We have worked with many homeowners on value-driven kitchen remodeling projects. Here are ten design ideas that will help you to stay within your budget and add value to your home:
Have a master plan and update your kitchen in phases.
If money is tight and you plan to live in the home for a period of time consider making gradual changes to your kitchen. If you don't want to "pay twice" to have the changes you made earlier redone, take the time to create a master plan. Your contractor can help create a plan to meet your needs and sequence improvements to avoid "re-dos".
Use the kitchen space efficiently and don't expand.
Consider changes to the existing space that will make your kitchen more functional. It is easier and more cost effective to install new cabinets than to knock down walls or create an addition. You can replace base cabinets with large deep drawers and add pull-out shelving or carousels to make storage more efficient. Add storage features to existing cabinets. Organizers and accessories will help contain kitchen clutter.
Replace appliances for efficiency and to change the color of a kitchen.
If appliances need to be replaced you will find that today's models of ranges, refrigerators and microwaves have some great features such as conversion options for baking, ice makers and, in the case of microwaves, built-in ventilation. You can save counter space and the cost of a built-in by placing a microwave/vent over your range where you would otherwise have a vent hood. You can also find appliances in a variety of finishes and even colors to update your kitchen.
Consider new laminates to replace countertops.
The cost of replacing counters can be up to 10% of your remodeling budget. Laminate counters offer a cost-effective alternative. Manufacturers have made great strides in developing their products to look like stone counters (granite, slate, marble or even quartz). Edging has also changed to emulate the high-end ogee and bullnose edging of stone counters.
Paint can make a dramatic change.
If the cabinets are in good condition, consider updating them with paint. Paint can transform a kitchen and most cabinets can be painted.
Add backsplash tile.
Backsplash tile can add sparkle to any kitchen and make you feel as though the space is new.
Replace hardware on cabinets, drawers and doors.
One quick way to refresh the look of your kitchen is to change the knobs and pulls.
If you need more natural light, consider adding a sun tunnel instead of a window.
This tip comes from "This Old House" and from our experience we agree. Natural light is essential in a kitchen. A sun tunnel is not difficult to install and can make a world of difference in a room.
Consider using a table or a portable island to create more space for food prep.
The original kitchen island was a table. Kitchen tables come in 30" and 36" heights and can be used for many purposes including baking, informal meals, dining, serving as a buffet for entertaining, doing homework or playing games. If your space is confined, consider a portable island. Portable islands come in a variety of shapes and sizes and can be moved about as you need the space.
Convert a near-by closet into a pantry or add open shelving to an adjacent wall.
Many people who remodel tell us they are in need of extra storage space. If storage is one of your priorities, consider converting a nearby closet or a wall into a pantry. The beauty of a closet conversion is that you can close a door to hide the contents but open shelving installed on a wall or corner can create much needed pantry storage space and can be attractive.