The owners of a hill top house in Tully, NY have spent considerable time updating and redesigning their home to accommodate their active family. When it came time to renovate their master bathroom, they wanted to create a comfortable space that would provide an invigorating start to their fast paced schedule of work, kids and activities, and be a private retreat where they can escape to at the end of a hectic day.
Using the existing space of the master bathroom, we found a solution for them. We redesigned the interior and created a walk-in shower without doors, expanded storage and added amenities on their wish list.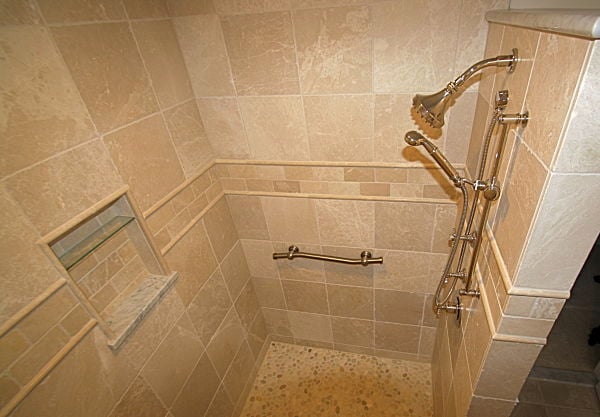 Project Consultant: Vince Petralito
Lead Carpenter: Nick Vecchiarelli
Homeowners' Objectives
The master bathroom was a tight space with a neo-angle shower from the early 1980s. It was not a pleasant space to use. Pink walls, mauve/gray tile, a laminate counter, worn oak cabinets, and a tiled shower stall with an etched frosted glass brass hinged door were outdated. A dual bowl vanity did not provide adequate storage for grooming supplies. The room also had poor ventilation and hot water baseboard heating units.
The homeowners' objectives included:
A complete renovation and redesign of the room within the existing space. They wanted the old shower, cabinets, vanity and flooring to be removed and replaced with state-of-the-art upscale items.
Access to the deck. The homeowners wanted to be able to walk out from the bathroom to a deck that has a spectacular valley view. The original bath had a window that could be fashioned into a door.
A large, easy care walk-in shower without doors. A walk-in shower without a door would eliminate the space needed for a door swing, therefore a larger shower would be feasible. A shower with tile that could be wiped down easily would reduce maintenance time.
Bathroom safety features. To create a large internal space in the shower, a bench would be eliminated. The homeowners wanted slip-resistant tile flooring, inconspicuous grab bars and a handheld showerhead in addition to a wall-mounted rainfall shower.
More storage. A small, double base cabinet did not provide ample storage. Plumbing for two sinks was hidden by cabinet doors. The drawers were not large enough for hairdryers and other grooming supplies.
A new heating and ventilation system. The homeowners wanted to replace the baseboard heaters and improve the ventilation in the shower.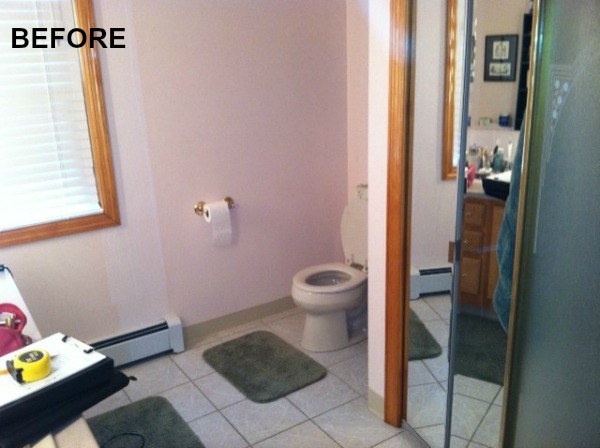 BEFORE: Small 1980s style bathroom.
McClurg's Solutions
1. Reconfiguration of the bathroom space.
The toilet was placed to the left of the vanity. A wainscoted wall frames the toilet area. The door opens to a deck and a beautiful valley view. Neutral wall colors are a current trend in Country French design and accentuate the architecture and furnishings. Beige and grey tones were selected to complement the tile, counter and cabinetry.
2. Replace a window with a door.
A well-insulated door and storm door were installed to provide access to the deck and conserve heat and energy.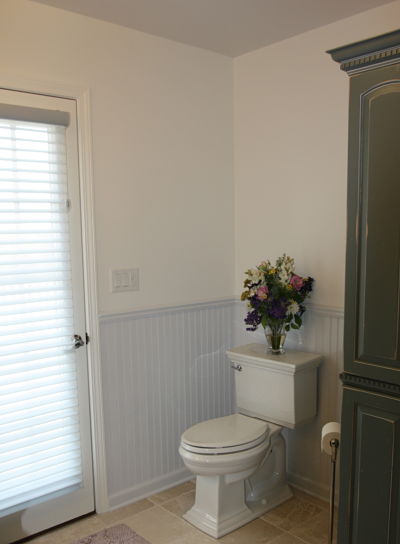 3. Design and installation of a custom walk-in shower.
The large walk-in shower is a "room within a room." Stunning details include the river rock floor tile. Matte finish marble tiles were selected for the interior. The border is 3-by-6 inch tile and listello accent tile. Carrera marble trim tile frames the wall tile and creates the lower edge of the niche. A beautifully designed inset wall niche provides a place for soap and shampoos. The glass shelf was added specifically for soaps and easy maintenance.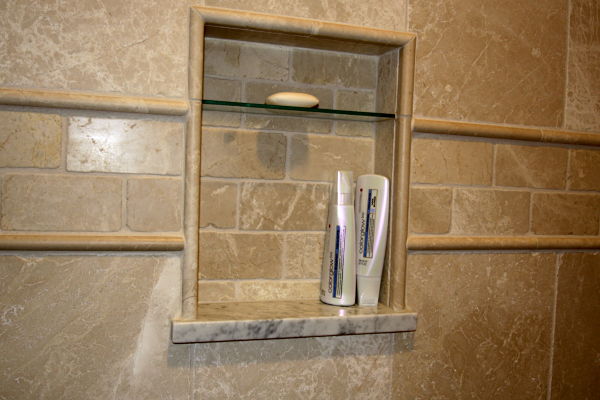 4. Multiple safety features.
The floor tile provides a non-slip surface for users. A handheld showerhead and a grab bar were added for safety.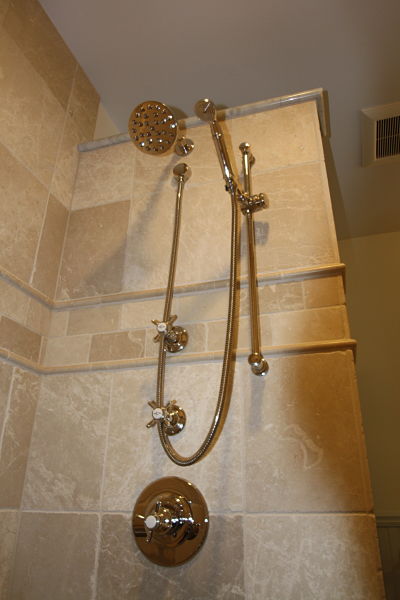 5. More functional storage space.
Rustic distressed slate blue glazed cabinets with elegant arches and carvings were selected for the vanity. A Carerra marble countertop, oval mirror and matching shaded sconces add another elegant element to the room. Storage for towels and items for grooming is provided by two tall cabinets that flank the counter.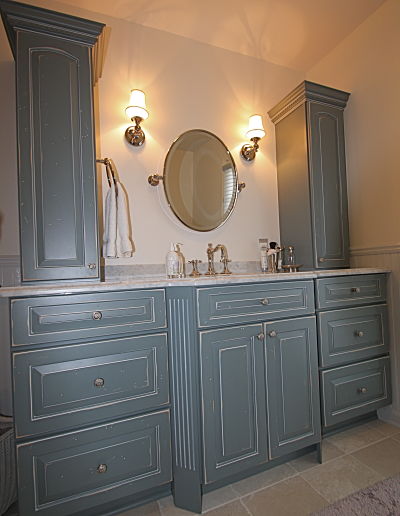 6. Updating the heating and ventilation.
We changed hot water baseboards to a hot water toe kick heater, that includes a fan to help heat the room efficiently. We also installed a new energy efficient vent fan to the shower. By design, there is an opening between the new shower stall and ceiling that helps air to circulate and prevent mold from growing. In-floor radiant heat adds both warmth and comfort to the room.