5 min read
Curb Appeal Upgrade: 3 Expert Tips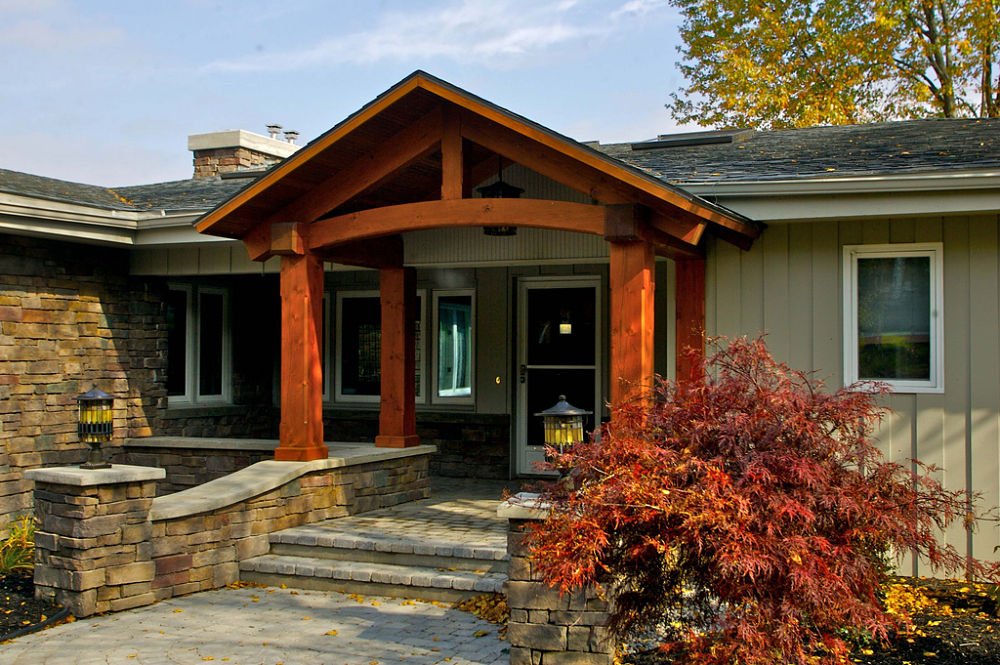 The old saying goes that first impressions can be the most lasting. While keeping the inside of your home up-to-date and comfortable is important, have you considered the outside of your home? The exterior is the first—and sometimes only—thing that people see when they lay eyes on your home. When it comes to exterior renovations, much can be done to improve the appearance of your home, including updating your entry way, residing or painting your home, and replacing old windows. Below we'll cover exterior design ideas that can take your home from ordinary to the envy of the neighborhood.
Make an Entrance
They say you should never judge a book by its cover, but there's no doubt that the cover is one of the first things that catches your eye. The same goes for the entry way of your home. Updating your entry way could be as simple as having your front door replaced or repainted, or you can turn it into a full makeover. Adding a portico to create a covered entry way, or adding columns and stonework can completely alter the façade of your home and give it a fresh, new look.
Repainting your door with a cheerful pop of color can instantly make your home more welcoming. Or you can breathe new life into the original wooden door with a new coat of stain. If you do have an older home you may want to consider replacing the door completely, not just for aesthetic reasons, but for security purposes as well. You want to make your home welcoming, but not easy to access. Working locks and a door that closes properly will make your home more secure.
Whether you're replacing a door or redoing your whole entry way, consider the architectural elements of your home, and make sure these are repeated in the design of your entry way to create a cohesive look. For example, if your home has a lot of stonework, incorporate this into the entry way with stone columns or a stone walkway leading up to the door. Repeating design elements, like adding a curved portico to match the arched window over your front door will make it seem like the entry way has always been a part of the home, rather than being tacked on later.
Wrap Your Home in Style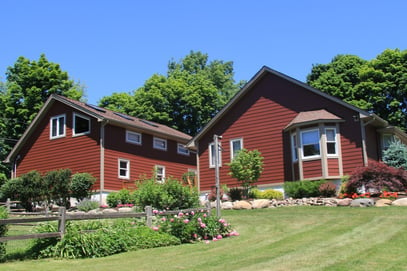 Residing or repainting your home may be all that's necessary to take it from looking like a run-down eyesore to the best-looking house on the block. Even if your home is in good shape, redoing its exterior is a great way give it a new look, or reinforce its original architectural style. For example, if you reside on the lake, wood siding can give you a more rustic look that matches the natural surroundings.
Repainting your home can also bring specific architectural elements to life. Think about which elements of your home you'd like to highlight, and utilize colors to do so. Different shades of the same color will complement each other well, while still providing interest to the eye. Choose a contrasting color for the trim, shutters, and doors to highlight these details against the backdrop of siding.
Beyond style, you'll want to think about durability and moisture resistance when it comes to redoing the exterior of your home. This is especially true in Central New York, where hard winters and seasonal changes can take a toll on your home. You want an exterior that will be able to handle the changes in weather, resist rot, and keep out pests. The material you choose will be the first defense your home has against the elements. As a result, it's worth the investment to get a professional installation by a design-build contractor to ensure that the job gets done right.
These days, there are multiple siding options to choose from, including wood, brick, vinyl, and fiber-cement. If you choose wood siding, be aware that it will need to be re-stained or repainted over time to maintain its resistance to moisture and rot, while brick siding can last the life of a home if installed properly. Vinyl siding requires less maintenance and comes in a variety of colors and styles.
In a climate like Central New York, where the change of the seasons can result in rapid temperature fluctuations, fiber cement board siding is a smart option. Extremely strong and durable, this siding can protect your home from fire, insects, and rot. It's moisture resistance also makes it ideal for areas that are prone to getting a large amount of rain or snowfall. This siding has multiple color options, and styles that can stimulate stucco and wood surfaces, so design and function can co-exist in harmony.
Create a Window of Opportunity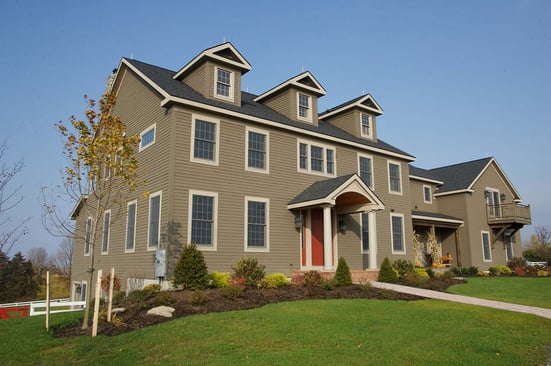 The windows of your home are a great source of natural light, and allow a little bit of the outdoors inside without the sometimes unpleasant elements that come along with it. However, if your windows are outdated, they can be hurting your home more than helping it. Old windows and treatments can allow pests to creep inside and take up residence. Outdated windows also make it hard to efficiently maintain the temperature of your home. The last thing you want is for your home to be an oven during the summer, and an ice box during the winter. As with the siding and entry way of your home, when replacing windows, you'll want them to match up with your home's architectural style.
If your windows don't need to be replaced, there is still plenty you can do to spruce up your existing windows. Think of them as miniature canvases for design that can help give the exterior of your home one cohesive look. Shutters can be added that match the trim of your home, or awnings can be added for more shade during the hot summer months. If you're looking to add more decoration, window boxes or outdoor window sills are the perfect place for flowers and plants in the warmer weather, and seasonal decorations as the weather cools down.
If you don't need to replace the windows you have, but you're still looking for a way to update the façade of your home, dormer windows are also a great solution. In addition to letting more light into your home, they create the illusion of height or a second floor if you have a one level home. If your home has multiple stories, dormer windows can add interest by breaking up the large expanse of roof that often comes along with a big house. No matter which route you take, remember that windows serve an important purpose, both in form and function, so it's worth the investment to make sure they aren't weighing down the appearance of your home. Instead, they should serve as points of interest that are pleasing to the eye.
Looking for more ways to increase your home's curb appeal? Contact the McClurg team! We're happy to discuss your ideas, and help you make the best choices when it comes to updating your home.