A welcoming front door and entryway provide both architectural interest and curb appeal to a home.
An entrance can be transformed in many ways. You can add a covered entryway, portico or stone accents. You can add a new door and lighting. You can replace or repair stairs and pathways. You can also enhance a front entrance with a fresh coat of paint or new landscaping.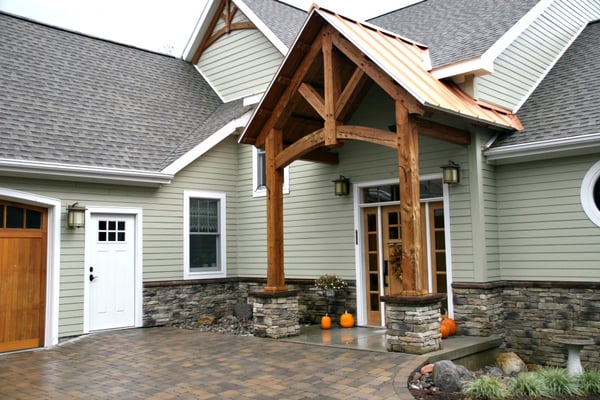 This new home's exquisite front entry features post and beam architectural details and a copper roof. The sidelights and transom window have mission-style grids that complement the front door. The garage door was selected to match the front door and wood accents of entrance. Note that the portico design is replicated on the home's front roof peak. Pavers were used for the driveway and landscape accentuates the architecture.
Here are seven inspiring design ideas for creating an extraordinary entryway.
1. Embellish an entry with custom features.
When we design and build a home or redesign an exterior for an existing home, we work with our clients to create entryways that match the home's architectural features. Custom features are often important to both homeowners and the overall design.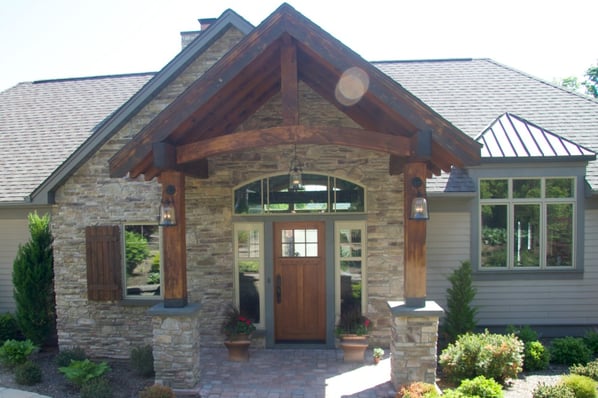 This home's stunning entryway features a large post and beam portico. The custom features include a larch wood door, a large transom window, a centered hanging light fixture with matching sconces mounted on the wood columns and masonry.
2. Update doors of other primary entries.
A back door entry can be as important to the style of a home as the front especially in homes built on a lake or with an outdoor living area.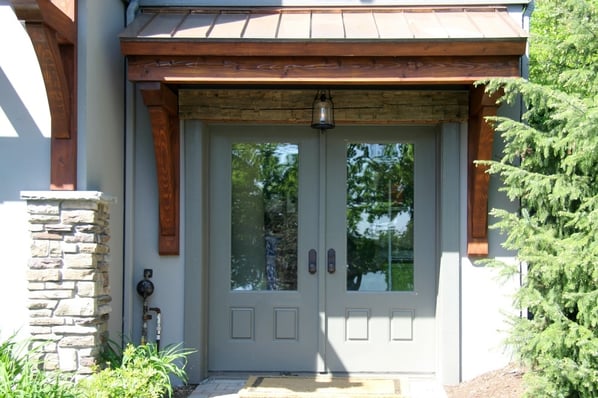 Because the homeowners frequently use this back door entry, special attention was given to the design. The double doors were enhanced by adding wood posts and beams and a copper shed-style roof.
3. Update an entry with a stone façade and stylish features.
One of the latest trends in home design is the use of stone veneer on both exteriors and interiors.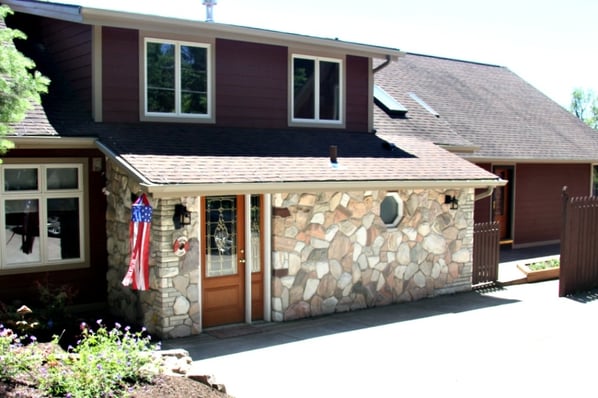 A colorful field stone veneer façade updates the entryway of this home and includes an octagon portal window that brings natural light into the interior. The front entry wood door features a leaded glass insert and matching sidelight.
4. Add universal features for accessibility and safety.
Entryways can sometimes present barriers for residents of a home and visitors. Steep steps, narrow doorways and threshold transitions are the most common obstacles. If you are planning to update an entrance consider "Universal Design" features.
Other features to consider when addressing accessibility are lever handle door hardware and good lighting in the entrance.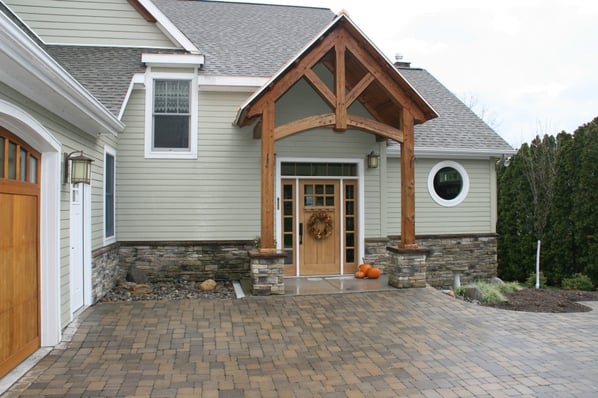 This home was expressly designed with a level threshold entry to address the needs of the owners. The wood front door includes matching sidelights and a transom window. Stacked ledgstone veneer was applied to the lower section of the home's exterior walls and to the base of the columns that support the stylish custom overhang.
5. Brighten up an entryway with a new exterior door and sidelights.
A new door can have an immediate impact on the curb appeal of your home. Sidelights add interest and will brighten the interior of an entryway.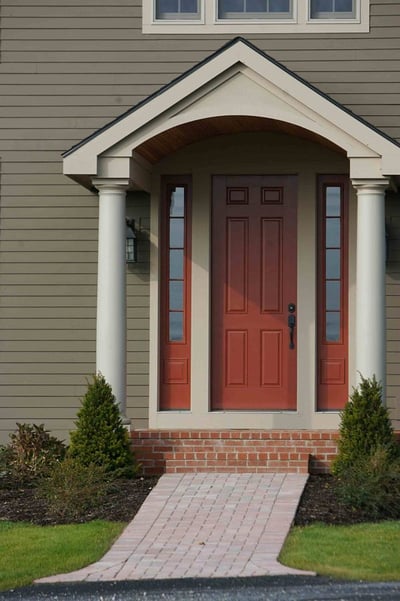 Typically an entry door is 6-to-8 feet tall. This entry door is 8-foot tall and includes sidelights, one on each side. The 8-foot height gives a grand effect to this entrance. The sidelights are decorative and bring natural light into the interior of the entry. They also provide residents with a view for security.
6. Update a front porch.
Porches take the brunt of foot traffic into a home and the weather in our climate. Since a porch is a central feature of a home, it is important to maintain it regularly and update it periodically when wear and tear show.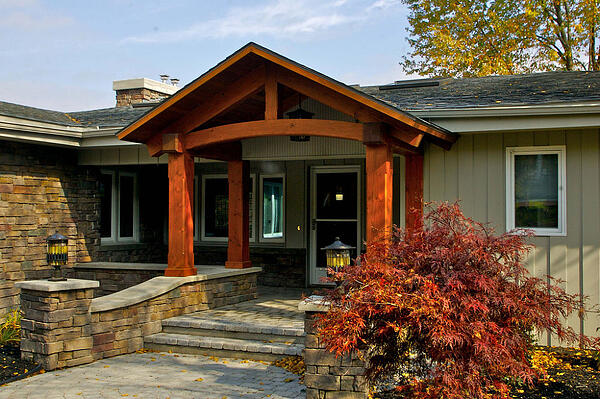 A new roofline extending out from over the front door dramatically changed the facade of this home along with the custom Douglas fir posts and the arched truss.
7. Add a covered entryway to provide a focal point to your home and shelter from the elements.
A covered entryway can dramatically change the look of a home and are an asset in Central New York to shelter those who use it.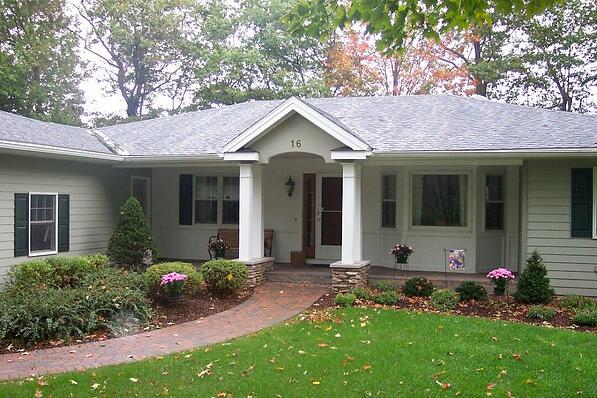 A new porch roof bump-out transformed an ordinary entry into the focal point of this home's exterior. The porch provides a sheltered entrance and adds columns and stonework to the façade. A charming walkway and bordering gardens create curb appeal for this home.