Small homes are gaining popularity among homebuyers. Baby boomers seeking to downsize and live more simply, and first time homebuyers looking for affordable housing, are driving the trend. Small homes include bungalows, cottages and ranch-style homes with less than 2,000 square feet of living space.
Many small homes in the Central New York market are existing homes that may not fit today's lifestyles and require remodeling to meet the needs of homeowners. Kitchen layouts in these homes may not accommodate modern appliances or provide adequate storage. Dining rooms are often underutilized and parlors are not set up for media equipment and causal gatherings.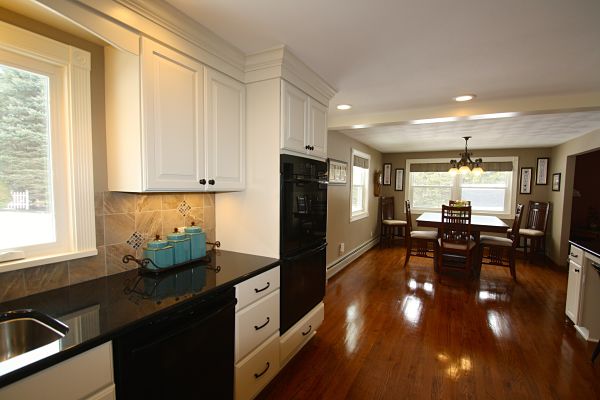 The owners of this split-level ranch-style home built in 1977 wanted to remodel their kitchen and adjacent dining room for entertaining family members, especially grandchildren. The original kitchen was dark and closed in by a wall that separated the space from the dining area. The kitchen had a U-shaped configuration with a narrow work aisle that constricted the flow of traffic in the room when the family gathered together for holidays and special occasions. Lighting was dim and appliances were outdated. In designing a functional plan for kitchen storage and creating more counter space, the first floor of the home was unified by the installation of oak flooring, moldings and trims selected for the project.
Here are five ways to maximize space in a small home:
1. Work within the existing floor plan.
Kitchens can be problematic in small homes. Counter and storage space are often inadequate. Solutions involve changing the cabinet configuration and placement of appliances.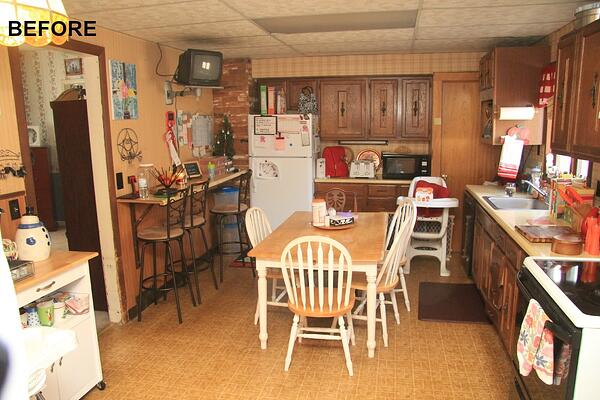 BEFORE: This timeworn kitchen was a much used space for a family of five. There was a table placed in the center for family meals and a breakfast bar. The work area was not efficient and work aisles were narrow. It was not a practical layout for appliances and storage.
AFTER: We worked with the Rachael Ray show designer John Gidding on this special project for an Auburn family. His design updated the kitchen in the following ways:

Changed the "work triangle" of the kitchen and the location of the sink and appliances.
Created functional cabinet space by adding a wall where the old breakfast bar was located.
Expanded counter space for food prep and seating by building a peninsula.
Added aesthetics that make the kitchen an attractive place to work in and gather by the use of lighting, adding new flooring, designing a backsplash that unifies elements in the room and by the choice of cabinet finishes and paint that brighten the space. The light fixture over the peninsula and cabinet hardware were selected to add sparkle and style to the kitchen.
2. Reconfigure interior space.
Floor plans of small homes generally include a number of small rooms. One common feature is a small dining room that is adjacent to a kitchen and is separated by a wall. We often get requests to remove the wall to increase the space for the kitchen and create an informal dining area. Bedrooms can also be tight and a wall can sometimes be removed to expand the space.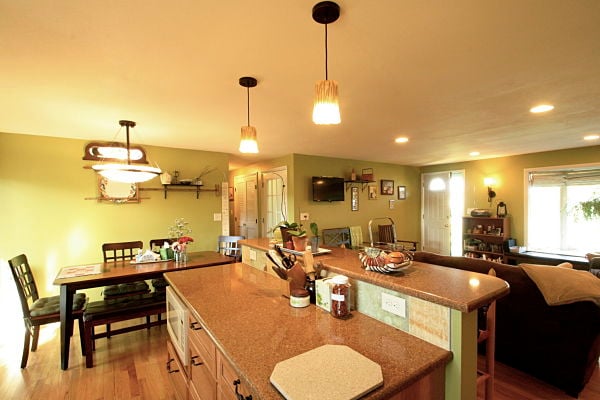 The owners of this small ranch style home wanted to create more open space for their everyday use. The original floor plan included a tight kitchen and walls that enclosed a very small dining room and living room. Walls were removed to open up the space to integrate the kitchen with a dining area and family room. The plan called for a kitchen with Universal Design features including: level thresholds, 36-inch entryways, wide kitchen work aisles, rollout storage on the island and an undercounter microwave oven. The multi-purpose island is central in the design and serves as a food prep area, a counter for informal dining and physically separates the kitchen from the family room.
3. Convert a garage or basement into living space.
Using the basement or a garage of a small home is a way to gain additional living space without having to add to the structure of a house.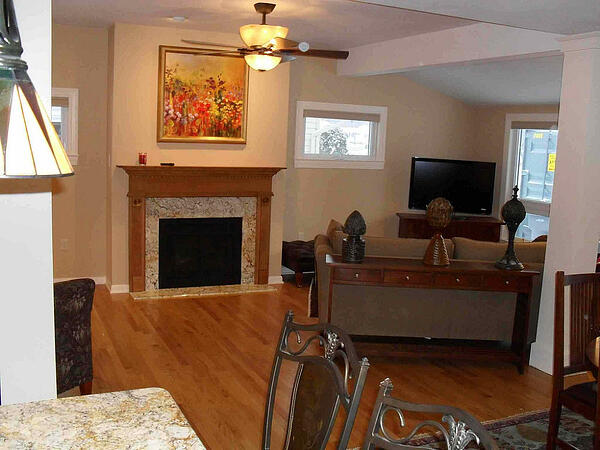 A garage of a small home was converted to expand the space of a kitchen and to create a family room.
4. Build an addition.
Family room, sunroom and porch additions enhance small homes. Additions include many exterior details and it is helpful to work with a design-build firm in planning your project.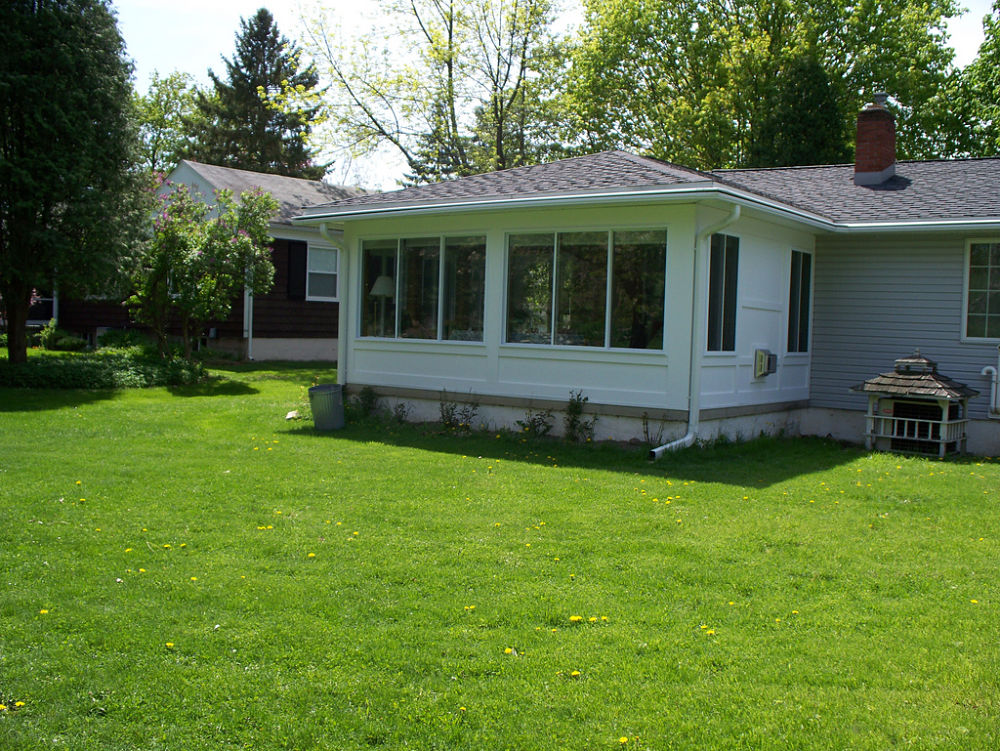 This sunroom addition was designed to blend with the architecture and roofline of a ranch-style home. The windows on all sides of the addition let in plenty of natural light into the new room as well as the adjacent rooms in the original house.
5. Add exterior living space.
Decks and open porches provide an outdoor living space to any home.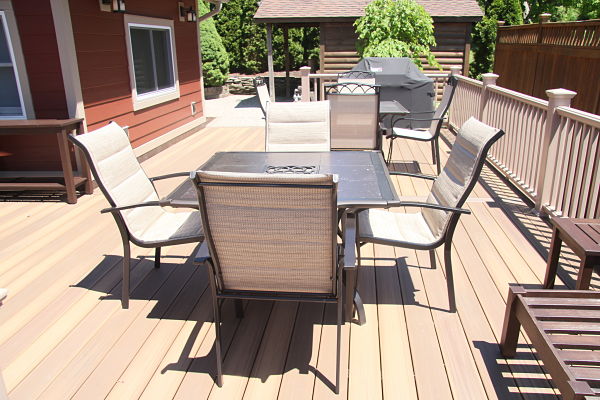 A composite deck addition built onto this lakeside cottage provides ample space for entertaining. The deck easily accommodates two outdoor dining tables, bench seating and a grill.