How long has it been since your bathroom has been given an update? It's easy to let a room like this go on serving its utilitarian purpose, but with the time spent there and its importance for a functioning household, why not make your bathroom into a place that's functional and enjoyable to be in?
If you're looking for ways to upgrade your bathroom, 2017 has brought with it several trends to help you get a little slice of paradise and relaxation without having to leave your Central New York home. Consider implementing one (or more) of the remodeling trends listed below to create a spa worthy space. Once you have some ideas in mind, ensure that you'll get the job done right by hiring a qualified design build contractor.
Color Sets the Mood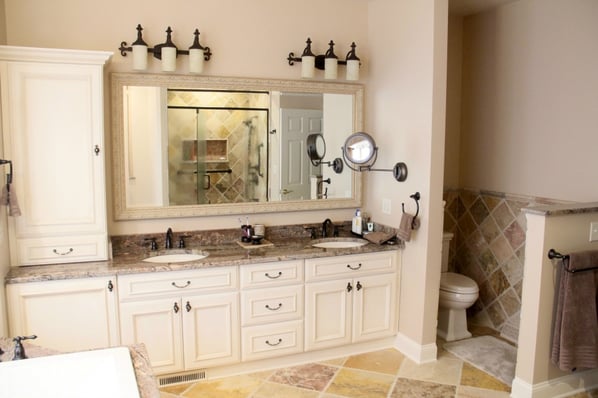 As the old saying goes, the classics never die. Whites, off whites and shades of gray remain popular color schemes in 2017, creating a clean look and a calming effect. Textured tiles are also becoming more popular, adding character to walls without the need for bright colors. If you are looking to add a splash of color, consider working colorful tiles into a backsplash above the sink. Love the idea of whites and grays, but afraid of your bathroom looking more like a hospital room than a relaxing oasis? Consider adding natural wooden elements. Installing wooden shelving or a vanity can create a warmer, more organic feel while providing more storage space.
Play with Lighting
If you want to add a touch of luxury to your bathroom, consider having a chandelier style light installed. If you want something subtler, but are still going for some ambience, have your design build contractor install a dimmer on the central light source. You can go from bright light in the early morning while you're getting ready for the day to a softer feel in the evening when taking a relaxing bath or shower.
Soak in Luxury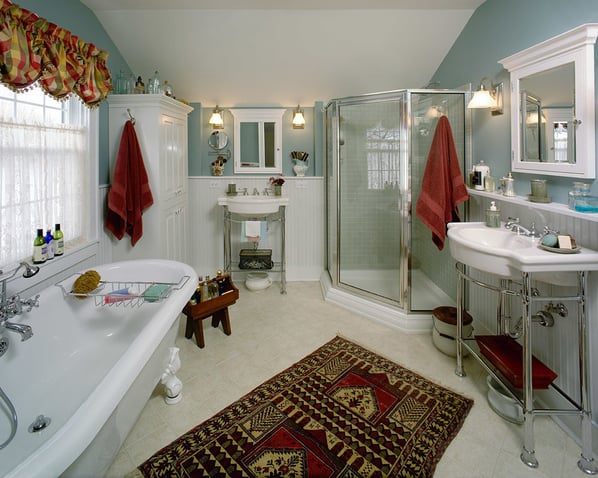 If you enjoy taking baths but your combined tub and shower situation just aren't cutting it—or a tub isn't even a part of your bathroom set up—consider the free-standing tub. These tubs can come in the form of a simple soaking tub, or have more therapeutic features like jets or a heated backrest. Whether you're looking for a vintage claw foot style or a sleek modern tub, it can serve as the focal point for your bathroom as well as a place to unwind after a long, stressful day.
Rinse Away the Stress
Tubs don't appeal to everyone, and if you don't plan on using it often a free-standing tub could take up valuable space in your bathroom. Luckily, deluxe showers are also a trend in 2017. According to the National Kitchen and Bath Association (NKBA) showers are starting to become more popular than baths. As a result, showers are becoming equipped with more high-tech, spa-like features. Replace your outdated shower with a fully enclosed steam shower including multiple showerheads to take an average shower from a daily necessity to a truly enjoyable experience. Adding a built-in bench to your walk-in shower is another option that adds an element of relaxation for the days when you don't need to be rushing out of the house.
Bring on the Heat
We're moving into the summer months, but the return of winter is an inevitability. While the shifting of the seasons can be a nice change of pace, the cold that comes with that isn't always welcome. Now is a great time to consider getting radiant floor heating installed so you can enter the winter months knowing that chilly bathroom floors and cold feet will no longer be a part of your morning routine. If you're not ready to invest in a different heating system, consider having a towel warmer installed. Smaller changes like this can go a long way to giving your bathroom more spa-like qualities.
Find Your Comfort Zone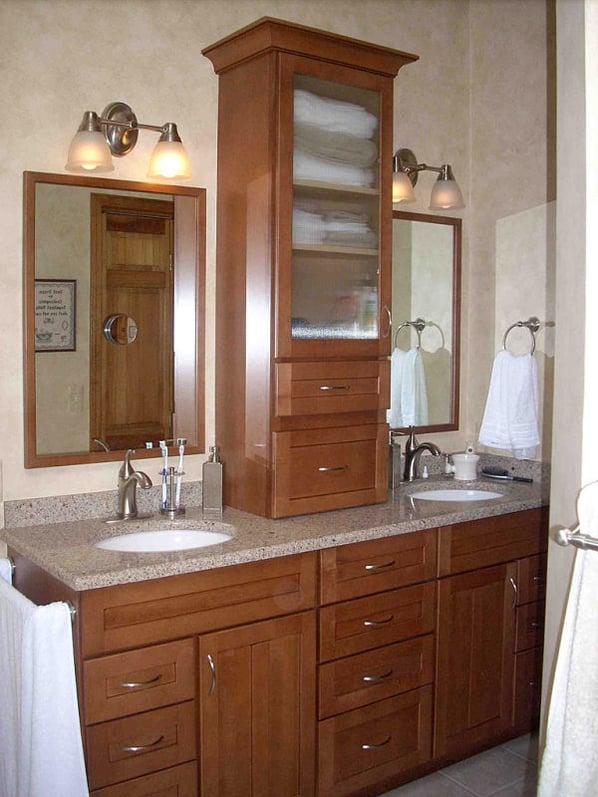 No matter how many changes you plan on making, both functionality and comfort should be front and center when it comes to priorities. It could be in the form of smart storage solutions that make finding your favorite tube of lip stick easier, or a medicine cabinet with a built in electrical outlet to charge your razor. No-threshold showers and floating vanities that allow for easy cleaning are also great options.
The trends of 2017 show that utility and luxury can coexist in the same space—and there's no reason you can't have both when it comes to your home. Meeting with a trusted design build contractor will help you determine a plan that will work with the layout of your home and make your vision a reality. Have an idea in mind? Don't hesitate to contact the McClurg team. We've been dedicated to superior craftsmanship in CNY for over 35 years.