Kitchen storage is at the top of the list for most homeowners when they think about remodeling or updating a kitchen. A well-organized pantry is one of the best solutions for storing canned and dry foods, pots and pans, dishes and other kitchen essentials. Some of the "hottest" pantry storage trends in today's kitchens incorporate shelves, custom cabinets, organizers and drawers. In planning kitchen pantry storage for your home consider both function and aesthetics. Here are six design ideas to consider for your kitchen pantry storage project:
1. Open Shelving
Open shelves are one of the most useful and cost effective solutions for pantry storage. Open shelving has become so popular in kitchen design that homeowners are removing cabinet doors to display contents. Shelves can be customized for both functional storage and attractive displays in the kitchen. Items used on a daily basis can be located in a minute. Shelves can be built-in cubbies, freestanding units or installed on brackets. You can also add organizers, inserts and baskets for shelves to keep clutter contained. If you are considering open shelves to address your storage needs here are a few tips:
If your space allows, add shelves that are 12 inches in depth. Most small appliances, with the exception of KitchenAid mixers, will fit on a 12" shelf. These are items that most of us like to have on hand and include crockpots, juicers, coffee makers, food processors, toasters, coffee grinders, blenders, hand mixers, mixing bowls and cooking gadgets. Twelve inches is also the depth needed to store wine bottles and will provide ample space for cookbooks.

Be aware of the weight-load limitation of shelves, particularly if you are adding shelves supported by brackets. Heavier items should be stored on lower shelves.

There are many options for configuring open shelving to optimize your storage space. When planning, remember that shelves can be fitted into corners of a room to utilize what otherwise might be wasted space.

Organize the items in attractive displays. If you are using shelves to store dishes, consider using a common pattern and arrange items by color, shape, size and function.

Consider adding accessories and organizers to shelf units. There are pullout trays, plate racks, baskets, step-organizers, wine racks and other innovative organizers for shelves.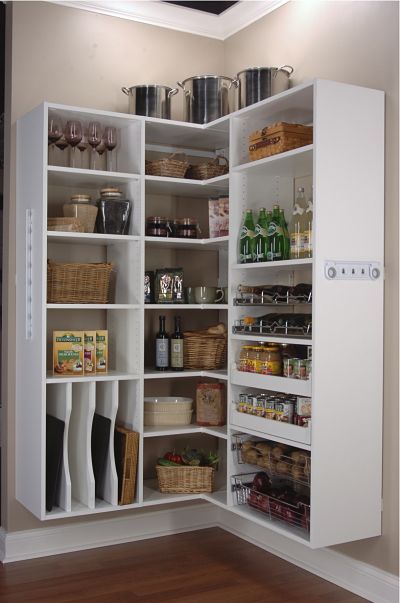 2. Tall Cabinets with Doors
Tall cabinets can be built-in or freestanding units. They're great for storing items that you want to have on hand but keep out of sight. Most have adjustable shelves to provide efficient storage space for a variety of items, both tall and small. A tall cabinet with a minimum shelf depth of six inches can provide storage for a variety of kitchen and food items. Consider adding a shallow tall cabinet beside a refrigerator to store canned, jarred and dry foods.
3. Strategic Narrow Cabinets
Narrow cabinets with a minimum width of six inches can be used to store cutting boards and baking trays. If shelves are added to segment the cabinets – you will need a minimum depth of six inches to store most items – smaller items such as cookbooks, platters, baskets, spices and table linens can be stored here. These are often custom or semi-custom made cabinets designed for specific storage needs. If depth permits, at least ten inches, a narrow cabinet can be equipped with a pullout organizer to optimize storage.
4. Pullout Organizers
Pullout organizers are one of the greatest inventions for pantry storage. Pullouts are installed with full-extension glides. No longer do you have to reach in the back of a cabinet or clear out what you may have stored in front to locate items. You can view the contents with a glance, locate the item you need in seconds and neatly store it away for future use. Pullouts can be installed inside of tall cabinets, base cabinets or upper cupboards. The depth can be as small as ten inches or as deep as 39 inches.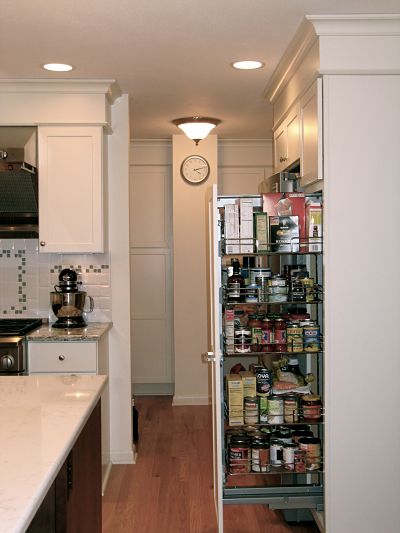 5. Drawer Storage
Using drawers to store pantry items solves a number of storage issues. Clutter is kept out of sight. Organizers, inserts and pegs can be fitted to drawers to keep contents accessible and prevent the drawer from jamming. Full-extension glides make it easy to find items. Pots, pans, bowls, spices, utensils and baking dishes can be stored in drawers to create a baking center. Drawers are also good for storing plates, linens, and party supplies. Toe-kick drawers located at the base of a cabinet can be used to store to store large flat items or can be a place for a pet's bowls, pull the drawer out at feeding time, and close it when you're entertaining guests.
6. Multiple Layer Storage
Shallow hinged shelves with racks to hold contents can be used to organize items in a cabinet or to convert a closet into a pantry. In a small kitchen, shelves with racks can also be installed on the backs of cabinet doors to provide an extra layer of storage space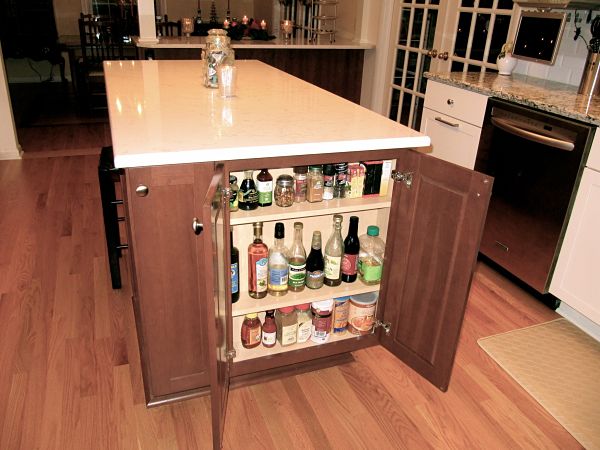 If you don't have a dedicated space for a pantry, create smaller storage centers in your kitchen for pantry items using some of these ideas.