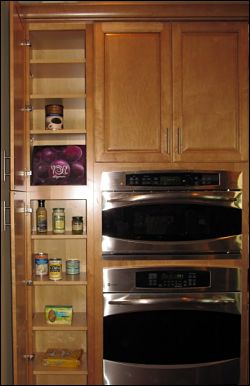 Let's talk storage. It's usually not the main reason a homeowner remodels a kitchen, but it can be one of the things they enjoy most about their new kitchen. Homeowners we work with demand more and better storage space. When planning kitchen storage, think about the way you and your family use the kitchen and the items you need to store. Traditional kitchen "work zones" are areas designated for:
Food Prep
Cooking
Baking
Food storage
Dining/Entertaining
Clean-up
Here are some basic storage tips:
Create easy access. Deep full-extension drawers for storing pots, pans and dishes make it easy to find cookware and dinnerware. Add dividers to help keep contents organized. Full extension mounts may cost more but are well worth the investment.

Control cabinet clutter. Equip under-counter cabinets with sliding shelves and full extension glides. Sliding shelves can move independently or in tandem, -where everything slides at once. Sliding shelves make storage work more efficiently and the height of the shelves can be adjusted.

Add some spice to your life. Keep staples organized by adding a narrow pullout shelf unit near a stove or on an island to store spices, oils, vinegars and other cooking essentials. Spice drawers and carousels (on a counter or in a cupboard) located near the food prep area are other options for storing these items. A slim cabinet at the end of an island or peninsula will also provide convenient storage.

Extend your counter space. If your kitchen has limited counter space, add a pull out table or cutting board to expand your food prep area.

Create space for hard to store items. Baking sheet pans do not fit well into cabinets or drawers. A tall narrow cabinet with a divider installed near a stove or oven can provide convenient storage for cookie sheets and muffin tins. Mixers are also hard to store and often end up on a countertop. If your counter is deep enough you can add appliance garages for mixers, blenders and food processors. There are also special under-counter cabinets designed for small appliances that would fit into an island, peninsula or base cabinet area.

Pantry space is a "must-have". A pantry can be a tall floor-to-ceiling cabinet with narrow shelves placed next to a refrigerator or a narrow counter-depth pullout where you can see the contents in a glance. A closet can be turned into a pantry with wood or wire shelving. If you use base cabinets to store food items, add sliding shelf systems to ease access. Pantry cabinet units with multi-layered swing-out shelves provide maximum storage. In a butler's pantry, open shelving is an affordable option. Pantries of old were free-standing cabinets or armoires. A free-standing cabinet can serve as a pantry in a kitchen with limited space or when working with a limited budget.

Store on the door. Narrow wire or wood shelves can be installed on the back of cupboard or closet doors to add storage space. Backs of cabinet doors are a great place to store food in small packages, small jars and cans. Spice racks and narrow storage shelves can be hung on the back of a cupboard door. Backs of cabinet and closet doors are ideal for storing cleaning supplies.

Allocate space for knife storage. Knives should not be stored without sheaths in utensil drawers because they get dull when nicked and should be stored where children can't reach them. Add knife blocks and trays to your kitchen. Knife block accessories are made for drawers and knife blocks can be mounted on walls or sit on a counter.

Divide and conquer. Efficient kitchen storage minimizes clutter. Add dividers to drawers to organize flatware and utensils. Pots and pans are difficult to store and stack. Use dividers in drawers to keep contents organized. There are specially designed pull-out shelves with dividers to hold items like frying pans, pot lids and sheet pans. Base cabinet pullouts with vertical dividers simplify storage of baking pans and muffin tins.

Think strategically about open shelving. Open shelving can work aesthetically in a kitchen to display dishes and serving pieces. In terms of function, open shelving can provide quick access to every day dishware and cookbooks if placed in a convenient spot.

Put 'Lazy Susans' to work for you. Lazy Susans make storage in kitchen corners accessible. Many kitchens have carousels in base cabinets but they are also useful in cupboards. Consider placing one under the sink to store cleaning supplies.

Entertain with ease. Many kitchens feature wine storage racks built into islands, integrated into cabinets, and even installed under upper cabinets. If your space is limited, add an armoire fitted to house wine bottles, glasses and other items you use for entertaining. Beverage bars have become popular with homeowners. Essentials of beverage bars are under-counter refrigeration, cabinet storage for glassware and a bar sink. Add cubbies or built-in racks for wine storage. Beverage bars can be set up to serve wine, a mix of drinks, tea and coffee. Include storage space for a coffee maker, electric teapot, blender or juicer.

Create a home office space. A desk is a convenient space for planning menus, paying bills and for homework. A built-in kitchen desk doesn't require much space but must have electrical wiring and outlets to connect a computer and a charging station for cell phones and small electronics. Open shelves work well when installed with a desk for books and office supplies. Desk drawers contain the clutter of paperwork. Add base cabinets if you need storage for files.

Don't forget the pets. Pets are important to many homeowners. Create a space for your pet's feeding dishes under a counter or under an overhang of a kitchen island. Store food nearby. Put collars and leashes on the back of a closet door or on a hook near an exit.

Organize your cleaning supplies and trash. Broom closets are a practical addition to a kitchen. Equip the closet with shelves to store batteries and light bulbs. Include an electrical outlet if possible to charge cordless sweepers and hand vacuums. Hang a rack on the door to hold mops and dustpans. Add hooks for rags or plastic bag storage. Place pullout storage units near a sink for cleaning supplies, garbage and recyclables.
For more kitchen storage ideas, check out these sources:
Do you have a kitchen storage idea to share?