Storage Solutions by McClurg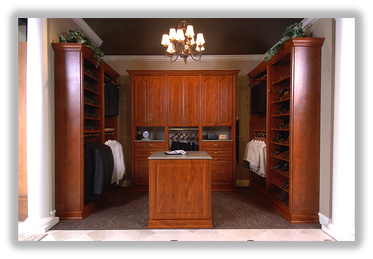 We're meticulous when it comes to our designs and craftsmanship, which is why we're pleased to offer our new line of closets and home organization systems, "Storage Solutions by McClurg."
From design through installation, every system is custom manufactured producing nothing less than superior craftsmanship and expert installation.
These versatile, high quality storage systems will make your space what you want it to be. Working together, we take your ideas and needs, then fashion them into carefully crafted solutions. Our standard is to exceed your expectations.
Features include a variety of cabinet styles, finishes, colors and moldings. Drawer options include full extension glides and solid wood dovetail. We also offer a full line of hardware and a range of accessories to help bring order to your personal space.
No matter how large or small the space, we offer solutions to fit your exact needs.
All of our closets and home organization systems are manufactured and assembled in the United States and have a Lifetime Warranty1.
We invite you to view our line of storage solutions:
To learn more about our Storage Solutions, or to schedule a consultation with one of our project consultants, please call us at 673-2051 or simply complete the form on this page and we'll contact you.
We look forward to helping you address your storage needs.
1 Lifetime Warranty is on material and workmanship based on the storage systems being used for their intended purpose and is non-transferable.