This is the third consecutive year we've talked about some of the most popular design ideas for Central New York kitchens. If you're thinking about remodeling this year, here are our top five kitchen design trends that will add both function and value to your home.
1. Join the countertop revolution.
Manufacturers of quartz countertops have significantly changed the look of their products over the past year. One of the most stunning products on the market is the new look of Cambria quartz. If you attended the Central New York Parade of Homes in September, you had the opportunity to see Cambria on display in the entry tent and installed in many of the homes on the tour.
Cambria is manufactured in the United States. The new patterns look like granite or marble and come in a range of colors. Quartz is one of the most durable counter surfaces available. It is harder than granite, non-porous, which helps to reduce bacteria growth on food prep surfaces, is easy to care for and affordable.
Another countertop product that has changed dramatically over the past year is laminate. This is not your mother's laminate countertop surfacing. Formica is producing laminate in patterns that resemble granite, marble and wood. Not only are the colors accurate, but some patterns have raised surfaces that mimic the texture of stone. Formica's newest line, 180fx, captures the scale and veining of granite and marble. The new designs look great with modern cabinetry. Laminate is sustainable, easy to care for and most importantly affordable.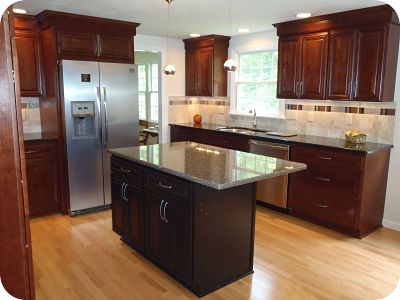 2. Rethink the sink.
Granite composite sinks are made of 80 percent granite mixed with acrylic resin and are produced in a variety of shapes, colors and sizes. They are attractive, durable and come in both drop-in and under-mount styles. One of the primary advantages of a granite sink, compared to others, is that it is scratch resistant.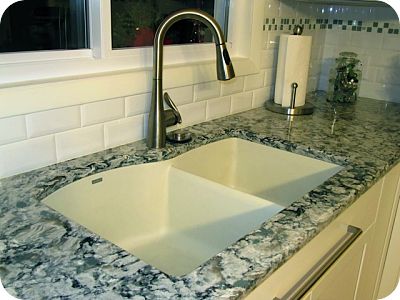 3. Dark stained wood cabinets are today's look.
Last year, the National Kitchen and Bath Association published its Top 10 trends for 2011 and noted that expresso and chocolate toned cabinets were "hot". We see this trend continuing through 2012. Medium to dark brown cabinet tones complement the new countertop colors and patterns available, especially marble and granite. Dark wood provides a warm contrast to stainless steel appliances and glass tile backsplashes provide the perfect accent. Dark woods also work in combination with white painted cabinets.
When remodeling an older kitchen, some homeowners look to tear down a wall to tie the cooking and dining spaces together. An underutilized dining room will then become part of the most active living space in a home. Dark wood cabinets help to integrate dining furniture pieces into the space if your dining set is cherry, mahogany, walnut or teak.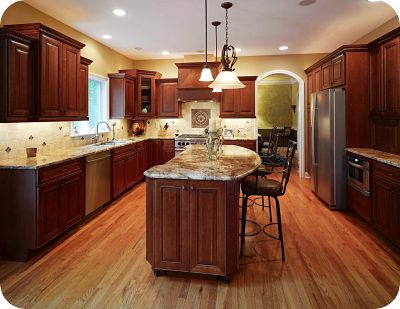 4. Add a "splash" of color with recycled glass tile.
Recycled glass is eco-friendly and adds sparkle to a kitchen when used for a backsplash. Tile is made from melted bottles. The most common colors of recycled glass tile are greens, browns, ambers and clear.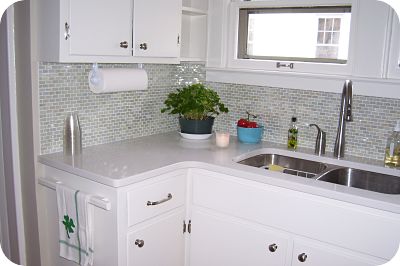 5. Light up the kitchen with creative lighting design and fixtures.
Spend some time thinking about illumination in your kitchen. Pendant lights work well over islands and peninsulas. If you are planning an open floor plan that will tie a kitchen to a dining room or family room, track lighting can be used to define the space. Under-cabinet lighting will help to light up spaces where you use small appliances. If your plans include cabinets with glass doors, install puck lights to display and illuminate the contents. Use dimmers to save on energy and create ambience. Talk with a kitchen designer and an electrician to create a functional lighting plan for your project.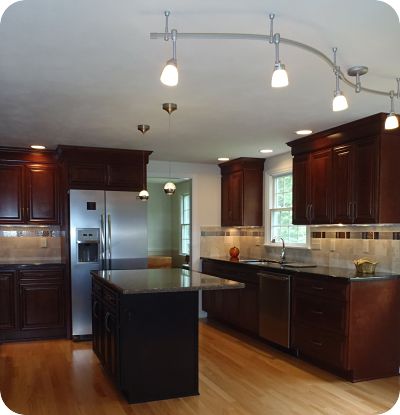 What are your thoughts about kitchen design trends for 2012?