Floors are often the most overlooked area of a home but they provide a foundation for the design of any room. Look around your home. Does the carpet need replacing? Do you need to replace tiles in a ceramic floor? Is your vinyl flooring cracking or is the style out of date? Do your wood floors need refinishing? Or do you simply want to add some pizzazz to your home? If you've answered yes to any of these questions read on.

There are many options for flooring. First, consider how you will use the room. In a kitchen you will want to install a floor that is easy to clean and will stand up to spills and high traffic. In others areas such as a family room, den, bedrooms or living rooms, carpet will feel the best under foot. Wood flooring may be a better choice for some homes if residents have allergies and desire easy maintenance. In a dining area, hardwoods or laminates will be easiest to maintain. In entryways and bathrooms, ceramic tiles withstand moisture and dirt.

Flooring choices: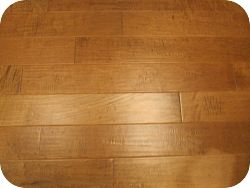 Wood Floors. We install many wood floors, mostly oak, because they look great and are very durable. Prefinished hardwoods such as Lauzon, Mirage and Muskoka save the mess of sanding and sealing when installed. Specialty woods like hickory can make a home's decor look more unique. Wide plank flooring is also gaining popularity with homeowners. A product we've installed is Carlisle wide plank flooring. Finishes are durable and the floor feels good underfoot.
Stone Flooring. Stone floors include slate, travertine, marble, limestone and even granite. Stone is mostly selected for aesthetics. If you are interested in stone flooring, spend some time doing research about its care. Some stone products are more porous and difficult to clean. You may want to purchase a piece and place it in the area where you would want it installed. Take off boots and place them on the stone, walk on the stone with muddy shoes, high heels or rubber soles. Try cleaning the stone with various products. Since stone flooring is expensive, it makes sense to "try it out" before making a major investment.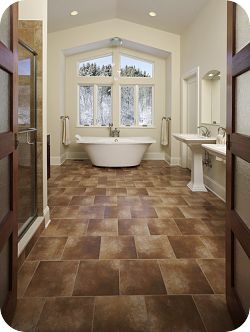 Ceramic Tile. Ceramic tiles are being produced in fascinating new designs and colors. Some ceramic tiles look like wood floors or marble. Glazed ceramic tile is durable and easy to care for. If you install tile flooring in your home, always buy extra tiles in the event that a tile becomes cracked or chipped and requires replacement. Tiles may be discontinued or are produced in runs where colors may vary. It is good to have extra tiles on hand if you need to replace them.
Carpet. Carpet is versatile and more than 90 percent of products available are made of synthetic fibers, primarily nylon which holds its shape and resists stains. Carpet comes in two basic styles - looped and cut loop. Wool is probably the most expensive carpet and nothing beats it for its comfort under foot and durability. When purchasing carpet, don't forget the pad. Padding not only provides comfort but adds insulation. Padding comes in various densities. The thicker the pad, the better it will perform. Vacuuming frequently will add to the life of the carpet. Professionally clean the carpet every year to year or two to refresh it.
Vinyl and Linoleum Flooring. Today's vinyl and linoleum floors mimic more expensive flooring. Congoleum has a product called Duraceramic which looks like stone or hardwood. An interesting feature of this product is that it can be installed with grout. The 16 x 16 tiles have a limestone composite base and are scotchgarded, making them easy to clean. According to HGTV, linoleum is an eco-friendly product and is bio-degradable.
Laminate. Wood and stone "look" laminates mimic the look of more expensive flooring. If you're considering installing a laminate floor be aware that there are significant differences in the quality of products that are on the market. Better quality laminates will cost more. Laminates are good for recovering existing flooring or areas where there is a concrete sub-floor. Some laminate products are "green" and use less wood than solid hardwoods. Laminates are also being produced with environment-friendly cores.
New Flooring Options. Cork flooring has resurfaced in homes because it is both eco-friendly and durable. Cork is harvested from the bark of the "Cork Oak" and trees are not cut down to produce the product. The largest cork suppliers are counties of Europe and North Africa, particularly those along the Mediterranean coast. Parquet flooring was once a valued feature of a home in the 1980s and is once again desirable in both new and older homes.

What is your favorite flooring?