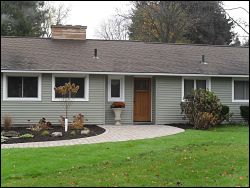 If your home needs an exterior upgrade or replacement, you'll want to look at vinyl siding. Vinyl siding was introduced in the early 1960s and has been a popular product due to its durability and easy maintenance. Vinyl siding is made of polyvinyl chlorate (PVC), a material that is strong, rigid and impact resistant. For more information about PVC, check out the Vinyl Siding Institute.
Here are three reasons to consider vinyl siding:
It never requires painting and there are over 360 colors to choose from.
Vinyl siding is versatile and is molded to replicate wood plank siding, beadboard, cedar shingles, wood shingles, wood trim and cove molding.
It is easy to clean, just rinse the siding with a garden hose. Use a general cleaner to remove dirt, bird droppings and spider webs. The VSI recommends products like Simple Green, Nice & Easy and Armor All. You may want to use a long handled, soft brush to clean grooves. To remove dirt, wipe it down with a soft cloth. For the best results start at the bottom of the house and work upward. Rinse the cleaning solution off with water before it dries. Small spots of mold and mildew can be removed with cleaners such as Fantastik or Windex. Laundry detergent also works. Never use cleaners containing solvents such as bleach, grease remover, nail polish remover or furniture polish.
We install CertainTeed vinyl siding because of the range of siding options and colors offered by the manufacturer. The Vinyl Siding Institute notes the following advantages of vinyl siding:
Beauty. Vinyl siding is available in over 350 colors and a variety of architectural styles.
Durability. It is made to withstand winds up to 100 mph.
Value. Vinyl siding adds value to you home and you can recoup up to 80 percent of the cost of installation at re-sale.
Quality. Most manufacturers offer a limited lifetime warranty that can be transferred to new owners.
Safety. Vinyl siding meets National Fire Safety Regulations.
Sustainability. Vinyl-clad homes use less energy and reduce CO2 emissions.
See our December 2010 "Project of the Month" to view a home where we recently installed vinyl siding.
You may also want to compare vinyl siding to fiber board cement siding. For more information, check out our suppliers JamesHardie and CertainTeed.