Inviting entryways are a focal point of a home. Ask any realtor about curb appeal and they'll tell you that first impressions are very important when trying to sell a home. An attractive entryway can add value. Here are some design ideas for creating an inviting entry to your home.
Exterior Design Ideas
The exterior of your home determines curb appeal. A weather beaten or time worn entryway can be transformed by adding architectural features, replacing the door, painting, making repairs and landscaping.
Add a New Architectural Feature
Adding an overhang to shelter an entryway can provide both style and function to a home. Columns, light fixtures, new stairs or a walkway will enhance the exterior entryway.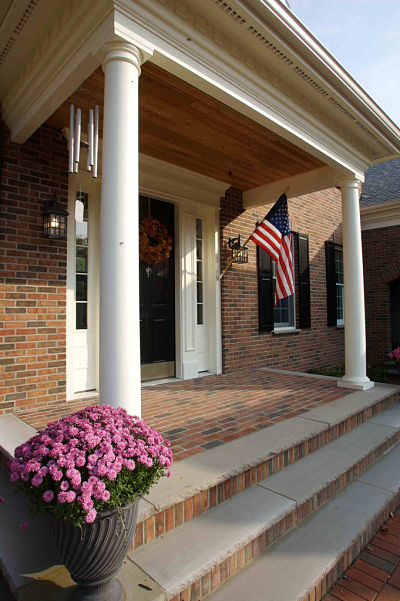 Replace the Door
If the door of your entryway can't be improved with paint or stain, it may be time to replace it. Many homes built in the 1950s and 1960s had wooden or veneered front doors that have splintered, warped, chipped or even rotted after years of exposure to the elements and may be contributing to heat loss and drafts.
When selecting a new door, consider the style and architecture of your home. Also look at homes in your neighborhood for ideas. Are your neighbors replacing "retro" or original doors with new styles or are they preserving the look? If the interior entryway needs more natural light, adding a door with a larger window or sidelites may enhance the look of your home both inside and out.
Fiberglass and steel doors are easier to maintain than wood. Wood doors are attractive but not as energy-efficient. Some fiberglass doors are designed to look like wood and use wood fibers in the manufacturing process. Steel doors are affordable, durable and an asset if security is a concern.
Glass panel storm doors can be used to help preserve wood doors in our climate. However, using a storm door with a steel door may nullify a warranty because heat can build up in the space between the steel door and glass door and may cause the paint to peel.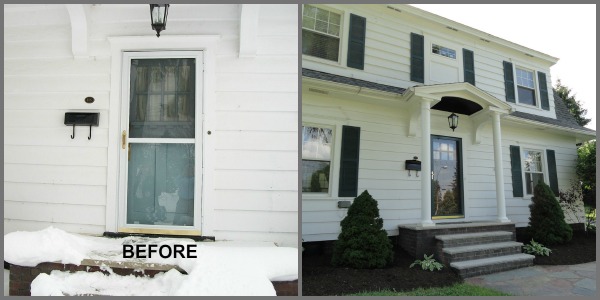 Clean or Replace Siding
Check the condition of your siding each spring. Wood siding is particularly susceptible to the elements and can warp or split. Repair or replace loose or damaged boards. Aluminum or vinyl siding is easy to care for but may need to be cleaned periodically, especially if you have a covered entryway.
Repair Porch Damages
Common problems with porches include torn screens, cracked windows, worn flooring and dry rot. When you notice a problem, try to get it repaired as soon as possible, especially if you find dry rot.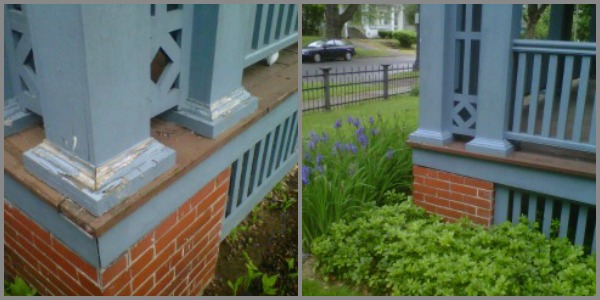 Repair or Replace Stairs
Cracked or chipped stairs are not only unsightly but can be hazardous. This is an area that requires immediate attention when problems occur.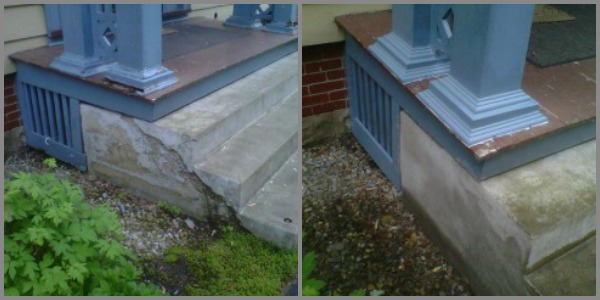 Repair or Replace Walkways
Walkways should be swept regularly for curb appeal when dirt builds up or leaves and debris from plants fall. Repair cracks in the spring and replace broken bricks or pavers. Replacing a walkway is one way to give your entryway a whole new look.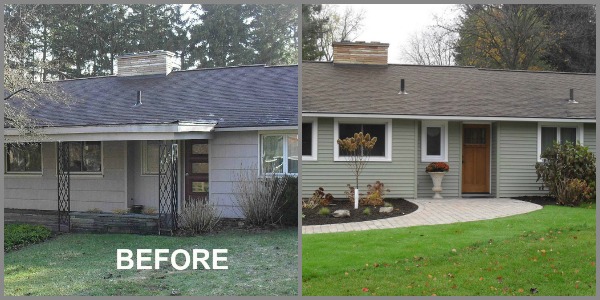 Paint
Inspect the paint of your entryway. Is it soiled, faded or peeling? A fresh coat of paint can do wonders. An accent color on a door or freshly painted siding and trim can be a quick fix to boosting the curb appeal of a home. Check out our blog for a list of the hottest exterior paint colors.
Landscape
One of the detractors to an inviting entryway is a barren or overgrown landscape. Add plantings that complement your home and that are easy to maintain. If bushes, trees or grasses have become overgrown, trim them or remove them.
Interior Design Ideas
The interior of an entryway is often a "drop zone" for shoes, boots, coats, athletic gear, backpacks and other items. Closets in entryways can quickly become cluttered. Take some time to organize the interior of your entryway.
Hall Closets
Add storage systems to optimize storage space and use the back of the closet door for storage.
Hooks, Shelves and Benches
Choose attractive shelving and benches for your entryway. Some benches have hidden storage for small seasonal items such as hats, scarves, gloves and mittens. Boot trays can be placed in an entryway during winter months. Use hooks for pet leashes and outerwear.
Custom Storage Systems
If you have school age children, entryways can be a mess. One way to keep clutter under control is to create custom entryway storage with cubbies, hooks and cabinets for personal items.