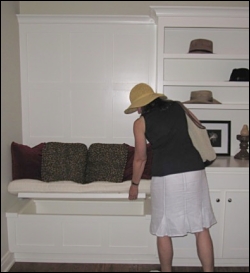 We all know Central New York's weather brings a mixture of every possible element. We also know they tend to make their way into our homes starting at our entryways. Who hasn't had snow, salt, rain, mud and leaves dragged into their home at some point?
Entryways or "mudrooms" should provide a barrier to keep unwanted elements out of the rest of your home. It begins with having adequate storage for necessities like coats, hats, gloves, mittens, umbrellas and, most importantly, boots and muddy shoes. Homes with school-age children may need a place to store lunchboxes, backpacks and books. Entryways may also be a drop-off point for keys, spare change, mail and even cell phones.
Your entryway should be equipped according to the way you use your home. If possible, consider providing a storage space for each person in the home. Even if you live in an older home or one without a large entryway, there are many ways to address storage needs.
Here are six design tips that can make your home entryway welcoming and functional:
Storage benches. Built-in benches with hinged seats that open for storage do double duty in an entryway. Items can be stored out of sight and the bench can seat people as they put on or take shoes and boots. Benches can be built over cubbies for boot storage. A free standing storage bench can be placed in an entryway if it fits the space.
Well planned cabinetry. Cabinets can provide useful storage space but can also contribute to the décor of a home. Doors and drawers can be used to hide unsightly clutter and keep and entryway tidy. Attractive woods and moldings can be used to add architectural interest to a home.
Vertical shelving with hooks. Vertical shelves are the perfect place for coats and jackets, sports equipment and backpacks. To maximize storage, install hooks on the back and sides of shelving at various heights to accommodate both users and the types of items stored.
Cubbies. Cubbies can solve many storage problems. Cubbies are shelves with dividers designed specifically for storage. Short cubbies can be used for sports equipment like game balls and skates, shoes and handbags, backpacks, books hats and gloves, water bottles and items that contribute to clutter. Longer cubbies provide space for hanging coats. Cubbies can be installed under bench seating to organize boots and shoes.
Hall closets. Hall closets can be fitted with shelves and dual rods to maximized storage and minimize clutter. Baskets can be placed on shelves to hold hats, gloves and scarves.
Hooks, hooks and more hooks. If you have limited space and a limited budget you can reduce clutter in your entryway by adding hooks. Hooks can hold coats, jackets, bags, hats, sports equipment. Use double hooks for hanging coats and outerwear. Stagger the hooks at varying levels to maximize use. Try mounting hooks on a board and screw the board into a wall to create coat storage. Check out "shaker pegs." They are wood pegs with rounded ends that won't poke through fabric.
For more ideas, check out Better Homes and Gardens' "3-in-1 Mudroom" and "Mudroom Design Solutions."
What are your entryway challenges?