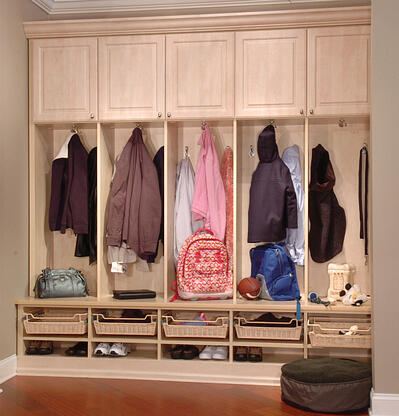 Central New York winters require that we keep coats, boots, hats, gloves and scarves on hand at all times. Often a home's entryway is cluttered during these months. Here are four winter storage ideas for organizing your "drop zones" to keep cold weather gear in its place:
1) Hall closets.
Closets in a foyer or entryway can become jammed with coats, jackets and everything else. If your closet has only one shelf and a rod, you may not have ample space for storing winter gear. To create functional storage, start at the door. Add a hook or two on the back of the door to hold purses, bags, dog leashes or scarves.
If you need more winter storage space for coats and jackets add a second rod or reconfigure the rod placement in the closet to create a section for long coats and a section for shorter jackets. Add baskets to a closet shelf for storing less frequently used items that you may keep in a closet such as flashlights (in the event of a power outage), summer sandals or light bulbs.
Martha Stewart also has some simple closet solutions for winter storage. She advises putting plastic bags on coat hangers to store mittens, gloves and hats. She recommends placing a boot tray near the closet and a basket for slippers. If you need a place to dry mittens, gloves, scarves and hats, an accordion type wine rack placed near the closet or a heat vent can do the job.
2) Cubbies.
Cubbies provide "stop and drop" storage at an entry to contain clutter and keep it from migrating to other areas of the house. You can purchase pre-made hall storage systems with cubbies but they may not be the best fit for your space or storage needs. It may be worth the cost to hire a professional remodeler to custom design built-in cubbies tailored to the needs of your household and that will blend with the interior of your home.
3) Bench, shelves and hooks.
A bench at the entrance is a "must have" in winter when we need to remove boots or wet shoes. An entryway bench can be purchased at a store. Add a shelf and hooks or pegs for coats to create and organized drop zone for coats, gloves and boots. If there is space under the bench add a boot tray or baskets for small items. Custom benches can be built with drawers for storage, cubbies for shoes underneath or a lid that opens to a bin for storage.
4) Custom built entryway storage systems.
An entryway is a space used each and every day of the year by all household members, including pets. It is also the first impression guests have of your home. Why not make it both functional and attractive?
Custom storage can be designed to complement the décor of your home. Cabinet manufacturers often include locker cabinets and open shelving in their semi-custom lines. They offer a variety of door styles and finishes to choose from. There are many options such as lockers, cubbies, cupboards, built-in shelves and pullouts for easy access to contents. Custom storage systems require a professional design and installation.
When planning entryway storage, think about all of the items you want to stop and drop in the entry. Do you want to hang them in the open or hide them from sight? Coats, jackets, purses, shoes and boots are things you want to grab and go. Lockers and pegs may be ideal for hanging up these items. Cubbies are great for storing shoes. Smaller items tend to fall off hooks, get lost or create clutter. Gloves, hats and scarves could be hidden behind a door or assigned to a drawer or a basket. Don't forget a bench for removing shoes and boots. A design/build contractor can help you create a plan and select and install the right products for your home.