Half baths are small spaces that are often less than 24 square feet in size. The primary fixtures used in this space are a toilet, sink, mirror and lighting. Vanities, cabinets and shelving can be used if space permits.
How can a small space be optimized for both comfort and function? Here are the things you need to know about six space saving fixtures if you are planning to remodel or update a half bath.
1. Toilets
The size of a toilet and its location should be initial considerations in designing a half bath. In a room where every inch of space counts, the closer a toilet is to the wall, the less space it will require. Toilets come in three shapes and sizes:
Round bowls. This shape uses the least amount of space. A round bowl will extend 25-to-28 inches from the wall.
Elongated bowls. This is the largest and most comfortable type of toilet and extends 29-to-31 inches from the wall.
Compact elongated toilets. This style offers both efficient use of space and comfort and extends as little as 25½ inches from the wall.
Toilets also come in standard or comfort height. A standard toilet is 14 or 15 inches from the floor while a comfort heath toilet is the height of a chair seat, which is 17-to-19 inches from the floor.
When determining the appropriate height and style of a toilet for your bathroom, consider who will be using the room most often. Children may find a "comfort height" toilet more difficult to use. Your choice of a toilet will help determine the amount of space available in the room for a sink or vanity.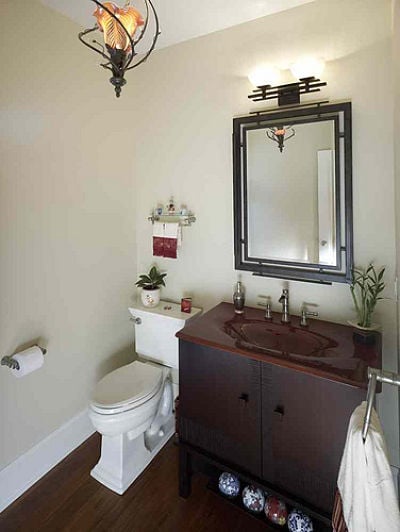 A compact elongated toilet was used in this half bath along with a furniture-style vanity, glass counter and sink, elegant mirror and a small glass shelf to keep supplies at-hand. A towel bar was installed with the glass shelf to conserve space.
2. Sinks
After choosing a toilet, the next fixture to consider is a sink. A sink in a half bath is seldom used for shaving or brushing teeth. Half baths are often used by guests therefore a decorative sink can be a good choice. Here are some of the most popular space-saving sink styles"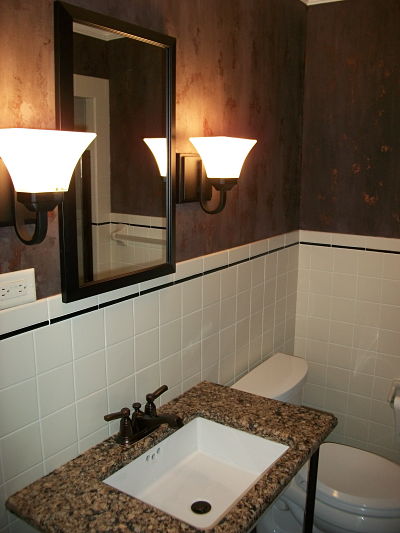 An undermount sink was used with a granite counter surface to create a space saving sink in this half bath.
3. Lighting
Illumination in a half bath is often provided by two task lights on either side of a mirror. Since the space is small, two mirror lights or a light placed over a mirror may provide sufficient lighting. Some half baths do not have a window for natural light and may require both wall and ceiling fixtures for adequate lighting. If the ceiling is tall, a light located on the ceiling can provide general lighting in the room. Mirrors are sold with matching lights so keep this in mind when you shop.
4. Mirror/Medicine Cabinets
A narrow wall cabinet hidden by a mirror can provide a solution for storage in a half bath. Mirrors reflect light and can make a small space appear larger than it actually is.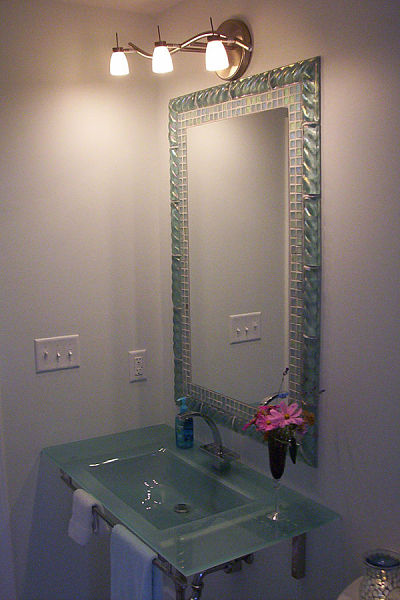 A large mirror with a decorative tile frame and a light fixture placed over the mirror create an illusion of height and space in this small half bath. A glass wall mount sink was used to save on space and add an elegant element to the room. The sink includes a towel bar that saves on space, and a single-hole faucet.
5. Vanities
Storage is often an issue in a half bath due to the limited area available and the need for a place to put soap, tissues, hand towels and other small items. Vanities can take up a considerable amount of space. Furniture-style vanities may be a good option as they can be sized for the room and expose more of the flooring to provide an illusion of space.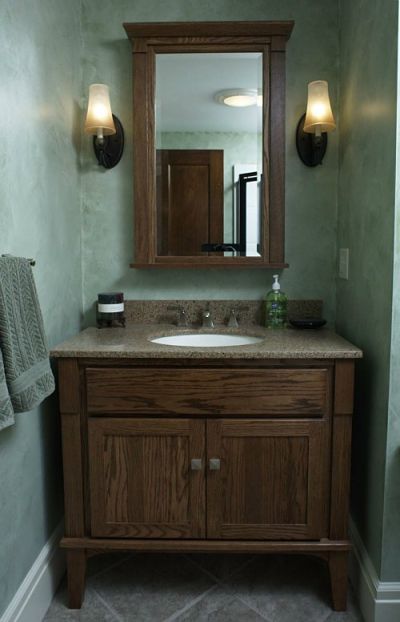 A furniture style vanity was fitted into an alcove in this bath. The mirror hides cabinet storage. Base cabinet storage provides space for bath tissues and soaps. The quartz counter surface includes an undermount oval sink and backsplash.
6. Floating Shelves
Open shelves installed on the wall of a half bath can create needed storage for hand towels, soaps and tissues. Glass shelving may be a good option because of its aesthetic appeal. Consider adding a towel bar accessory if you plan to use shelves.