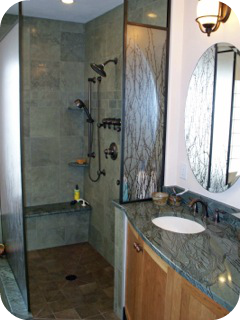 If you're planning to remodel a bathroom and wondering about shower options, consider a walk-in shower without doors. This type of shower is gaining popularity because it can take up less space in a bathroom (since there are no door swings or frame to account for), it's easier to maintain and use than a traditional shower, and it can be adapted to fit your lifestyle and the look you want for your bathroom.
Doorless walk-in showers address several concerns we typically hear from homeowners looking to replace a bathtub and/or shower. One concern is always ease of maintenance. Homeowners want a bathroom that is easy to clean and requires minimal care of surfaces. Cleaning a shower with glass doors can be a chore, especially if it has sliding doors. Another concern is ease of access, particularly for family members with compromised mobility who have difficulty using a confined shower. Thresholds can be an inconvenience and cause tripping. Glass slider doors can be obstacles when they stick or run off their glides. Showers without doors can alleviate these concerns.
Here are six facts to know about walk-in showers without doors:
1. Bathrooms with doorless showers are almost always custom designed.
Walk-in showers without doors can be installed in a corner or can replace a bathtub and/or existing shower. Because there is an opening to the rest of the bathroom, the walls and flooring need to be designed to contain water. The design often involves custom tile work and partitions depending on a homeowner's needs and preferences. Walls can be floor to ceiling or, at a minimum, higher than the showerhead. If you plan to apply some of the principles of "universal design" in your shower project, the stall should be at least 36" x 36", or optimally a minimum of 42" x 60".
2. Consider shower stall options.
While there are many pre-fabricated showers and shower pans available, not many work well for a walk-in shower without a door. Your best option is either a custom fabricated shower made from a solid material such as Onyx, or a custom tiled shower. To eliminate a threshold a sloped floor is required in the shower area, which both of these options allow. Water should drain easily and not puddle on the floor.
3. Placement of drainage and showerheads is important.
Water should be directed away from other fixtures and lighting in the room. An adjustable handheld shower works well. However, consider the fact that when you're using a handheld shower there is a tendency to spray water all around. The spray radius of the showerhead should be considered when choosing fixtures. Using an overhead ceiling mounted showerhead may help contain water flow.
4. Ventilation and lighting.
Walk-in showers without doors do not require any special bathroom ventilation. If the walk-in shower space is large enough, ventilation and lighting can be installed within the space. Products we recommend include Broan-Nutone, LunAura and Panasonic "Whisperlite" fans. You may wish to consider using a bathroom fan with a humidity sensor.
5. Placement of bathroom accessories.
In planning the shower consider the height and location of wall niches for soaps and shampoos, a shower seat and grab bars.
6. Maintenance.
The openness of a doorless walk-in shower makes it easier to clean. Many walk-in showers have tiled walls, floors or ceilings. There was a time when cleaning tile and grout in showers was tedious. New grout products simplify maintenance. Grouts can be stain-proof and mildew resistant if formulated with antimicrobial Microban. Tile showers can be cleaned by wiping the surface with a sponge or microfiber cloth.
Installing a doorless shower is not a do-it-yourself project. You'll want to talk to a professional about the best design for your bathroom. Layout, plumbing and structural issues will need to be addressed, however, the beauty, enjoyment, ease of use, and functionality of these showers definitely make them worth considering.