If you are planning to remodel a bathroom or update an existing shower, you will find that there are a number of options and styles of shower doors.
Since a shower is a main feature in any bathroom, it's important to select the right type of shower door for the space. Here are some facts and design ideas from projects we've worked on for Central New York homeowners to help you make the right choice.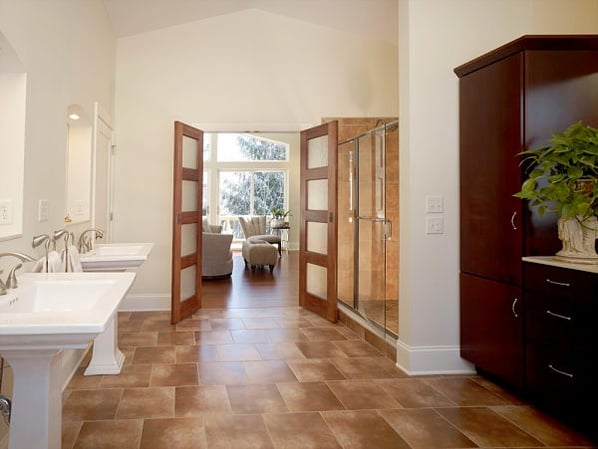 One of the primary elements in this stunning bathroom is the tile design. A clear glass shower enclosure and pivot door display the tile that was used in the shower and create an illusion of more space in the room.
Types of Glass Shower Doors
There are three main types of glass shower doors:
Sliding or by-pass doors use the least amount of space in a bathroom and there is no door swing to account for. They can also be installed with tub/shower units in place of a shower curtain to more efficiently contain water.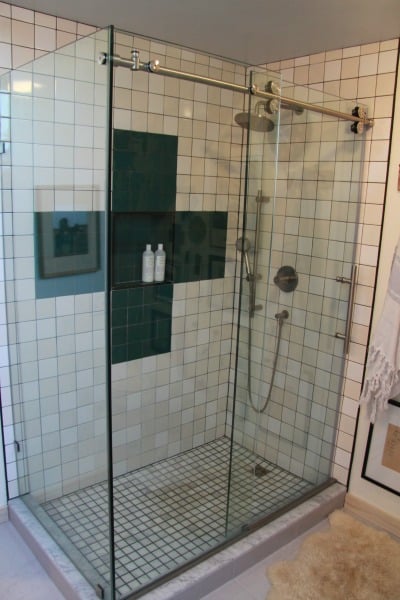 The clear glass enclosure and door reveal the custom tile design and accents in this shower.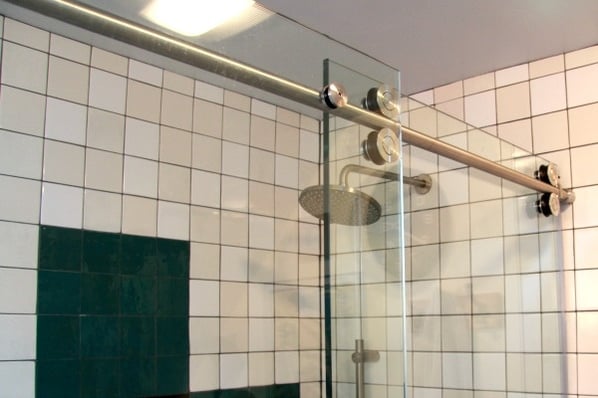 A close-up of the clear glass by-pass door with designer hardware.
Pivot doors are hinged and easier to clean than a sliding door. The downside is that the bathroom must have enough floor space to allow for a door swing.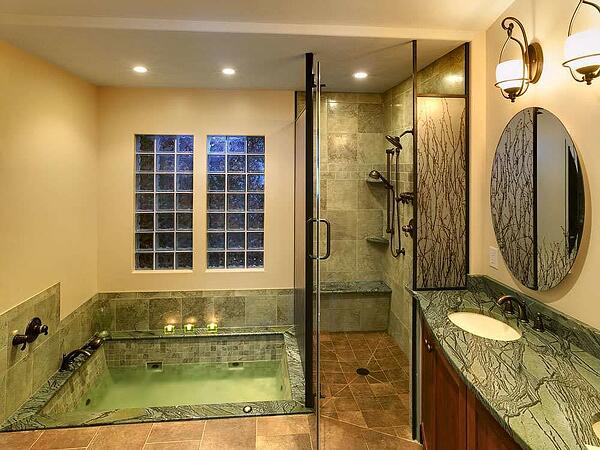 A pivot door was installed with a custom enclosure and custom tile base for this walk-in shower with a level threshold.
Neo-angle shower doors are designed expressly for corner showers.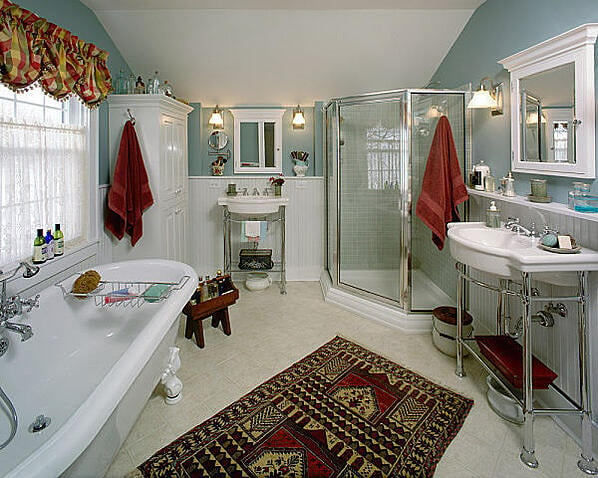 This corner shower features a neo-angle enclosure and clear glass framed shower door.
Shower Door Enclosures
Shower door enclosures are either framed or frameless.
Framed doors have either aluminum or composite material framing the glass panels, including a track at the base that traps water. Framed doors can be found in a variety of styles and finishes.
Frameless doors are a more modern design style. They require a thicker and heavier glass panel that is more stable and smoother gliding. Frameless doors are easier to keep clean and give the appearance of having more space.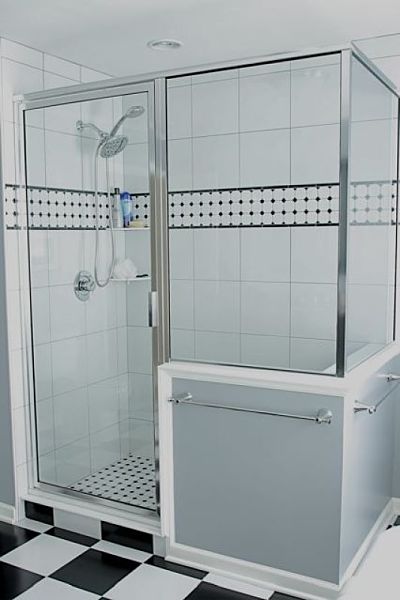 Framed Door: A custom enclosure with a knee wall was built for this walk-in shower with a framed clear glass pivot door. The wall provides both a supportive interior wall for a built-in shower seat and an exterior wall for mounting towel bars.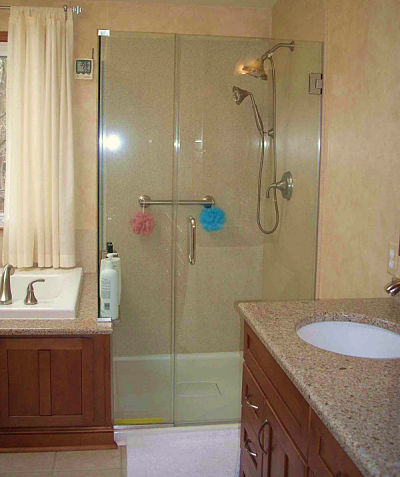 Frameless Door: This custom shower enclosure features a frameless clear glass inline design with a pivot door and stationary glass panel.
Tempered Glass Options
There are two basic style options for the tempered safety glass that is used for shower doors:
Clear glass gives a small room a feeling of spaciousness because it is not opaque. It also reveals the features inside the shower such as the tile design and multi-head showers or body sprays.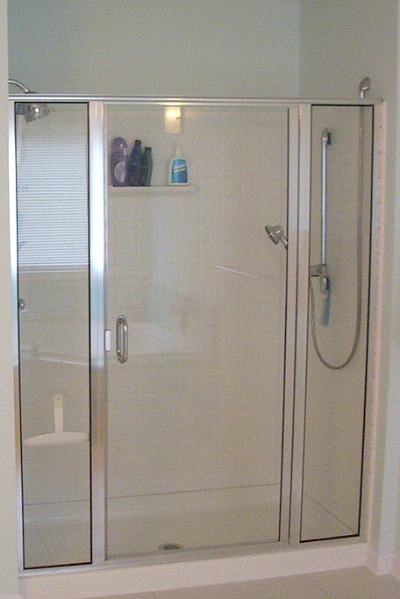 A framed clear glass shower enclosure with a pivot door.
Frosted glass or textured glass are selected for privacy as well as aesthetics. Frosted glass can include patterns and designs to complement the bathroom tile and other fixtures in the room.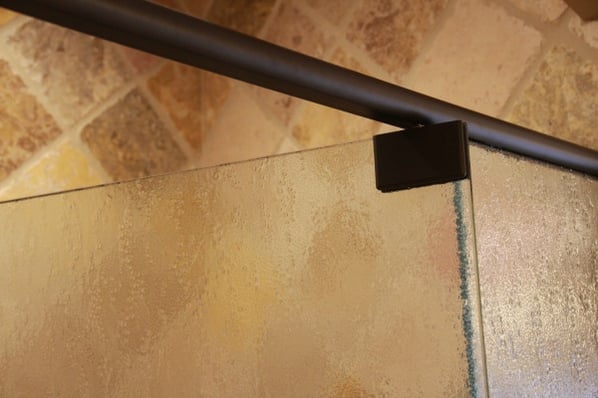 Textured glass was used for this frameless pivot shower door. It is easy to clean, resists streaks and provides privacy.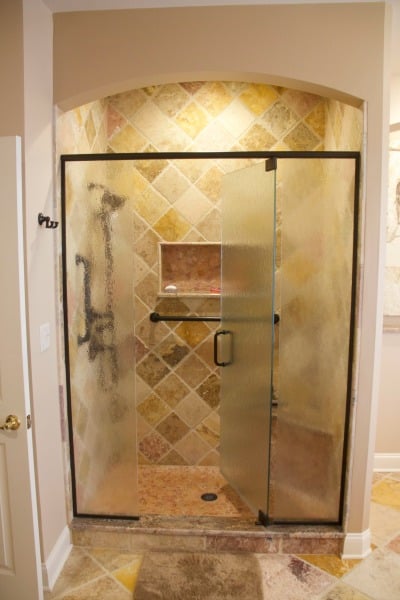 Here is another view of the door. The enclosure is framed but the door is frameless.
Curtains
Glass shower doors are designed to keep water from spilling onto a bathroom floor but a curtain can also serve this purpose if the shower base has a curb to keep water inside the shower.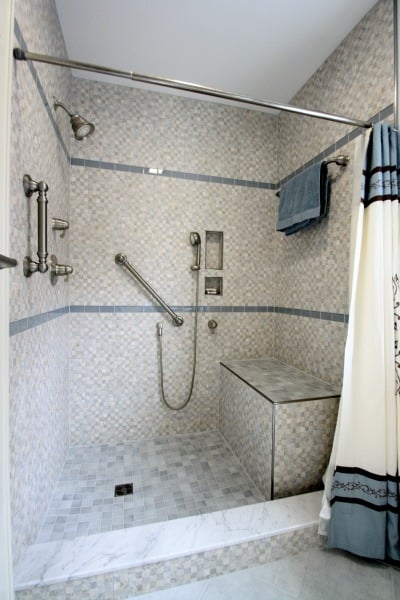 A curtain was used to contain water in this walk-in shower. This curtain complements the color of the tile and adds interest and style to the room.