Central New York is known for its distinct seasonal changes. While this has its pros and cons, one thing is certain: Each season affects your home in a different way, and each should involve a home maintenance checklist to make sure your home is prepared. Below we've provided you with a comprehensive summer checklist so you can be sure your property is in pristine shape for the warm weather ahead. After reviewing the checklist below, don't hesitate to contact the McClurg team. We provide a wide range of home installations and repairs.
Make it crystal clear: Clean your windows
While you may have cleaned the interior of your windows earlier in the spring, make sure you get outside in the good weather to clean the exterior of your windows. While cleaning, make sure you're also examining them for damage or wear that may indicate it's time for a window replacement.
You'll also want to be examining the window sealants as well as the weather-stripping to ensure that you're effectively keeping the heat at bay in the summer, and keeping the cold outside during the winter. If you are due for a window replacement, mild summer weather makes for an ideal time to contact your trusted design-build contractor to complete this project.
Reach new heights: Check your roof
With the cold, ice, and snow we receive in Central New York the roof of your home takes a beating every winter. You should be getting your roof inspected annually for damage, but it's an especially good idea to put this on the to-do list as the weather is getting better.
If your roof does need repairing or replacing the best time to do this is at the beginning of the summer before high heat and humidity reach their peak. Even if you don't need any repairs, depending on the type of roof you have, you'll want to keep it clean to avoid the buildup of moss and lichen and protect it from future damage.
Be the life of the party: Prepare your deck for summer entertaining and events
Whether you enjoy your deck for quiet family settings, or you enjoy hosting barbeques and dinner parties, you'll want to be sure that your deck is prepared for the warmer weather. After all, it's hard to enjoy a space that still looks like its hibernating for winter.
Clear off any debris that may have collected in the less inclement weather. Be sure to check for loose deck boards and rot, and have your design-build contractor replace any part of your deck that is unsafe for use. Even if it is in good condition, a power wash and staining will ensure that your deck is dressed to impress family members and guests alike.
Get a new paint job: Check exterior paint or siding
Examine the outside of your home closely to check for damage. As the temperature changes from season to season and the sun's rays hit your house, the exterior of your home can take a beating. New siding or a coat of paint can do wonders when it comes to giving your home an updated look.
While these projects will make your home look more pleasing to the eye, it will also keep the interior of your home protected. Chipped siding can let water and unwanted pests creep into your home.
Make a good first impression: Examine your front door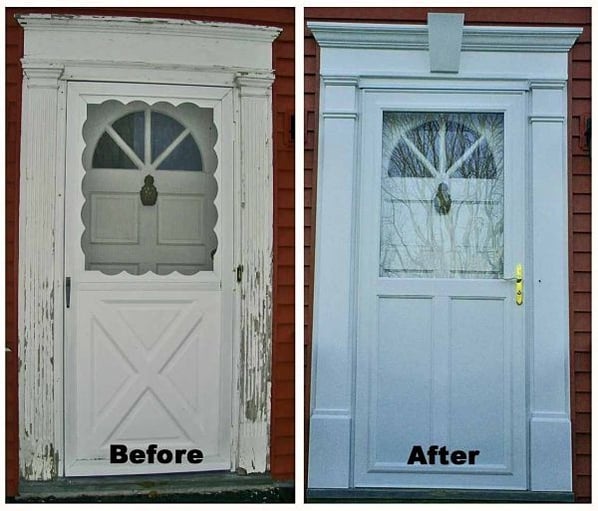 Your front door is one of the first things that guests set their eyes on as they enter your home. A front door with peeling paint and old hardware can easily detract from the beauty the rest of your home holds, and even more concerning, it can post a safety issue if it isn't locking or opening and closing properly.
Sprucing up your front door can be as simple as adding a new coat of paint, but if your door has weathered many a season, you may want to consider getting it replaced. Check to make sure hinges, door knobs and locks are in working order. Faulty hardware like old locks pose a big safety risk. Think of your home as a fortress and your front door as the first line of defense. The last thing you want is for your security to be compromised.
Take a trip down under: Inspect the basement or crawl space for moisture
Unless you have a finished basement, the under belly of your house isn't likely to be your favorite place. Though it may feel more like a crypt than a part of your home, you'll want to examine your basement or crawl space to be sure it isn't holding any excess moisture.
Wet conditions can cause mold and rot which is no joke, and can cause extensive damage to the rest of your home. This also applies to your attic, where you'll want to check for any leaks, water stains and discolored insulation. If you do find signs of excess moisture or mold you'll want to get your home treated and repaired as quickly as possible.
Clear the air: Prep air conditioners and fans
With all the time you spend inside of your home, the last thing you want to do is be breathing in less-than-quality air. As the temperatures rise outside, your home should also be an oasis from the heat. Prepping your air conditioning units as well as any ceiling fans you have in your home will ensure that the air stays fresh and comfortable throughout the summer months.
Remove and clean the air filters before starting up your AC again. If you have central air conditioning, you'll want to consider professional servicing to make sure everything is in working order. Take the time to clean your ceiling fans, including the blades which may have collected dust while sitting dormant during the winter months. For the summer months, your fan blades should run counter-clockwise which pushes the air downward and creates a cool breeze inside.
Give your home a detox: Clear out the gutters
Gutters should be cleaned twice a year: once in the late fall after all the leaves have fallen, and once in the late spring or early summer. Doing so will prevent clogging and leaks that can result in standing water.
This standing water serves as the perfect breeding ground for mosquitos, which is the last thing you want flying around the outside of your home when you're trying to enjoy the perfect weather. While cleaning your gutters, also be checking for any damage that would require replacement. You'll want to get this done before the weather turns cold and snowy again.
Don't get left in the dark: Check outside lights and replace bulbs as needed
Outside lights not only make your home look more welcoming, they also provide safety by illuminating entry ways and walkways. Since you're more likely to be outside in the warmer weather, make sure that all your lights are in working order so you, family members or guests don't get left in the dark.
Outdoor lights can be in hard to reach places, so don't hesitate to contact your design-build contractor to help you replace lighting. If you're looking for more ways to add some lighting ambience to your outdoor spaces, you'll also be able to discuss the most efficient way to execute your plan.
Mind the gap: Repair any cracks in your driveway and walkways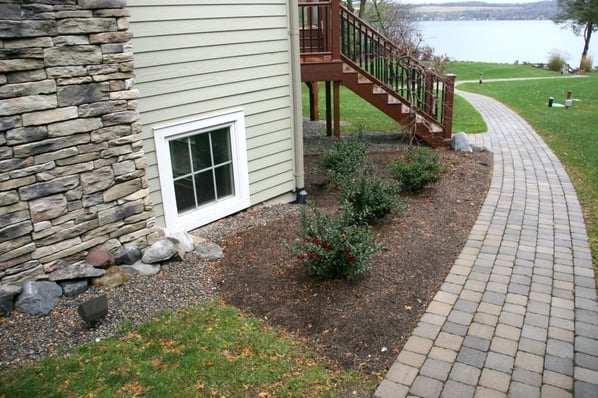 Temperature fluctuations can do a number on your driveway and the walkways on your property, resulting in cracks and holes. Mild weather is the ideal time to make any repairs, especially before you start entertaining for the summer. Cracked walkways can take away from the appearance of an otherwise welcoming outdoor space and create a safety hazard in the form of trips and falls.
Concrete repair caulk or asphalt crack sealer can be used to repair minor cracks, but you may want to consider replacing badly damaged walkways or resealing your entire driveway to take care of any damage and give your outdoor space an update for the summer season.
Whether you're looking for more maintenance ideas, or you're ready to begin a bigger renovation project to update your home, don't hesitate to contact McClurg! Our experienced team is here to help.