One of the first questions homeowners ask about a bathroom remodeling project is "How much will it cost?" Costs will vary depending on the extent of the project. Some remodels are updates where a homeowner many want to replace flooring, tile and fixtures within the existing floor plan of the bathroom and all mechanicals (wiring, plumbing and heat/ventilation) are in working order. Other remodels involve gutting and reconfiguring the bathroom, updating mechanicals and upgrading fixtures, cabinetry and other elements.
Homeowners' selection of products also influences the cost. Wall tile, countertop and flooring costs can vary widely. Fixtures, particularly tubs, sinks and showerheads, also can range from modest to high-end in cost. So, what should you budget if you're planning a bathroom remodeling project?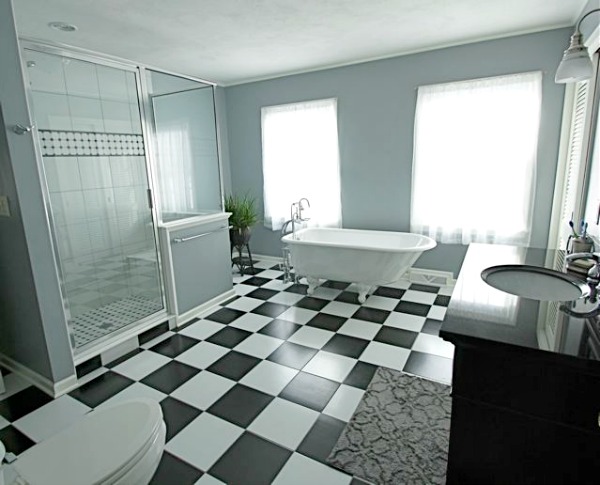 2013 Remodeling Cost vs. Value Report
To provide some benchmarks we often refer to REMODELING Magazine's "Cost vs. Value Report". The annual report is comprised of data for 35 remodeling projects with uniform specifications. Project costs in the report are "based on estimates for generic projects and do not account for personalized design and product choices typically made by homeowners". Construction cost figures are also factored into the report and "include labor, material, and subtrade expenses, plus industry-standard overhead and profit". Costs are reported by region.
The report classifies remodeling projects in two categories, "midrange" and "upscale". Here is what the data shows for each type of bathroom remodeling project for 2013 in our region, the Middle Atlantic Region, which includes Syracuse and Central New York:
Midrange Bathroom Remodeling Project
The costs in the report are based on remodeling a 5-by-7 foot bathroom (35 square feet of space) where generic products are used and incorporates a basic design - tub, toilet, single vanity and medicine cabinet with a mirror.
Specifications include:
Replacement of all fixtures
A 30-by-60 inch porcelain on steel tub
4-by-4 inch ceramic tile surround
New single-lever temperature and pressure-balanced shower control
Solid surface vanity counter with integral sink
Recessed medicine cabinet with lighting
Estimated Cost: $16,600
Expected return on investment at resale: $9,384 or 56.5 percent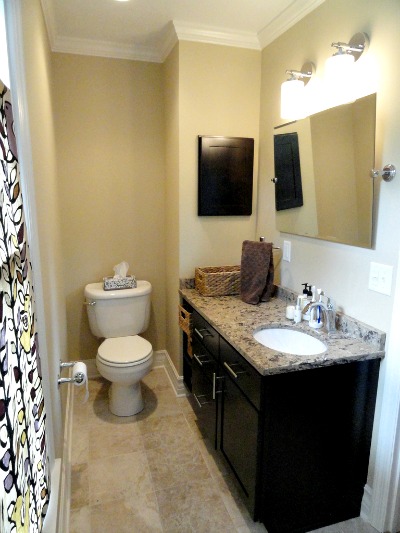 Upscale Bathroom Remodeling Project
The upscale bathroom project involves expanding an existing 5-by-7 foot bathroom to a 10-by-10 foot bathroom within the footprint of a home, reconfiguration of fixtures, updating mechanicals and extending the heating and ventilation systems. The upscale design provides for a separate shower, tub and commode. Specifications include:
A 42-by-42 inch neo-angle shower with ceramic tile walls, accent strip, recessed shower caddy, body-spray fixtures and frameless glass enclosure
A customized whirlpool tub
Two sinks with stone countertops
Two mirrored medicine cabinets with lighting
A compartmentalized commode with a one-piece toilet
A humidistat-controlled exhaust fan
Large ceramic tiles on the floor laid in a diagonal pattern with ceramic tile base molding
General and spot lighting, including waterproof lighting in the shower
Custom cabinetry, including a custom drawer base and wall cabinets for a built-in look
Electric in-floor heating and heated towel bars
Estimated Cost: $51,700
Expected return on investment at resale: $25,500 or 49.4 percent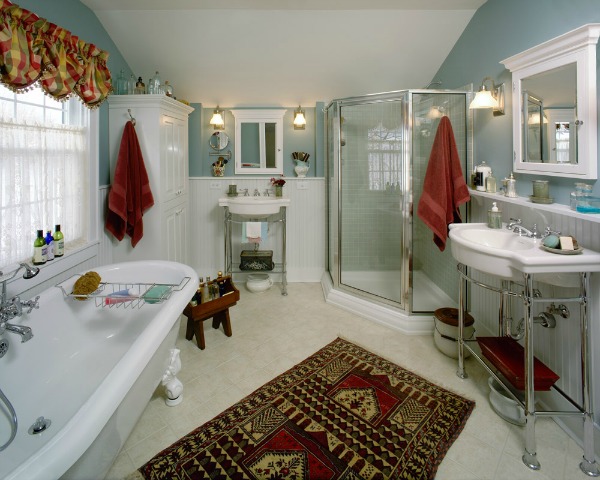 Bathroom Addition Project
The report also provides cost data for midrange and upscale bathroom addition projects. The cost of a midrange 6-by-8 foot full bathroom addition built as a 'bump-out' over a crawl space on the first level of a home is reported as $39,661 with a return of $18,840 or 47.5 percent at resale. The cost of an upscale 100 square foot bathroom addition was $74,135 with a return of $36,687 at resale, or 49.5 percent.