As 2013 begins, attention to detail in bathroom design is helping homeowners create beautiful and functional personal spaces. The characteristics of the fixtures, layout of the tile, cabinetry, lighting, mirrors, hardware and accessories are essential details if you are planning to remodel or renovate a bathroom in your home. Design should not only be aesthetic, it must be functional taking into account the way people use the room and safety.
Here are our picks of the best bathroom design trends for 2013 to consider in your remodeling plans:
Floor and Accent Tile
Beautiful bathrooms begin with floor tile. Floor tile can be laid out in a pattern to create an illusion of space in even the smallest bathroom. Basket weave patterns, borders, tile installed on an angle and use of contrasting shapes and colored tile, such as black and white in a pattern, add style. Tile comes in many materials, shapes, textures and sizes. Quarry tiles are even made to resemble wood. Mosaic inlays on the floor and walls add interest to bathrooms. The crown jewel of tile is sleek mosaic glass. It is attractive as an accent or on its own.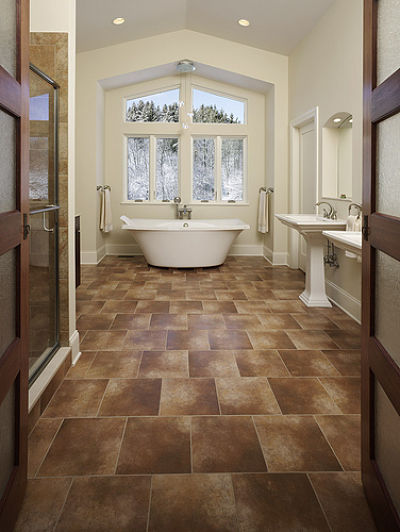 Walk-In Showers
As people remodel bathrooms, walk-in showers remain at the top of their wish lists because of comfort and convenience. This is one trend with staying power. We noted it in our 2012 picks for best bathroom design trends.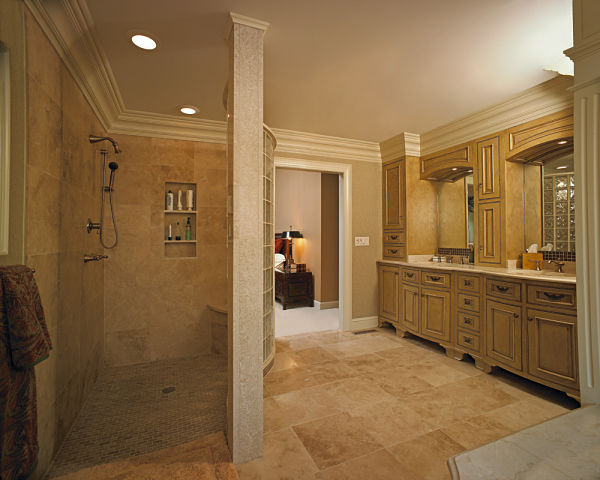 Dual Showerheads
Two heads are better than one when it comes to showers. In addition to a wall-mounted showerhead, more homeowners like adding ceiling mounted showerheads and handheld showers. Handheld showers allow control of water direction and are also great for washing down shower walls. Hand held showerheads have multiple spray settings and allow you to control water pressure.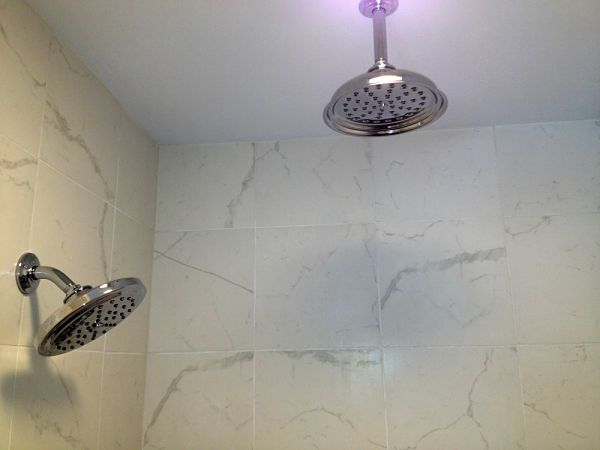 Elegant and Artistic Lighting
Lighting is important in a bathroom not just for grooming but also as an architectural element. Spend some time looking at fixtures and mirrors in lighting galleries. Additionally, look at catalogues or websites to find stylish sconces and hanging fixtures for your bath. Don't be afraid to add lighting in nontraditional spaces. A toe-kick LED rope light or a backlight wall cabinet may add interest, accent features of the room, and could function as a night-light.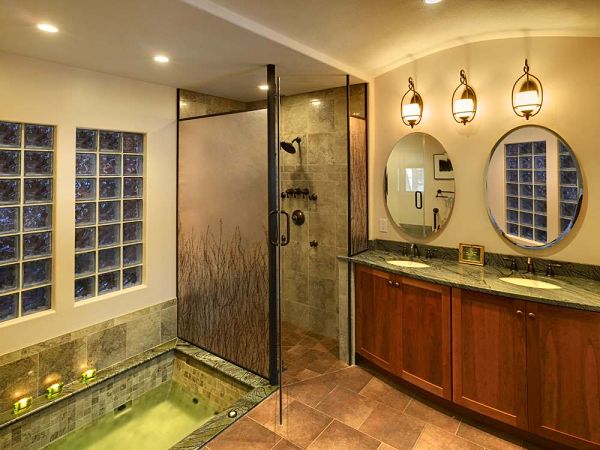 Marble and Marble-Look Vanity Surfaces
Marble is a very popular element this year in bathrooms. Its smooth white surface and interesting lines complement almost every cabinet style and finish. Quartz manufacturers have noticed the demand for marble. Cambria has three designs that resemble white marble: "Torquay", "Waverton" and "Dovedale", that are favorites among designers and homeowners. We predict this trend will remain strong.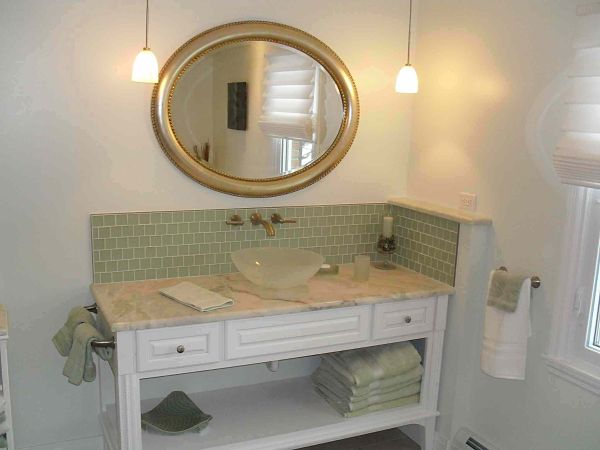 Safety Features
Home accidents often occur in bathrooms. Many designers are adding "universal design" features to their bathroom plans in the interest of both safety and accessibility for users. Consider the following tips from Better Homes and Gardens in planning your project:
The doorway into the bathroom should be at least 32 inches wide.
Install non-slip flooring in all bathrooms.
Select shatterproof shower doors. If the door is hinged, install it so that it opens into the room instead of the shower.
Install pressure-balanced and temperature-controlled valves to prevent scalding.
Controls for fixtures should be easily accessible.
Add grab bars throughout the bathroom, especially near the entrance to a tub to prevent falls. Grab bars now are made to look stylish and can look like a towel rack or shower shelf.
Add a bench inside a shower.
Use cabinet locks if there are children in the home to keep them away from medicines and cleaning products.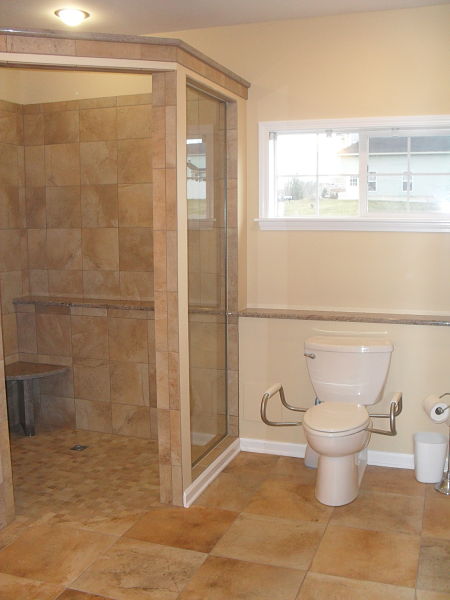 Space Savers
While bathrooms are small spaces in many homes, there are ways to optimize the room's utility and beauty.
Consider built-in cabinetry for storage. Cabinets built into the wall use less floor space.
Pedestal sinks are both elegant and space savers.
Freestanding bathtubs offer more options for placement in a bathroom.
Furniture style vanities and freestanding storage cabinets may help to conserve space and add interest to the room.
Tub and shower combos have always been space-savers. New design options such as a curved tub base make these units attractive and even more compact.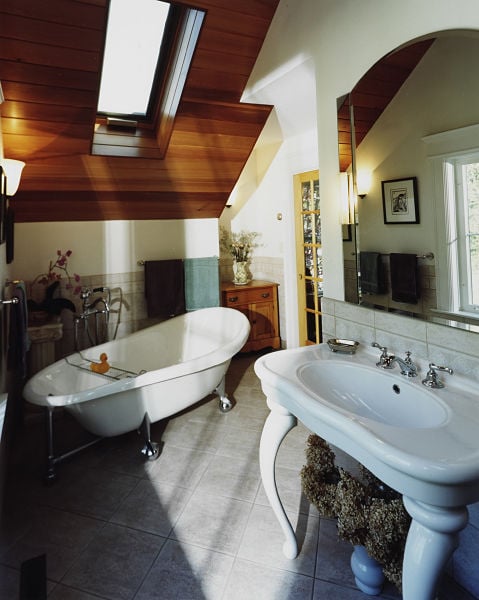 Wall Color and Artwork
As we flip through product catalogues and magazines and watch restorations on HGTV, we've noted that designers are making a point of adding color and artwork to the walls of bathrooms. Many designers are layering paints and adding textures to walls. Blues, greens and beiges are popular wall colors but jewel tones add pizzazz. Don't be afraid to experiment with color.