Designing a staircase is like putting the pieces of a puzzle together. There are many details to address as you make design decisions. First, you'll want to become familiar with the various parts of a staircase and terminology because you will find there are many design options to consider that add both architectural interest and function to your staircase. Second, there are building codes that apply to interior and exterior staircases. Building codes specify the height of risers, size of stairs and slope of a staircase.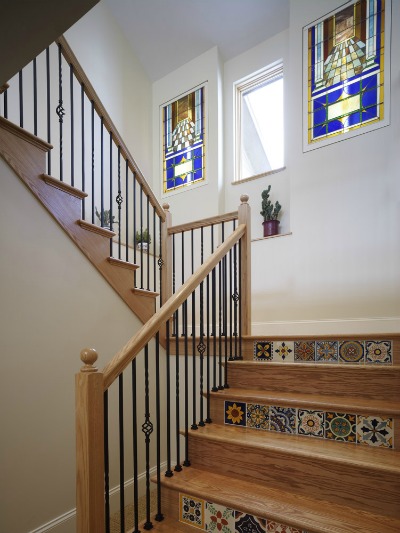 Interior Staircases
An interior staircase is usually designed as part of a larger home remodeling project but it can also be a project in itself. Some homeowners change staircases to conform to a new look for the house, while others may need to replace a staircase that's old or worn. When considering the staircase design, these are the components that must be addressed:
Stringers. A stringer, or stringboard, is a long horizontal beam used for supporting stairs. In designing a staircase there are two options, "open stairs", connected by a stringer where you will see the profile of the stairs, or "closed stairs", where stairs are framed with a beam. Closed stairs are often used with knee walls.
Treads and Risers. Stair treads are the part of a staircase that you step on and risers are the boards that support the tread. Treads come in a variety of woods and other materials and there are options for tread edging (sometimes called "stair nosing"). There are also options for moldings, appliqués and finishes to apply to risers.
Newel Post. A newel post is the principle post at the foot of the stairs that supports the banister or railing. Posts can come in many styles of turned wood, boxed wood and wrought iron. There are also half newel posts that mount to a wall to add symmetry to the design of a staircase.
Balusters. Balusters are the spindles, smaller posts or panels that support a stair rail. Your choice of balusters is an essential step in designing a staircase. There are many styles, materials, shapes, forms and colors to consider. You can also design a pattern or mix materials such as wood and wrought iron in your design.
Railings. Railings come in a variety of materials, design styles and shapes. It's important to select a railing that complements the baluster and post.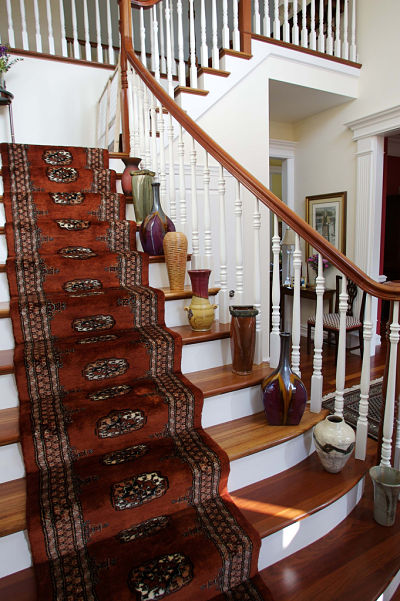 Exterior Staircases
Popular materials for exterior steps include wood, brick, composite decking, poured concrete and prefabricated stairs. Handrails and balusters must also endure the elements and are usually made from pressure treated wood, vinyl, composite, aluminum, glass, wrought iron or cable.
Most of the staircases we build, interior and exterior, are custom designed for homeowners. We use rails, balusters and posts produced by local mills that use a variety of woods that are not available from stock manufacturers and are usually less costly. The same is true for wrought iron products.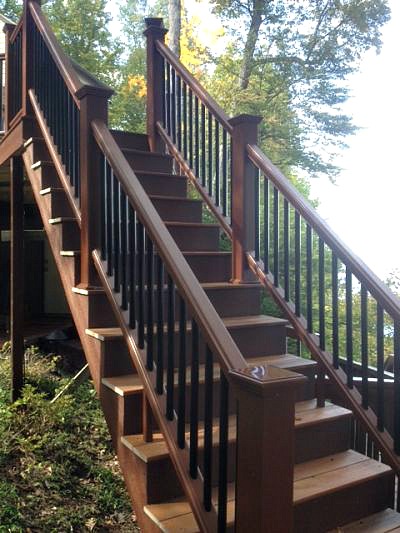 Safety
One of the most important things to consider in replacing stairs and rails is safety. Stairways get a lot of daily use. They should be well constructed, made of materials that will resist slipping and rails should be stable to provide support for users. Riser and tread irregularity along with the absence of handrails are the most common cause of falls on stairs.
A professional builder is one of your best resources for this type of project because they are familiar with code requirements, design elements and products.