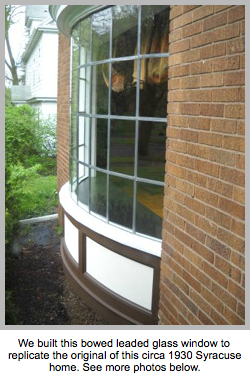 Over the years, we've had the pleasure of helping owners of historic homes with renovation and remodeling projects. Restoring a historic home is rewarding and challenging, especially if the home is located in a historic preservation area where zoning ordinances will impact plans to renovate or remodel.
In Central New York, there are four communities certified by the New York State Historic Preservation Office with homes and buildings of "historic distinction": the City of Auburn, the Village of Fayetteville, the Village of Morrisville and the City of Syracuse.
Within Syracuse, residential and business areas include (click links to download maps or lists):
If you own a home or building that is a protected site, the law requires you to apply for a "Certificate of Appropriateness (CoA)" before making a change that would affect the appearance of your property. According to the law, "rehabilitation" of a historic structure is "the act or process of making repairs, alterations and additions while preserving those portions or features which convey its historical, cultural or architectural value."
In the City of Syracuse you are required to file an application for a CoA with the Syracuse Landmark Preservation Board. Applications are reviewed by a nine-member panel that assesses projects according to the following guidelines specified by the U.S. Secretary of the Interior:
Minimal change to the property's distinctive materials, features, spaces and spatial relationships.

Preservation of the historic character of the property.

Maintaining the "time, place and use" of the property. The regulations prohibit modernization.

Preserving distinctive materials, features, finishes, construction techniques and craftsmanship that characterize a property.

Repairing rather than replacing historic features of the building, if possible. If the deterioration is beyond repair, the new feature should match the old in design, color, texture and, if feasible, materials. You also must document and provide physical evidence for replacing a historic feature.

Chemical or physical treatments that could damage historic materials cannot be used.

Archeological resources must be protected and preserved.

New additions, exterior alterations or new construction must not destroy historic materials and must be compatible with historic features and materials to preserve the integrity of the property and its environment.

New additions and construction should be undertaken in such a manner that if removed in the future, the integrity of the property would not be impaired.
Preserving a historic home in a manner that complies with zoning requirements takes a great deal of effort. However, there are other beautiful historic homes in Syracuse that are not named on a registry but are worth preserving. Some of them are found in Eastwood, Hawley Green, James St. (outside the preservation district), Lincoln Hill, Onondaga Park, Strathmore, Thornden Park, Westcott and West Onondaga.
Most notable in our community are the homes designed by Ward Wellington Ward, Merton Granger, Melvin King, Dwight James Baum, Barbara Lewis and James Randall. Other homes of historic interest have unique architecture and interiors reflective of the Arts and Crafts Movement influenced by Gustav Stickley and Adelaide Aesop Robineau. Among these are Sears Catalog homes. There are also city homes with beautiful stained glass windows designed by Henry Keck.
Older homes also grace the villages of Cazenovia, Camillus, Manlius, Marcellus and Skaneateles. Some of these homes were built in the 1800s and have architecture and features that make them unique landmarks. Victorian, Italianate, Tudor and Federal-style homes found in these communities are difficult to replicate today.
If you own a home with a history, do some research and talk with your contractor about preserving its special features when planning to remodel or renovate. You contractor should also be able to help you complete the application for a CoA if needed.
Do you own a historic home? Tell us about it.