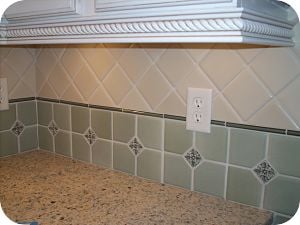 There are many ceramic tile products on the market that will add texture, color, interest and even a bit of "sparkle" to your home. Most homes have ceramic tile installed in kitchens, bathrooms or floors. When we shop for tile we usually look for color and style but we may overlook the functional uses.
Here are 5 helpful facts to know the next time you shop for ceramic tile:
About two thirds of the ceramic tile in the U.S. is imported. Italy is the largest producer followed by Spain, Mexico, Brazil, France, England, Germany and Asian countries which are increasing production.

Ceramic tile is glazed or unglazed. Glazed tiles are the more delicate decorative wall tiles. Unglazed tiles are the pavers, terra cottas and quarry tiles. Unglazed tile is fire-hardened and the same color throughout. The color of unglazed tile can either be the color of the clay itself or can be created by tinting the clay by adding minerals. Firing temperatures and kiln conditions also create color variations.

Firing temperature and duration will determine the physical properties of ceramic tile. Low-fired clay is porous and water and stains can infiltrate the surface. Longer, hotter firing fills in or "vitrifies" the pores and forms a strong, dense, less absorbent material. In our area unglazed tiles used indoors and outside should be either "vitreous", with an absorbency rating of between 0.5 and 3.0 percent, or "impervious", less than 0.5 percent absorbency. Vitreous tiles are high-fired stoneware that will stand up to wet, high traffic and cold climate conditions. Impervious tiles are referred to as porcelain and are dense, stain-resistant and require no sealing. They are more expensive, somewhat more difficult to install but are durable and withstand wet or freezing conditions.

Glazed tiles are created by fusing a glassy layer to the ceramic which makes it impermeable, colorful and reflective. Glaze is made from glass-forming minerals such as silica and boron with clay to add body, melting agents and metallic oxides to create colors.

When shopping for glazed tile, note that the tile you order may vary in color from the tile in the showroom. Glazes are temperamental and the color can change slightly in production runs.
Source
: Creative Homeowner's "Decorating with Tile" by Margaret Sabo Wills (out of print)
If you're looking for ideas for adding tile to your home, we recommend the following resources:
Dobkin Tile and Stone. We are a distributor for Dobkin Tile in the Syracuse area. The Website shows a variety of products that are available to enhance your home.
Best Tile. Best Tile has one of the largest showrooms in Central New York and has a website that lists a large inventory of products.
A few additional shopping tips:
Bring samples of cabinet wood, countertop surfacing or flooring with you if you are going to install these items with tile to find the right colors and textures for your home.
Layout tile samples in the showroom if you can. Play with patterns i.e. subway, diagonal, patchwork or straight line and color palettes. Combine tiles with edgings, trims, inlays and samples of your cabinet wood, counters or flooring to visualize what the elements might look like in your home.
Be sure to take a camera with you to photograph displays in showrooms and tile boards for design ideas. If you are working with a contractor, these photos may be helpful in planning the layout and installation.
Are you planning a home project that requires installing tile?