I'm posting this blog a day earlier than usual because today is National Pet Day. Pets are a big part of American households. According the Humane Society there are 77 million dogs and 94 million cats living in American homes. Forty percent of households own dogs and about the same number own cats. The American Pet Products Manufacturers Association estimates that pet owners spend more than $47 billion a year on their pets and there is a huge market for pet-friendly home remodels.
As you might expect, many homeowners we do projects for are pet owners. They care about their pets and often ask us to include spaces for them and pet supplies, or use products that are "pet friendly" in their remodeling plans.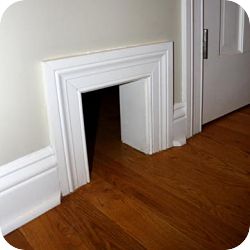 I thought you'd like to know about some of the "pet" remodeling projects we've done:
Window shelves and indoor retreats for cats.

Pet doors.

A "Cat Archway" (see photo at right). It does not have a door and is too small for the homeowner's dog to get through to eat the cat's food. Also, it matches the other trim in the house.

Kennels.

Areas for litter boxes.

Built–in benches and racks in entryways to store dog leashes, pet toys and supplies.

Heated floors (pets love these!).

Heavy duty screening "pet screens" on windows and doors to prevent damage from pets.

Wood floors and high end linoleum that make it easier to clean up after pet accidents. (Wood floors can be sealed with light to medium finishes to minimize pet scratches.)

Stain-resistant carpets.
Other pet friendly ideas to consider in your remodeling plans include:
Sizing cabinets in kitchens and mudrooms to fit large Tupperware containers
for pet food storage.

Installing a mop sink (low profile floor sink) in the garage for dog bathing.

Installing a chain link kennel in a garage connected to an exterior dog run.

Built-in fish tanks.

Pet immune motion sensors for your security system.
When doing home improvements make sure to protect your pets. Keep in mind that products you may be using can be harmful or toxic to pets including:
Paints, paint thinners and solvents.

Tools and supplies such as nails, tacks, screws, electrical cords, and insulation.

Glue.

Lead paint chips or dust in homes built before 1978 which occur when surfaces are scraped or sanded before painting.
What special pet space or feature do you have in your home?